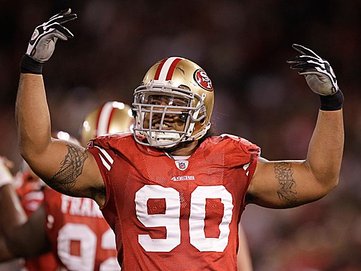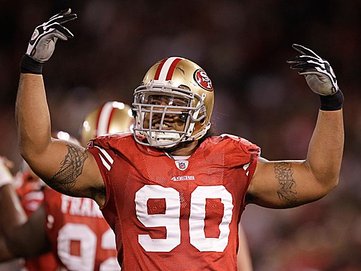 It didn't take long for newly-signed nose tackle Isaac Sopoaga to make his presence in Philadelphia known.
During his introductory news conference on Wednesday, Sopoaga made a bold statement, promising Philadelphia that the Eagles will return prominence in the NFL soon.
"We are here to hunt. We are here to win," Sopoaga said. "I believe and I promise that we're going to shock the world."
On one hand, Sopoaga's words might be enough to make a number of Eagles fans groan. It's only March, and already the team has a player talking about the team achieving high levels of success for the third year in a row. Two years ago we had Vince Young infamously dub the 2011 Eagles "The Dream Team", and just last season we had Michael Vick spewing delusional nonsense that 2012 would be the start of a dynasty. And now we have Isaac Sopoaga, immediately declaring that the team that finished 4-12 a year ago is going to enjoy a complete and immediate reversal of fortune, and become a winning team again.
One of the problems here is that Sopoaga isn't an elite player, and can only command so much respect in the role he's going to play for this team. His winning attitude and leadership could be a great asset for this team, but he's going to need help from some other veterans. Another issue I have is that it's too early for any player to make a statement like that about a team like the Eagles. Not only is the Eagles roster still in the early stages of construction, but so are the rest of the teams in the NFL. Right now the Eagles have made only marginal improvements, at best, to the roster that won only four games in 2012. It's a little ridiculous to say that right now, the Eagles are going to surprise anyone. Any player or analyst hoping to make such a statement should at least wait and see how the team looks when they get to Training Camp.
However, on the bright side, I don't think Sopoaga's statement is nearly as bad as Vince Young's absurd "Dream Team" or Michael Vick's laughable dynasty quotes. Sopoaga's words didn't strike me as a product of arrogance and delusion, but rather they were words from a veteran who has enjoyed significant success on a winning team over the last couple of seasons. Hopefully, this is an example of a guy who is simply bringing a winning attitude to the table, and the way he carries himself in the locker room will help inspire other players to fight and not accept losing as they've done in the past.
But even so, the bold predictions from Young, Vick, and others have left a very bad taste in my mouth that still lingers to this day. After listening to a lot of different players on this team talk big games and fail to deliver on empty promises about how good they are, or how they're only a couple of adjustments away, I would have preferred that we didn't get any guarantees of any kind from anyone wearing midnight green until the time comes when they actually accomplish something on the field.
Denny Basens is the editor of GCobb.com. Email him at dbasens@ycp.edu