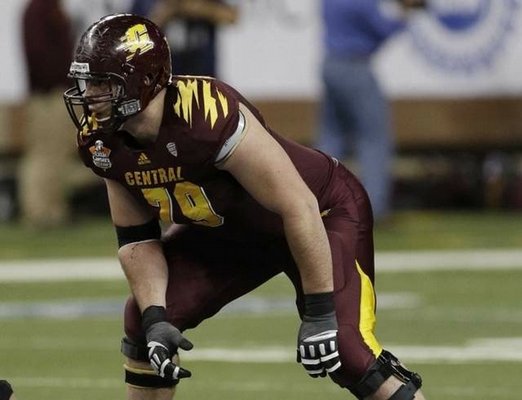 I think Andy Reid and the Chiefs are blowing smoke about how much they love Geno Smith.  I think Reid is going to be happy with having Alex Smith.  Both the Jags and the Raiders could draft Smith.
Gus Bradley might not be able to resist getting the perfect Leo in Dion Jordan at the three spot.  The Raiders could easily fall in love with Smith because they could build their offense around a young quarterback rather than a veteran like Carson Palmer.
I think the Eagles would thrilled about being able to draft Eric Fisher.  He's got great size, quickness and he's more athletic than Joeckel.  I think his upside might be higher than Joeckel's, even though he might not be as far along as the Texas A&M offensive tackle.  He showed he can compete on the highest level at the Senior Bowl because he  didn't face SEC level of competition while playing at Central Michigan.
1. Kansas City Chiefs – Luke Joeckel, OT
2. Jacksonville Jaguars – Dion Jordan, LB, DE
3. Oakland Raiders – Geno Smith – QB
4. Philadelphia Eagles – Eric Fisher, OT
5.  Detroit Lions – Ezekiel Ansah, DE
6.  Cleveland Browns – Dee Milliner, CB
7. Arizona Cardinals – Matt Barkley, QB
8. Buffalo Bills – Jonathan Cooper, OG
9. New York Jets – Jarvis Jones, LB
10. Tennessee Titans – Chance Warmack, OG