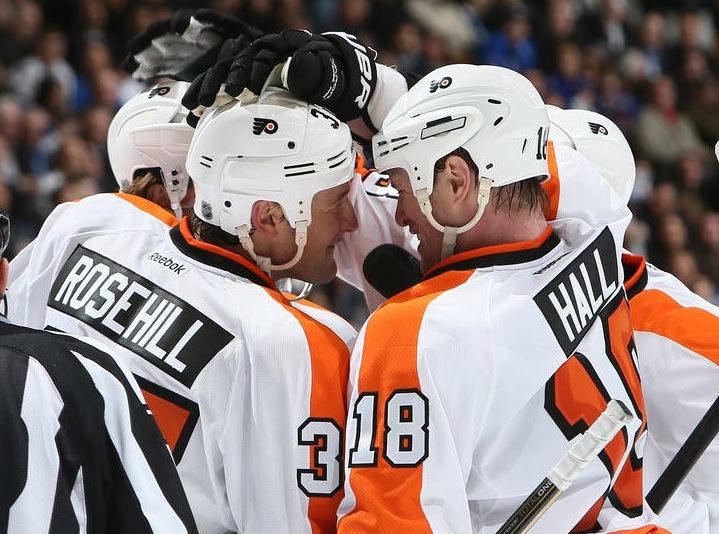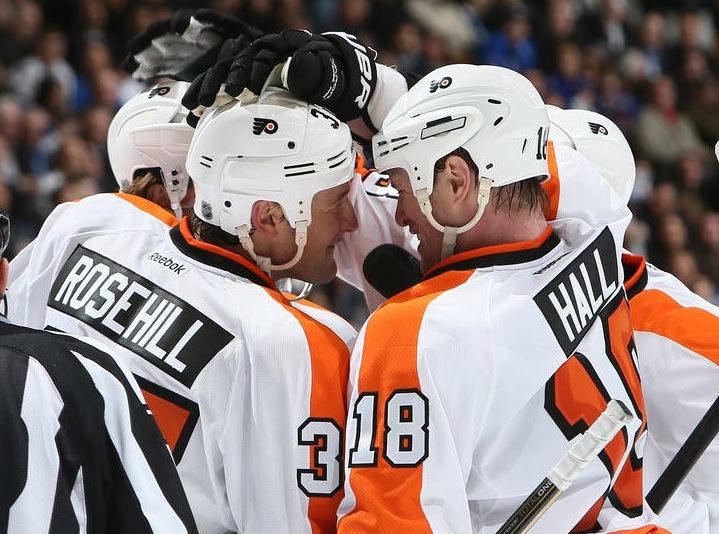 The Philadelphia Flyers' roster is currently absent defensemen Chris Pronger, Nicklas Grossmann, Braydon Coburn, Andrej Meszaros, Marc-Andre Bourdon and Matt Walker.
You can now add Kimmo Timonen to that list, as he did not return to the ice after taking his fourth shift of the third period in the Flyers' 5-3 victory over the Toronto Maple Leafs.
They are missing an entire defensive core. In spite of that bitter reality, they have now won their fourth straight game.
Their position in the Eastern Conference remains the same- 11th place- but the race has gotten that much tighter. The difference between them and the New York Islanders, currently in 7th place, is a mere three points with 11 games remaining in the schedule.
Nobody quite knows how long this streak will last, or how many wins they can actually pull together in the remainder of the season, but it truly is remarkable how different this team looks from two months ago with such a depleted roster.
Simon Gagne, skating with Mike Knuble and Ruslan Fedotenko, scored the opening goal of the game just 1:19 into the first period. Knuble had basically been considered "finished" by head coach Peter Laviolette and fans alike, but this line has provided a lot of offensive support over the last few games than expected.
Sean Couturier followed up a strong game in Montreal with arguably his best of the season, earning two assists on the second and third goals of the game. The first was a perfect pass from behind the net to a wide open Jake Voracek, left unattended in the crease.
The second was a point shot that bounced off Jay Rosehill's pants and past Leafs goaltender James Reimer. Rosehill, a former Maple Leaf himself, was inserted into the line-up after Zac Rinaldo sustained a high ankle sprain in Montreal.
We all mocked the acquisition of Rosehill (at least I did) a few days ago, but he certainly helped general manager Paul Holmgren look better tonight.
I try to avoid using the "confidence" barometer when measuring a player or team because it's kind of a lazy, rhetorical explanation for success or failure, but Couturier has absolutely looked like a weight was lifted off his shoulders since the trade deadline passed. He's finishing checks, he's becoming more aggressive at the blue line (not worrying about turnovers) and he's getting higher quality scoring chances.
Obviously it helps when your linemates are Voracek and Matt Read versus Rosehill and Adam Hall, but the Flyers' renewed faith in him seems to be paying quick dividends.
One note on Hall- he only took two draws for the entire game. Considering it's the best part of his game, this seems like a missed opportunity while he was in the line-up. The Flyers could certainly use him in the dot more than Couturier for now (he won just 2/6 tonight).
The Schenn brothers scored the second and fifth goals of the game. Luke's goal may have been an empty netter, but considering how much Leafs fans hated him while he was in Toronto, it had to feel rewarding to be able to shut them up on their ice. With Timonen out of the line-up, Schenn is going to shoulder even more responsibility and minutes in the final games of the season.
The Flyers have Friday off. Their next game is a Saturday matinee game against the Winnipeg Jets. It is unknown who will be in the line-up among defensemen, but if Timonen is too hurt to play and Grossmann isn't prepared to return, the organization should recall Danny Syvret. He's a better option than Andreas Lilja and Kurtis Foster and has familiarity playing with Oliver Lauridsen.