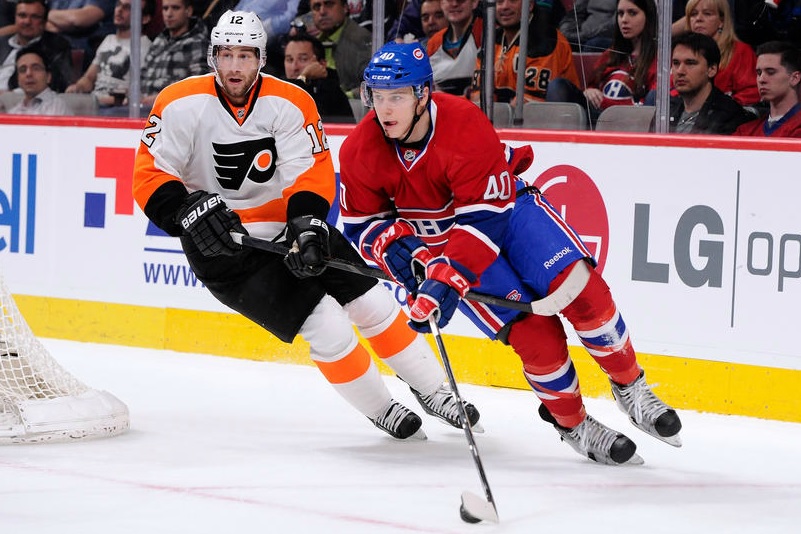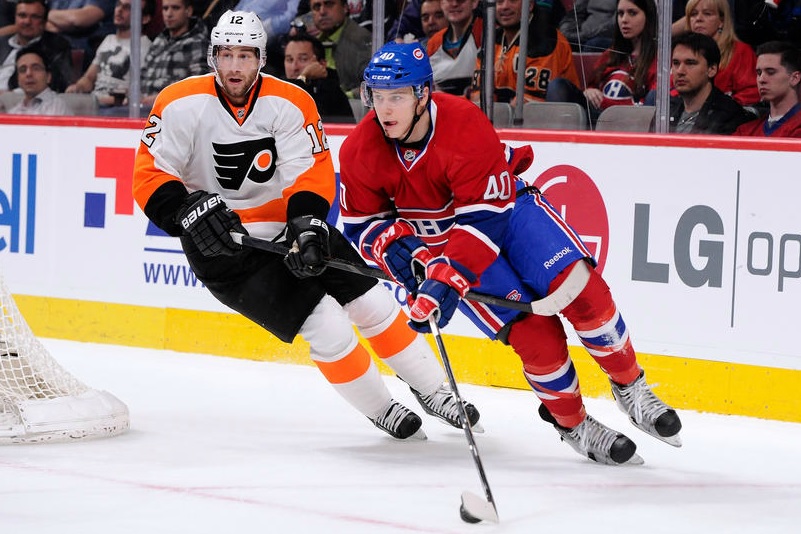 Luke Schenn told reporters after the Philadelphia Flyers' surprising 7-3 thrashing of the Montreal Canadiens on Monday, "We're still playing for a lot of pride. I don't think we're ever going to throw in the towel. These games, we've got to compete hard. Losing can't become accepted, that's just the mentality you've got to have around here."
Pride may be the only button left to push for many of the Flyers, but for several, these final games will serve as an audition to the organization and to the NHL as a whole for new contracts for the 2013-14 season and beyond.
One such player who has expressed a desire to return is Simon Gagne.
Per RDS, a Quebecois sports outlet, and Google Translate:
"He wants to come back with the Flyers next season, but no discussions in this regard have yet occurred. Simon Gagne wants to continue playing, but will not at any price. This time he will not be the only one to decide the destination.

'I'll think of the family first. Before I thought of myself, but now the family will have a say.'

He is not at all looking for a long term contract, but a place where he will be comfortable. The goal is to end up with a winning team because when you win a Stanley Cup, the taste to win a second is very large. He is even willing to accept less money to stay in Philadelphia."
The post goes on to say that a finish to his career in Quebec if the Nordiques were to ever return would be ideal.
In 21 games this season since his acquisition from the Los Angeles Kings, Gagne has potted 4 goals and 9 points. Seen as a temporary replacement for the injured Matt Read at the time of the trade, he's been moved around the line-up regularly and has found himself on the top line for the moment with Claude Giroux and Jake Voracek.
At this stage of his career, Gagne is no longer a top line player. A reasonable estimate for his offensive production in future seasons would be 15 goals and 35 points.
As a depth forward, though, those numbers would be just fine.
Many expect Danny Briere to be bought out this summer due to his own shortfalls in the last two seasons and the team's surplus of centermen. Briere has been a respected leader in the locker room for years, and losing his voice in the room is not easily replaceable.
If the Flyers chose to re-sign Gagne, it would certainly help ease the situation.
Gagne's past proficiency as a penalty killer and a defensive-minded forward is also valuable to have if he can be used as a replacement for Ruslan Fedotenko next year as a third line winger. Fedotenko has the same record as Gagne this season (4 goals, 9 points) but in double the number of games.
It is worth noting that head coach Peter Laviolette has started Gagne in the offensive zone on 56% of his shifts and gives much more shorthanded ice time to Fedotenko (2:56 per game compared to 0:16 per game).
In short, it's difficult to evaluate if he really would be an even replacement as a defensive forward based on his usage.
It all comes down to the final dollar amount anyway, and it's promising that Gagne has indicated he will take "less" to stay. Considering he made $3.5 million per season over the last two seasons, though, "less" may still be more than he's worth.
A one year, $2 million contract would arguably be the most reasonable value for Gagne, as it would be a modest increase from what Fedotenko is making this season for a similar role.
His best days are behind him, but the Philadelphia Flyers may still have use for Simon Gagne yet.