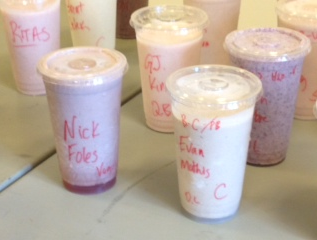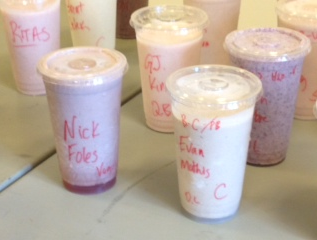 Eagles new head coach Chip Kelly believes in taking advantage of scientific knowledge to construct the best football team he can put together.  That's why the Eagles players are greeted by tables of granola bars, yogurt, fruit, and smoothies that have been prepared specifically for each player.
"They've got a lot of healthy things where once you're done working out, you've got to replenish your body," Eagles tight end Brent Celek said yesterday after practice. "Otherwise, it's just going to keep breaking down, so I like it."
Some players like Eagles quarterback Michael Vick were wearing heart monitors to keep track of their heart beat and other bodily functions during practice.
"They want to make sure our performance level stays level, instead of going down," Eagles linebacker/defensive end Trent Cole said yesterday. "We want to stay level or just go up. And they're going to tell us that. They're going to tell us, 'Hey, you need to do this or you need to do that.' They're just helping us out. They want us to be at our best."
Chip Kelly has his playlist of music playing during practice.
"Love it," Celek said.  "Makes it fun. When you're not out on the field doing actual plays, it just keeps you going, keeps you interested in what's going on out there. You've got some background music. It's like sitting in a nice restaurant, and you have background music when you're not talking to the person sitting next to you."
Eagles offensive guard Danny Watkins loves the changes that have taken place on the football team.  "I'm really enjoying it," Watkins said. "Coach Kelly, he's definitely changed things here for the better. It's, I guess you could say, an electrified atmosphere."
Watkins is going to need some electrified atmosphere to hang onto his starting job.  There's been a lot of talk around the Eagles selecting an offensive tackle in the first round, moving Todd Herremans into guard and putting Watkins on the bench.  Still he's got high mark for Kelly, at least so far.
"It's like he came in and overhauled the building", Watkins said.  "He's changed everything, you know, the little things to the big things, strength and conditioning, nutrition, how we're recovering and then obviously the major stuff, the offense and how we're running things out here."
"It's different," Eagles tight end Brent Celek said. "You're so used to coach (Andy) Reid for so long and even growing up I saw coach Reid as the figure of Philadelphia. But things change and I love what coach Kelly has brought here so far. It's awesome."
The workouts whether on the field or in the weight room are high intensity and emulating the games.  They go full speed at the highest intensity for five to ten seconds, then shut it down a short 15 to 30 second break, then repeat the movement, exercise or drill again.  It requires that they be in game shape year round.
"He always says he's going to work us and he does work us while we're out there. But he also takes care of us. When we need rest, he gives us rest. When we need nutrition, he gives us food. So from that standpoint, he's giving us everything we need to succeed and he takes care of all those aspects. There's no complaining. You can't be like, 'I'm tired, I'm not getting enough rest.' He thinks about all that stuff."