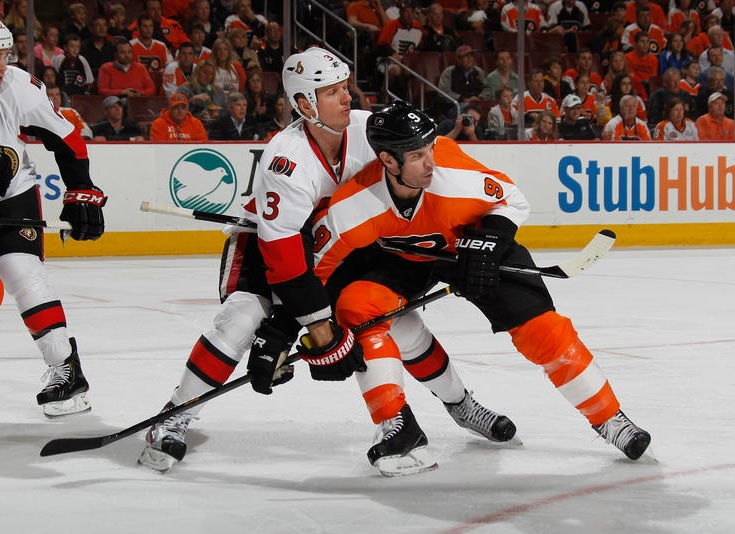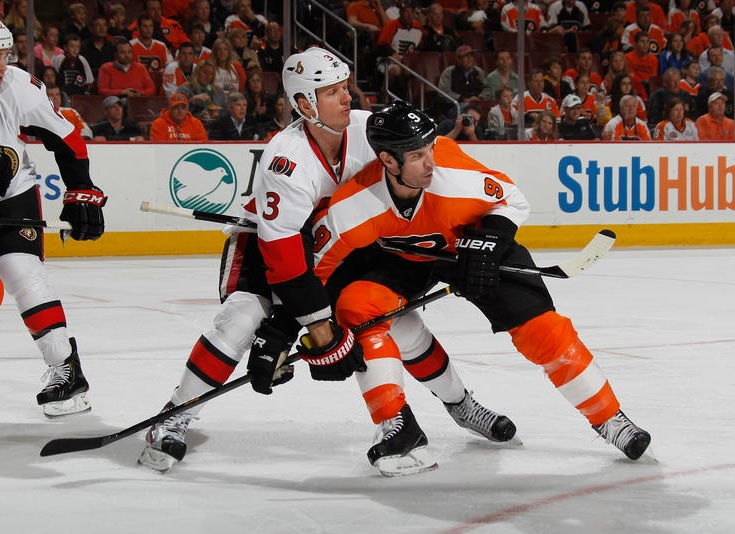 I don't know how other coaches handle the media, but I've sat in enough conferences with Philadelphia Flyers head coach Peter Laviolette to know that you don't ask him questions about the line-up. You especially don't ask him about goaltenders.
After the second game of the 2011 Stanley Cup quarterfinals against the Buffalo Sabres, in which Sergei Bobrovsky was pulled after allowing three goals on the first seven shots, Laviolette was asked, "Have you made a decision about Game 3? Who's starting?"
"Yeah, I don't talk about goaltenders."
Five questions later (from Howard Eskin, as I recall): "Peter, if Boosh is a veteran goaltender, and has a calmness, why wouldn't he be a starter?"
"We don't have a starter, per se. I don't know if you're looking for that- are you looking for the #1?"
"I'm, uh, kinda trying to find it, yeah."
"You're trying to find the #1? We squirted that #1 question for the whole year."
"How about for Game 3?"
"Yeah, we don't talk about goaltenders. Jeez, I hate to keep repeating myself. We don't talk about goaltenders, injuries, or line-ups. Ever. Is everybody here? [Crowd laughs] Because that should take care of- I'm just saying, that should take care of it."
With all that in mind, it was with much trepidation that I broached the line-up question for a topic close to me after the 2-1 victory over the New York Islanders on Thursday night.
"Peter, I don't want to break the cardinal rule of 'Don't ask about the line-up', but…"
"Maybe you shouldn't then, you know what I mean? Maybe…"
"YeahmaybeIshouldn't any thoughts to Mike Knuble playing in the last game of the season?"
"You know, there's always thought that goes into the line-up, and Mike Knuble has been terrific. Every time we've inserted him in the line-up, he's been outstanding with his game. To be honest, he doesn't deserve to be out of the line-up. He's been a true professional since he's been here, and I've told him that on numerous occasions…
But, you know, you're right." [Crowd laughs]
Me: "Touche, touche…"
Laviolette: "You shouldn't have asked."
I am not a lifelong Philadelphia sports fan (withhold your 'boos', I've converted). An older brother of a friend introduced me to Flyers hockey at the beginning of the 2007-08 season and I gradually picked up the nuances and names over time.
One of my favorite players to watch was Mike Knuble. A tenacious, crease-hounding veteran, Knuble was in the third of what would be four consecutive seasons in Philadelphia. A perennial 24+ goal scorer, he was an easy player to gravitate towards.
I'd love to say I remember his double overtime game winning goal against the Washington Capitals in Game 2 of the Quarterfinals during the Flyers' run to the Eastern Conference Finals. Skating on a line with Jeff Carter and Scottie Upshall, Knuble planted himself just outside the crease while Upshall dug for the puck at the boards. Upshall sent the loose puck to Carter, who fed Knuble in front to jam it home.
Joffrey Lupul's game winning goal in Game 7 stands out a bit more, but both were equally as important in that series.
On the morning of July 1, 2009, I struggled to pay any semblance of attention at my job as I worried about whether the Flyers would re-sign him. The organization had sent Lupul to the Anaheim Ducks as part of the trade package for Chris Pronger, and losing both 'Lupes' and Knuble would seemingly put a dent in the offensive production for the following season.
Knuble eventually signed a two-year, $5.6 million contract with the Capitals. Before the contract was official, I had scoured the internet for information (this was pre-twitter) and found a number of resources that followed the team closely (such as the blog Broad Street Hockey). The unhealthy obsession that followed was what led me to writing about the team myself, and even having the opportunity to write here.
When Mike Knuble signed a contract with the Flyers on January 24, it was with the understanding that he was going to serve as a stopgap power forward until Scott Hartnell returned from a foot injury. Nobody expected him to perform like fellow quadragenarian Jaromir Jagr and his 4 goals and 8 points in 27 games played were in line with where he left off in Washington.
Knuble was unsigned at the beginning of the season, playing in the AHL for the Grand Rapids Griffins. Recognizing that it would be highly unlikely that he would earn another NHL contract, I had hoped that if any team could get its act together and "make things right" by Philadelphia sports standards, it would be a team with Knuble, Simon Gagne and Brian Boucher.
Life (and a terrible defense) got in the way of that notion.
There is one final game remaining in the 2013 NHL season for the Philadelphia Flyers, though- a road game tonight in Ottawa. While Knuble is not entitled to a roster spot and certainly doesn't need a warm "thanks for everything" video send-off cued to a Coldplay ballad with a novelty bobblehead giveaway before the final horn sounds, playing him in the final game of the season would be a generous, subtle way to acknowledge his career both in the NHL and in Philadelphia.
Let Knuble, a veteran of 1,067 games in the NHL, play at least one more game before he hangs up his skates and takes on a broadcasting role at CSNPhilly.
Do the right thing, coach. Also, sorry about the question. Won't happen again.