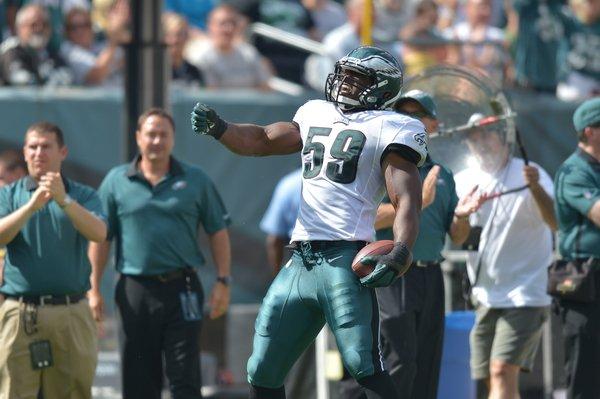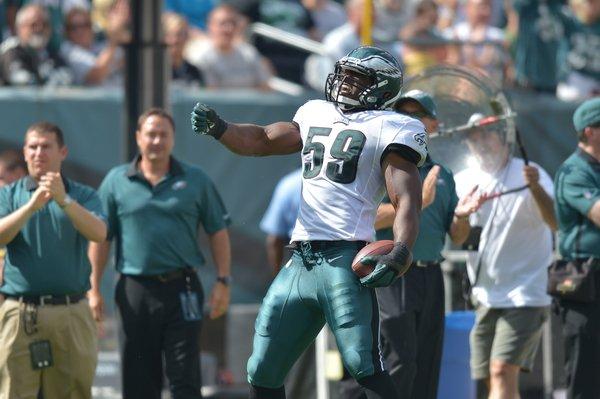 As the roster of the 2013 Philadelphia Eagles and their season is studied, analyzed, turned inside out and upside down, I decided to add my other two cents. You've seen the revamped secondary, but I want to take a look at the one group of Eagles players that – for me – may be the biggest question mark maybe even up until Training Camp, is the Linebacking Corp.
Philadelphia finished last season as the 10th worst defense against the run allowing 2021 yards, 126.3 ypg, 4.2 per carry while yielding 11 td's, 13 of which went for 20 or more yards. One of the worst defenses in the league in forcing turnovers the Eagles collected only 7 fumbles. This is an area the team addressed in Free Agency and the later rounds of the Draft and perhaps not sufficiently enough.
We've been told who the projected starters on the inside will be when the Eagles take on their new look Hybrid 3-4 alignment but who are the outside guys going to be? As the Draft neared and my picks regularly flip flopped I was hoping for Dion Jordan out of Oregon to come to Philly as the 4th overall pick but Miami snatched him up.
Last year's rookie starter Mychal Kendricks joins second year Eagle DeMeco Ryans in the middle. Kendricks showed flashes of greatness early in the 2012 season but seemed to hit the rookie wall down the stretch (58 tackles, 1 sack) becoming invisible at times. Drafted last year as an outside linebacker (in a 4-3 alignment) for his speed and ability to cover, I question the move to the inside in a 3-4. The Eagles however, need him to hit an early stride this season and build momentum as the season progresses.
Ryans played fairly well last year, leading Philadelphia in tackles with 113 to go with a sack and an interception (27th in the league). Before the trade to Philly, Ryans was unable to flourish in a 3-4 after tearing his Achilles tendon in 2010. Can we expect him to excel in a 3-4 and be the same player he was before his injury are two concerns with the former All-Pro brought in to be that "monster in the middle" this team has lacked for too long.
For the second consecutive year the Eagles plucked another linebacker from the Houston Texans, Conner Barwin who at 6'4" 260 (3 sacks) looks to have the edge on the left side. So who does that leave on the right side? I said last season that Linebacker/DE Brandon Graham at 6'2" and down to 265 should have gotten a look last season and it looks like he's going to get a shot this spring. Graham came on strong towards the end of last year and got the most production per play (30 tackles 5.5 sacks 2 ff) than any other defensive lineman on the team.
On the other hand Trent Cole – who saw his production slip dramatically (24 tackles, 3 sacks, ff) has been my favorite DE for years – could be effective as a standup edge rusher but the question is does Chip Kelly have a serious desire to keep him or will he use him to get deeper at another position or even for a draft pick or two down the line? But since Kelly is starting from scratch, I would leave Kendricks outside and slide Graham inside with Ryans to exploit the power, quickness and agility of the fourth year pro. These guys are gonna have to find some nastiness and attitude in their football psyche.
Jamar Chaney and Casey Matthews are the incumbent backups if they make the cut. Matthews – who seemed to be Andy Reid's Pet may have an even better shot at sticking now that his former college coach has taken the reigns. Number 7 Draft Pick Joe Kruger at 6"6' 270 (who wasn't drafted for his athleticism) might be a steal and battle for a spot at right OLB. Philip Hunt listed as a DE at only 254 lbs. may even get a look. That leaves newcomer Free Agents' Jason Phillips (6'1" 240) a 2009 5th round  draft pick, Chris McCoy (6'3" 251) 2010 7th Round and Rookie Jake Knott out of Iowa State to battle for positions on the 2013 roster. Oh yeah, Chris Gocong, the one time starter from a few years ago before being traded to the Browns is back and looking for a home.
There is the potential for this Eagles team to wreak havoc in 2013 and this Linebacking Corp needs to be a huge part of it. But Philly is a town that is lo-o-ong tired of potential and there are still too many "if's" leading into the season. With many new and different pieces to put together, these guys will need to rely on quick chemistry and trusting a new culture and new coaching techniques. I'm not just looking for "Nasty", I'm expecting someone, anyone to bring it!