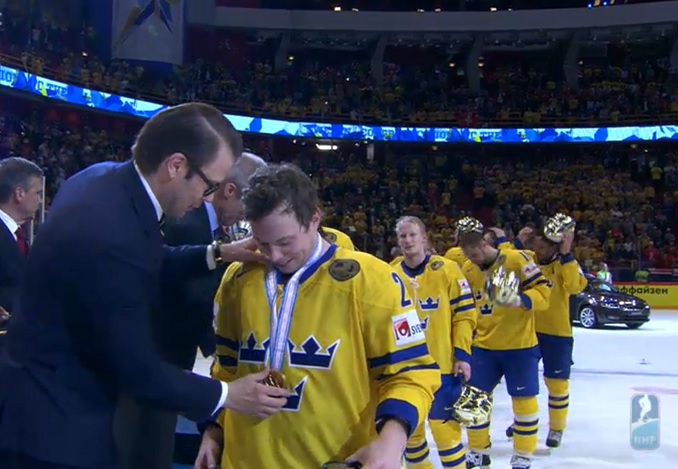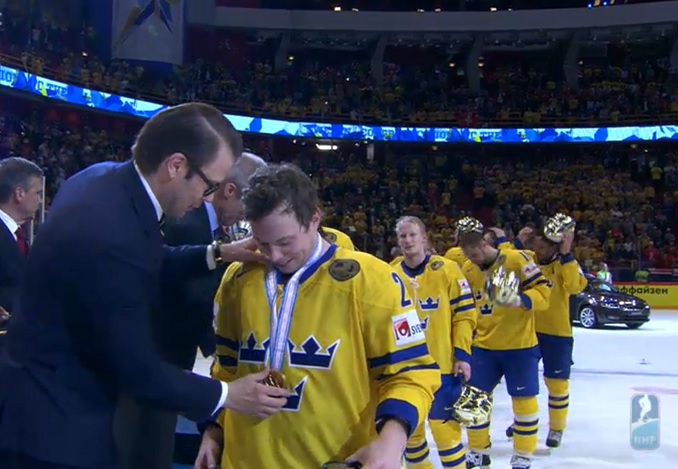 Claude Giroux, Wayne Simmonds, Matt Read and Luke Schenn were four of the marquis players from the Philadelphia Flyers that participated in the 2013 IIHF World Championship.
As members of Team Canada, none of them returned home with any hardware.
It was defenseman Erik Gustafsson and Team Sweden who won the gold medal today, beating Team Switzerland 5-1 in the final game of the tournament.
The win marks the first time since 1986 that the country hosting the tournament has won the gold medal.
Gustafsson had been one of the most reliable players for Sweden, finishing with an average 24:00 minutes of ice time per game, including 33:27 played against Canada when teammate Alex Edler was ejected for kneeing forward Eric Staal.
Per Bill Meltzer of HockeyBuzz, Gustafsson was not on the ice for a single even strength goal against in the ten games played. He finished +7 over the tournament.
Gustafsson only had one assist prior to the gold medal game, but his tying goal early in the first period today against Swiss goaltender Martin Gerber opened up the floodgates for Team Sweden. If Gustafsson was a relatively unknown name heading into this tournament, many will be paying closer attention when the 2013-14 NHL season opens in October.
While Team Denmark did not qualify for any of the medal rounds, Gustafsson's teammate Oliver Lauridsen had a fairly strong tournament as well. Lauridsen averaged 21:06 minutes of ice time per game, if you exclude the game against the Swiss where Lauridsen was hurt and played just 6:12. Lauridsen finished with an even plus-minus in seven games played.
The other Phantom to earn a medal at the tournament was Adirondack Phantoms goaltender Cal Heeter, who collected a bronze medal while serving as the third-string goaltender for Team USA.
Note: Photo above courtesy of @FlyersCZ, http://philadelphiaflyers.wz.cz/.