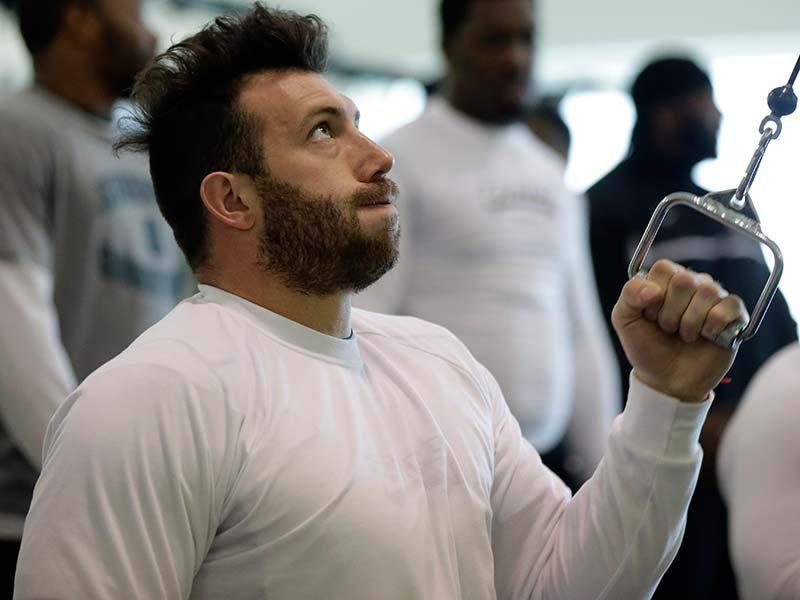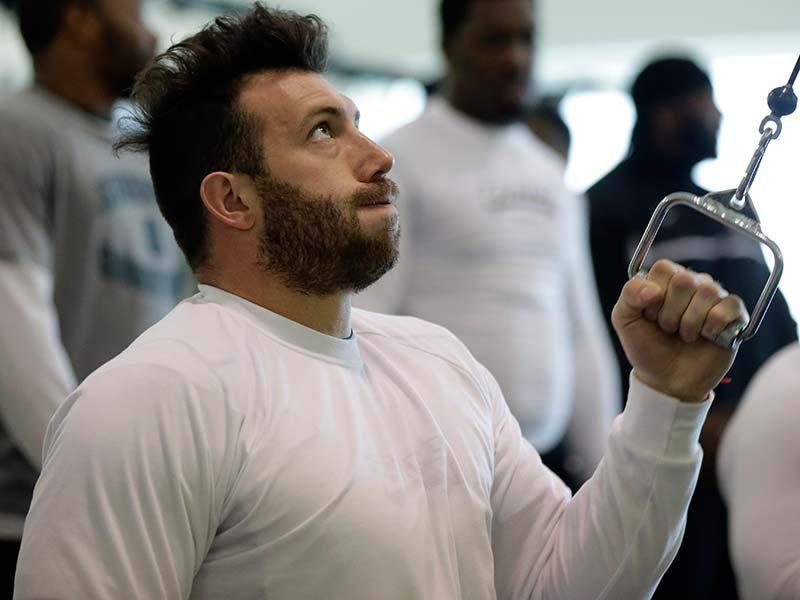 Eagles new outside linebacker Connor Barwin will be doing just about everything on the Birds defense this year.  Sometimes he'll be dropping into a zone coverage, other times he'll be locked on a receiver in man-to-man coverage, sometimes he'll be attacking a pass blocker on his way to the quarterback, and other times he'll be escaping the tight end's run block and trying to make a tackle versus a running play.
"I'm excited. I don't know exactly how it's going to turn out, but I'm very excited about this defense," Barwin said. "I'm very excited about my role and what (defensive coordinator) Billy (Davis) has me doing right now. There's a lot of movement. There's a lot of versatility in what I do and I think it's going to free me up a lot.
Barwin will be lined up at the left outside linebacker spot on first down, but after that who knows where he will be lined up.   He's the best matchup we've had against opposing tight ends since Carlos Emmons.  The former Houston Texans outside linebacker has great size to deal with tight ends and he has the speed to run with them.  Most of offenses are right-handed, so Barwin will likely be lining up on the tight end on first down.  He'll be asked to beat the tight end's block on running plays, and jam them to slow down their release on some pass plays.
Beating the tight end isn't the most important reason he has been brought here.  They want him to put pressure on the passer after first downs.  Last year he had only three sacks, but the year before he had 11.5 sacks.  They want to turn him loose on the league's quarterbacks.
"I'll be doing a little bit of everything which is good. It keeps the offense on their toes. They don't know where I'll be coming from because I'll be doing different things all of the time."
Defensive coordinator is going to move Barwin all over the defense, so offenses won't know what to expect.  After first down, there's no telling where Barwin willl be lined up and what he will be doing.  Davis has made it clear that they're going to be playing both the 3-4 and 4-3 looks.  On third downs and pass downs, they'll show an even greater variety of looks to the opposing offenses.
Davis wants to keep offenses guessing, so that he can force them into mistakes or at least confusion.
"That gives guys a lot of potential to make plays because you confuse the offense," Barwin said. "That was exciting for me when I was in Houston we first did it and that's why I think everybody's excited here because of the potential to confuse the offense and make plays."
I like the fact that the Eagles defense will be bigger this year.  Barwin's size is an example of the change all over the Birds defense.
Hopefully the increased size will allow them to be more physical.  The key to being successful in the multiple look defenses will be making sure that they communicate and are on the same page.  When you're changing defenses, you put pressure on the offense not to make mistakes, but you also put the pressure on the defense to not to make mistakes.
The Birds want to force more turnovers by causing the opposing offense to make mental mistakes or force turnovers by being physical and knocking the ball loose.