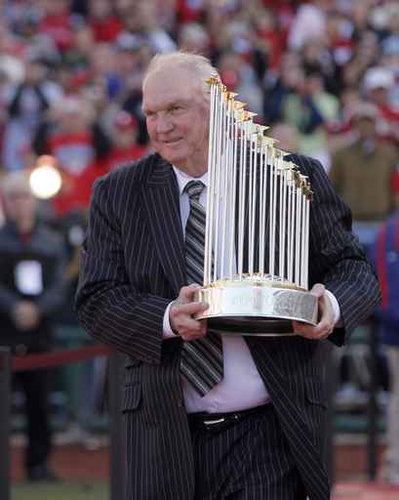 It didn't totally come as a surprise, but it wasn't expected to happen before the season ended.  Today the Phillies fired Charlie Manuel, the winningest manager in the history of the organization.
They just had a news conference featuring General Manager Ruben Amaro Jr. and Manuel.  They talked about the decision by the organization to fire Manuel and replace him with third base coach and Hall of Fame second basemen Ryne Sandberg.  He will be the team's interim manager for the rest of the season.
Amaro and Manuel said they had talked on Wednesday and came to an agreement about the decision after a lengthy discussion.
"We're making a managerial change that is in the best interest of the future of the organization," Amaro Jr. said at the press conference at Citizens Bank Park. "As we talked a little bit further, it became evident the best course of action would be to make this change immediately as we begin to transition by offering the managerial position to Ryne Sandberg on an interim basis."
Manuel said he understood the decision and seemed to take it without a bit of anger.  He's always been an easy-going guy without a chip on his shoulder.
"Ruben and I had coffee for 6 days in a row and I got tired of having coffee," Manuel said earlier today. "Finally one day we were sitting there and I think I asked him, "What are we going to do? Where are we going?"
Amaro had nothing but good things to say about Manuel, who was always known as a players' manager.
"Charlie has been clearly a very, very important part of our Phillies history, our success here," said Amaro. "He's won a World Series. He's won five consecutive league championships. He's clearly one of the most decorative managers in the history of our franchise.
"Charlie understood this decision. Making this change is not easy for me. Not easy for me personally, not easy for the organization. But it's a change that the Phillies need to make as we look toward the future."
Sandberg says he's going to remind the players that they have 41 meaningful games left to play.