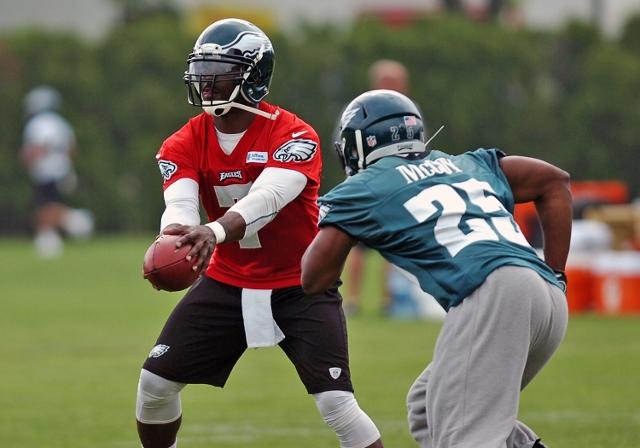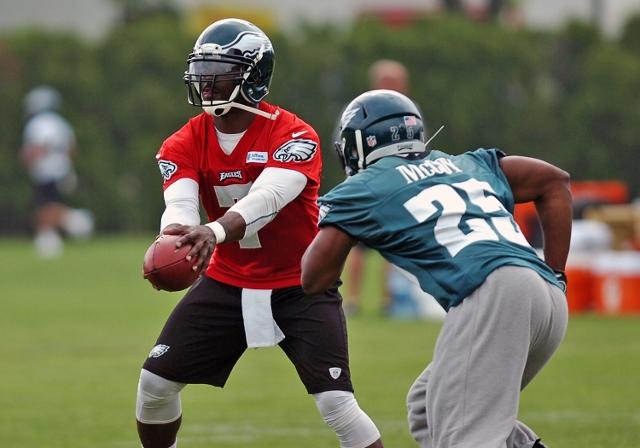 Michael Vick Named Starting Quarterback
Chip Kelly put an end to the quarterback controversy this week, naming Michael Vick the starter for Week 1 against the Washington Redskins.
The decision comes as no surprise. When Kelly opted to bring back Vick, it was clear that it was his job to lose. Chip wants the best chance to win right now, and the former Pro Bowl quarterback clearly represents the team's best chance to win.
Vick has had his best preseason in years, and he's earned the job. He's been nearly flawless in the preseason so far; he's made no mistakes and he's looked sharp running this offense.
I don't buy the idea that Vick is going to be much better than he's been in the last two seasons. I think he's going to be what he's been throughout his career: a tease. We'll see him have his moments, but we're also going to see his flaws exposed over time as they've been in the past.
But we've gone through the debate for/against Vick being here countless times, and there's not much use in reopening it at this point. The fact of the matter is that he's here and he's going to be the quarterback for at least another year. Let's just watch, see what happens, and praise/criticize as its warranted.
There is one thing I really want to give Vick credit for, and it doesn't have anything to do with his play. Its the fact that he's kept his mouth shut during training camp. He hasn't wasted his breath running around claiming that this team is going to be the start of a dynasty like he did a year ago. He hasn't been whining to the media that Chip Kelly should be naming a starter right like he did during mini-camp.
Instead of getting caught up in all of that nonsense and drawing unneeded attention to himself, Vick has kept quiet and stayed focused on what really counts: his play on the field. Over the last month, he's been focused on winning this competition and proving that he's the guy that gives this team the best chance to win.
Well done, Michael. Keep up the good work.
Which Eagle Has Improved The Most?
We've seen some young Eagles really step up and perform well so far during Training Camp.
Chris Polk has done a really nice job so far, and he's gone from a guy on the bubble to a near-lock to make the roster.
Cedric Thornton has had some really nice moments, and he's come a long way from a guy who barely made the roster back in 2011 to a starting defensive end in the new 3-4 scheme.
Brandon Boykin looks like he's made some strides.
But the guy I think that I've been most impressed with out of any member on this team has been wide receiver Damaris Johnson.
When we first saw Johnson last year, we saw a guy who had some nice speed, but was still very raw. This year, Johnson looks much more comfortable. He seems to understand his role and what he's supposed to do much better than he did a year ago. It's only been two games, but I've seen a lot of growth from him.
Right now, Johnson has been so explosive and dynamic on punt returns, that I'd have no problem if the team went with him over DeSean Jackson.
Most Disappointing Eagle?
When there's good news on one hand, there's usually bad news on the other.
While some Eagles have been improving, others have been disappointing.
I think by far the most disappointing Eagle to this point has got to be Kenny Phillips.
Phillips was one of the team's major signings in free agency, and the hope was that he would be able to come in and dramatically improve one of the safety positions, providing the team with a defensive leader and a playmaker. Instead, the former Giant has been unable to get on the field, constantly dealing with injury issues. He's been unable to make an impact to this point, and he's in danger of not even making the team.
There's still time for Phillips to turn things around, but its got to happen soon.
Quick Thoughts
The offensive line has looked really good so far, and that's without Jason Peters taking a single snap. Give a lot of credit to new offensive line coach Jeff Stoutland for the job he's done so far.
Brandon Graham would be a pretty solid runner-up for most disappointing Eagle. Graham got some people excited when he picked up a couple of sacks at the end of last season, but he's been invisible so far. Well, he hasn't been completely invisible. His sorry effort on LeGarrette Blount's touchdown run in the New England game stood out.
Is anyone else a little worried about DeMeco Ryans? He hasn't looked comfortable in the new defense so far, and one of the reasons the Houston Texans let him go was because he didn't fit in their 3-4 scheme.
I really like how organized the Eagles' offense has looked. After 14 years of watching the Eagles move at a snail's pace and barely get to the line of scrimmage with 10 seconds left on the play clock (sometimes forcing Andy to burn a timeout), the focus and attention that has been put on the no-huddle is really refreshing.
I don't think Isaac Sopoaga is going to last the whole year as the starting nose tackle. At some point this year, a guy like Bennie Logan or Damian Square is going to emerge as a better option.
Denny Basens is the editor of GCobb.com. Email him at dbasens@ycp.edu, or follow him on Twitter.