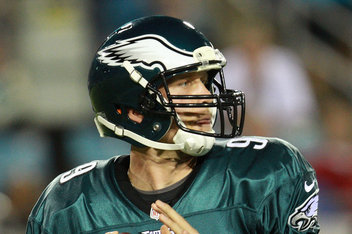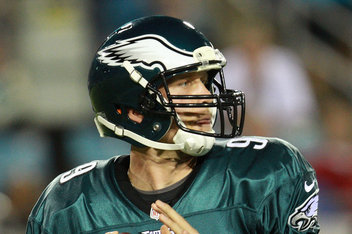 Poor Showing For Foles
Nick Foles finished his preseason with a terrible performance. The second-year quarterback completed just 6/17 passes for 63 yards and also lost a fumble.
On the Eagles' first offensive play, Foles was overwhelmed by the pass rush, panicked, and allowed the Jets to rip the football loose. It's the kind of careless play that you just can't have from your quarterback, and Foles has had enough of these mistakes by now that he should be making a much more conscious effort to protect the football.
Right now it looks like regardless of whether its Vick or Foles under center, the Eagles are going to have turnover issues from the quarterback position. Foles has made more careless plays this preseason than Michael Vick, and its a very disturbing sign that doesn't bode well for the young man's potential in this league.
Foles just couldn't hit his mark tonight. The only points that he managed to generate came on a field goal after the Eagles were given a short field following a turnover.
Sure, Foles was stuck working with reserve offensive lineman and skill position players, but that's no excuse for how poorly he played tonight. A mark of a great quarterback is that he's able to overcome the limits of the teammates around him, and make the guys around him better. Foles didn't do that tonight.
Who Made A Case To Be On The 53-Man Roster?
Emmanuel Acho may have been the team's best defensive player tonight. Acho was in on 11 tackles, picked up a sack, and forced a fumble.
Chris McCoy was very active. McCoy dropped an interception on the first play of the drive, but bounced back with a sack on the next play. The linebacker picked up another sack in the first quarter, finishing with three total tackles.
Jake Knott had eight tackles, and forced a fumble.
Everette Brown had two sacks and a forced fumble.
Offensively, Matthew Tucker capped his preseason with 31 rushing yards and two touchdowns.
Quick Thoughts
Brandon Graham had his strongest moment of the preseason, chasing down Matt Simms for safety on the first New York drive.
Nate Allen got the start at free safety, and was noticeably pushed around on the first touchdown run by Kahlil Bell.
Matt Barkley didn't fare much better than Nick Foles tonight, finishing with just 134 passing yards and a bad interception that was run back for a touchdown.
Greg Salas had two receptions for 26 yards, but also dropped a couple of passes.
If Kurt Coleman doesn't make this team, he's going to go on and be a nice addition for someone else. He may not be anything special as a starter, but he plays hard, and I'd take him over Nate Allen easily.
Acho's performance could very well spell the end of Casey Matthews' stay in Philadelphia.