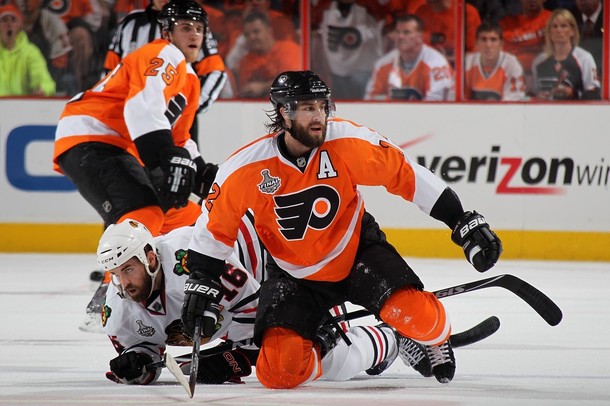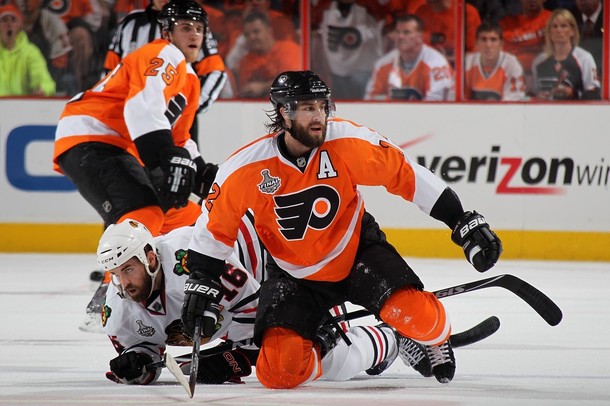 When Dan Cleary reneged on his agreement to attend the Philadelphia Flyers training camp to sign a one-year, $1.75 million contract with the Detroit Red Wings, Flyers general manager Paul Holmgren took it pretty well.
"I have more respect for Dan now based on what happened today," Holmgren told reporters. "He was loyal to his team."
It is an odd quote from Homer when taken in context with how the Cleary offer affected another loyal soldier- Simon Gagne.
The blog BroadStreetHockey publicized on Friday an article from Quebecois news outlet La Presse and translated by SimonGagne.com (yes, this is a real web site) in which Gagne ripped the organization for leading him on all summer about a contract and then deciding against it at the last minute.
Per SimonGagne.com:
"When I heard [Tuesday] that they had given a contract to Dan Cleary, it was like a slap in the face. I'm disappointed. I knew that hockey was a business, but with all the positive discussions we had with the GM Paul Holmgren, I can't believe I'm not back with them."
The sad part is that this isn't even the first time that Holmgren has poorly treated the 33 year-old winger. When the Flyers were over the salary cap in 2010, the organization pressured him to waive his no-trade-clause to accept a trade in order for them to be cap-compliant. There was absolutely no reason that he had to acquiesce and uproot his family, but he reluctantly did so.
Most fans understand as well as Gagne that "hockey is a business," and bringing another championship to Philadelphia ultimately means more than catering to fan favorites.
Gagne isn't just another former Flyer, though. They say that every player is somebody's favorite (well, maybe except for Randy Jones), but Gagne is one of the most celebrated athletes in Flyers' history.
The Flyers' web site ran a poll over the summer for fans to vote on their play of the year. Surprise, surprise!- it was Gagne scoring a goal in his first game back.
"Over 7,000 votes were cast, more than doubling any other weekly vote during the tournament and the first winner of PhiladelphiaFlyers.com's Play of the Year Fan Vote has been crowned. Simon Gagne scoring a goal in his first game back after a two-year absence from the Flyers earned over 4,000 votes from fans in the Finale to defeat Zac Rinaldo's fight with Tampa Bay's B.J. Crombeen, which earned over 3,000 votes… In total, over 25,000 votes were cast by fans throughout the summer to determine the Play of the Year."
From a management point-of-view, this sour treatment of #12 won't really impact the business. If the 2012-13 NHL lockout wasn't going to keep fans from attending games, disrespecting Simon Gagne won't make a dent either. As for player personnel, none of the sign-and-trade debacles with Mike Richards, Jeff Carter and James Van Riemsdyk prevented Claude Giroux from signing an eight-year contract or Scott Hartnell and Wayne Simmonds from signing six-year contracts. At the end of the day, these situations don't have much, if any, impact on player's decisions to sign with an organization.
In June of 2011, I addressed the rumors that the Flyers could sign Gagne as a free agent (he signed with the Los Angeles Kings on a two-year deal, winning the Stanley Cup in the first year).
"The Flyers organization has such a misguided concept of salary cap management that I doubt he would be willing to knowingly put himself in that situation again, as much as he loves Philadelphia. With so many names of current Flyers being thrown out as potential cap fodder to sign Ilya Bryzgalov, why would he want to be back in the middle of this mess?"
Hopefully Gagne finds work soon, even if comes at the expense of an existing NHL player becoming injured. It's unfortunate that the organization once again handled this situation so disingenuously, but Gagne and his agent should have also understood by now that the "loyalty" harped on by retired players on Mr. Snider and Mr. Holmgren only extends so far.
* * * * *
Additional quotes and insight from Gagne and Holmgren were circulated through members of the Philadelphia media on Saturday afternoon.
From Rob Parent, reporter for the Delaware County Daily Times: "Simon Gagne just texted me and said he regretted 'a little of what I said because I have too much respect for the Flyers.' "
John Boruk of CSNPhilly also reported that Holmgren stated he "never discussed financial terms or had any monetary agreement in place with Simon Gagne."
The latter statement doesn't refute any claims that Holmgren had discussed with Gagne's agent that he could be invited to camp or that they would be interested in bringing him back for the open winger position. It simply acknowledges that the discussion likely didn't get into specifics.
It's worth noting that, while Holmgren could have possibly been more forthcoming about just how real the organization's intentions were of bringing him back, it's ultimately up to Gagne's agent to advise him on whether it's good practice to forgo other offers (assuming they existed at one point) rather than hope for one to be extended from his preferred team.
It's also possible that these intentions were communicated, and that Gagne simply heard what he wanted to hear and ignored it.
The bottom line is that this could have all been handled much better between all parties than how it devolved at the eleventh hour of training camp scheduling. The Philadelphia Flyers are an organization that prides itself on loyalty and family, and at some point this summer they neglected to take better care of one of their former players than they could have.