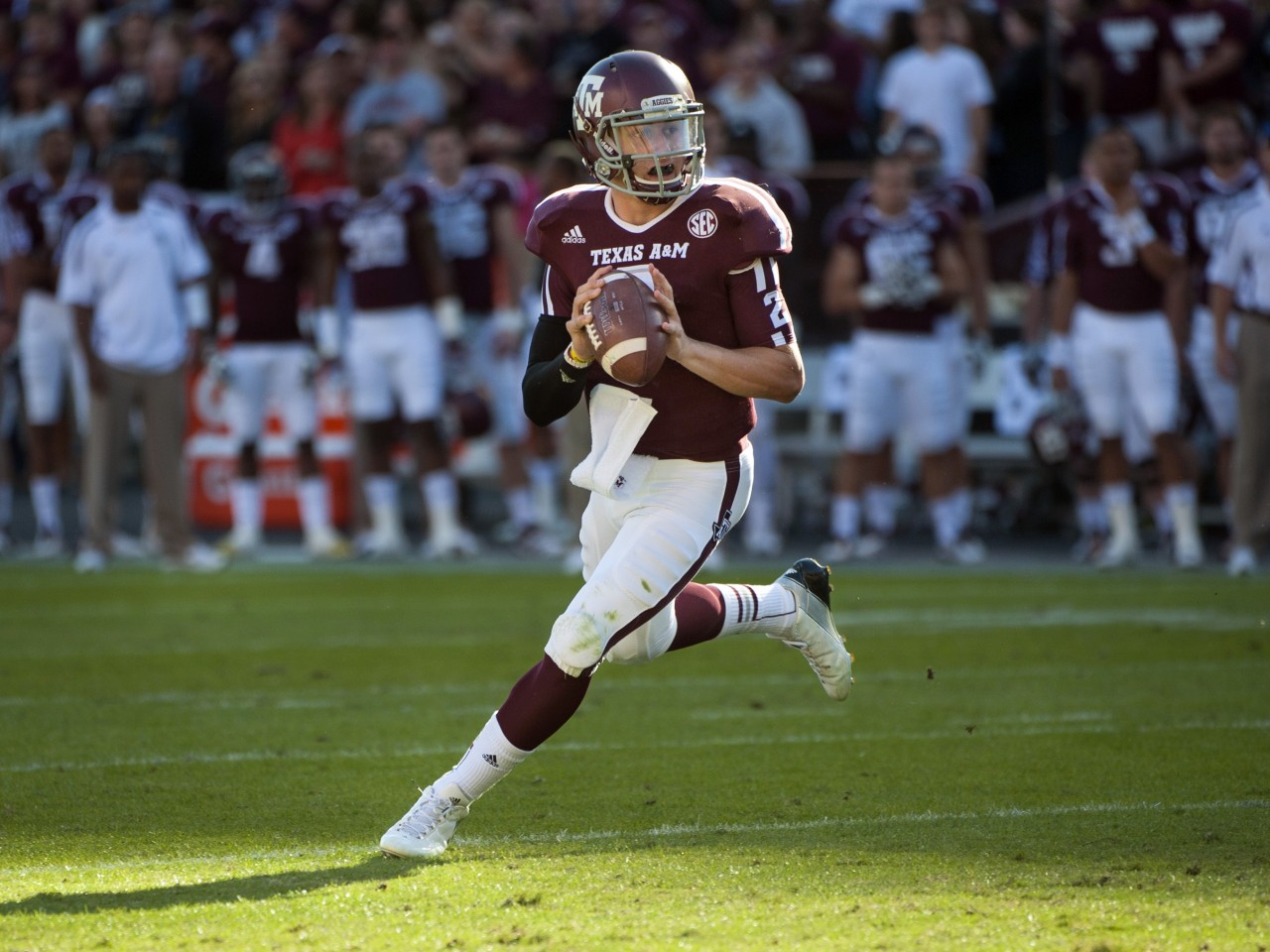 I have learned not to get overly excited or put too much hype on any one game during the year, but this Alabama Texas A&M game will be a memorable one when we look back on turning points for both teams. Looking back I said Texas A&M would score points, but Alabama would score more. In fact I predicted 45 plus for the Crimson Tide. If more had watched the Aggie defense the first two games there was not much that led me to believe they could tighten the mistakes up enough to stop one of the most underrated offenses in college football.
 Johnny Manziel is a talented football player. He is not a winner. People forget he in fact did loose two games in 2012 and Alabama had two very good chances to win their game with the Aggies then as well. Texas A&M caught Alabama coming off a huge emotional comeback win against LSU the Saturday evening before. They jumped all over the Tide similar to what they did  this past Saturday. If not for a AJ McCarron interception inside the five yard line ( he threw three picks the entire year ) with a few minutes to go then jumping off sides on 4th down with a minute to play with A&M getting ready to punt from their own 10 yard line there is no Heisman Trophy and perhaps that would have been the best thing to ever happen to Manziel. Since that game he has become more famous for his off the field antics then his play. Looking back on Saturday, many will talk about his inflated passing stats or his "Heisman Like Throw" when he was about to be sacked. I saw it different. What I saw was a guy piling up yards when Alabama was in a soft prevent in the. 3rd and 4th quarters. That miraculous throw was a terrible decision which would have been picked off 8 out of 10 times.  Subsequently his poor decision making  got the better of him on that very same drive when he was picked off in the end zone completely changing the momentum of the game. I have said all along keep Manziel in the pocket, bring heat through the A and B gap and he will make poor decisions. In a few weeks the Aggies will face a young and up and coming Ole Miss squad who will pull off the upset hopefully squashing any frivolous talk about a second Heisman come December.
Oregon continues to put up basketball scores as they pummeled a rebuilding Tennessee squad. Some say impressive but this isn't the typical Tennessee team. Unfortunately we won't know much about Oregon until they face off with Stanford November 7th in what turns out to be an elimination game for one of their national title hopes.
Ohio State, Stanford, Florida State, Louisville all rolled over inferior teams. Michigan got a real scare from Akron, yes Akron.
Two teams I have really been impressed with are Ole Miss and Northwestern. Ole Miss shut down Texas this past week. I said last year they were the up and coming team to watch in 2013 . Evan Engram is proving to be one of the best Freshmen in the country. Engram has hauled in 11 receptions for 173 yards and two td's in his first few games. Quarterback Bo Wallace has thrown for 648 yards  4 td's and 0 picks. The 6'4 junior signal caller continues to improve after an impressive sophomore campaign. We will find out how far the Rebels have come on September 28th when they visit Alabama; A true measuring stick for the program.
Northwestern moved to 3-0 with a 38-17 win over Western Michigan. The Wildcats are 21st in the country averaging 44 points per game. Their test comes October 5th when Ohio State checks in for  Homecoming.
A few  players to watch are Florida State QB Jameis Winston. All Winston has done in his first two games is go 40-45 for 570 yards 6td's and only 1 pick. This kid already is a star but I still want to see how he does against better competition. Unfortunately that will not come until October 19th when Florida State takes on Clemson.
Keep an eye on Paul James at Rutgers. The junior running back  is averaging 8.1 yards per carry and has run for 493 yards in 6td's in Rutgers first 3 games. Big test for James and the Scarlet Knights this weekend as an improved Arkansas team comes calling
On the defensive side of the ball senior cornerback Stanley Jean-Baptiste has 3 picks and isn't afraid to play the run for the Nebraska Cornhuskers. He has NFL size at 6'3 and 220 lbs and is someone on my watch list.
On to the top 10:
1)       Alabama – Aside from a shut down corner they have talent everywhere. I'd consider inserting some of those huge wide receivers at corner in goal line situations if teams will continue to throw jump balls into the end zone. Colorado State this week they will sleepwalk to a 20 point win
2)       Georgia –  yes Georgia.. I don't follow the experts ( ie: Kirk Herbstreet who I didn't know was from Asian decent as his middle name is Imalwayswong. In December Georgia will play Alabama for the SEC Championship or as we now call it the real BCS title
3)       Clemson – Yes, I had a sip of the punch but didn't drink the entire glass. Get by NC State this Thursday and prove yourself against Florida State.
4)       Oregon – I put them 4th reluctantly because they always are the bully until someone punches them back. May take until November when they visit Stanford.
5)       LSU – Cam Cameron has done wonders with the offense and I think if they lined up against Ohio State or Stanford they would beat them it's just that simple.
6)       Stanford – Again reluctant to put the Cardinal so high. The talent is there but they have played with no heart so far.
7)       Ohio State – They have looked impressive against inferior competition. Let see how they do in 2 weeks at Northwestern.
8)       UCLA – Why nobody has the Bruins in the top 10 is beyond me. Do they have to murder someone? They have really been impressive so far in what was suppose to be a down year.  Hundley is a good quarterback and a top 10 pick in next years draft. A much better pro prospect then Johnny Football.
9)       Florida State – Impressive play once again, but they need to play a stronger opponent.

10)   Oklahoma – Blake Bell looked impressive in his first start and the defense has been a huge surprise. Again why Oklahoma over Louisville? They would win head to head I actually watch the games instead of just throwing out names everyone else is using…
See you next week please donate to a local animal shelter …