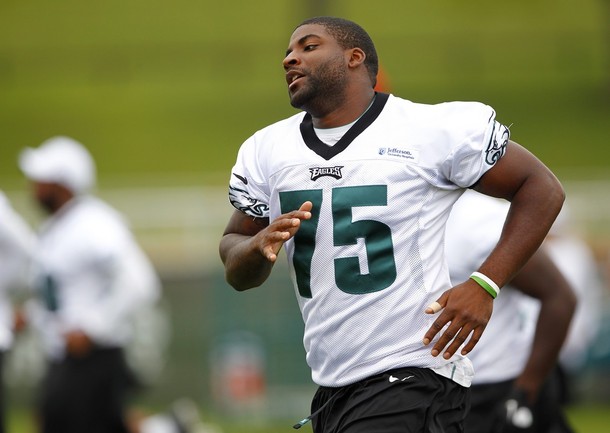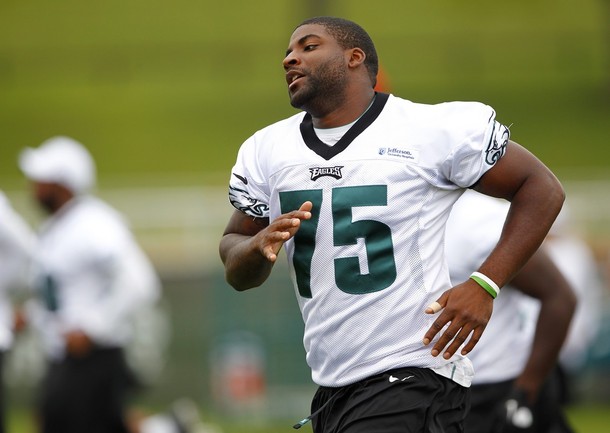 Eagles' defensive end Vinny Curry has spent the majority of his young career on the sidelines.
Curry, one of the team's second-round draft picks from 2012, has been a healthy scratch for 12 of his 18 games. We've only seen the second-year man in meaningless situations. We've seen him toss around second and third-string players like rag dolls in the preseason during the last two years, and we saw him have a handful of decent games at the end of the 2012 season when the team had some playing time open up for him following the release of Jason Babin and the firing of Jim Washburn.
Why Curry hasn't been worked into the rotation to this point is a bit of a mystery.
My theory is that coming into Training Camp, Curry wasn't in the team's plans. There's been a lot of doubt about whether or not he can fit into a 3-4 scheme, and I think Billy Davis and the defensive staff may have overlooked him at first. However, Curry made his presence known in the preseason, and made it impossible for the Eagles to release him. And now that he's here, I don't think the defensive coaches know what to do with him.
To this point, they've gone with the guys that they've been more comfortable with; the guys who they originally planned on being here and working with. But through the first two games, the current group of linebackers and defensive ends have really struggled to generate a consistent pass rush.
No one on the defensive line has made much of a difference. Cedric Thornton has had some nice moments, but Fletcher Cox has been a bit of a disappointment so far and Isaac Sopoaga has been completely ineffective. Trent Cole has had a couple of nice games to start off his first year at linebacker, but his backup Brandon Graham hasn't been able to bring anything to the table as a pass rusher.
Maybe Curry isn't a perfect fit for this scheme, but during his limited playing time he's always been very active and seems to have a knack for getting around the ball and making plays. Think about some of the players that are getting snaps over Curry right now. Clifton Geathers, a journeyman who has bounced around six different teams in three years, is being activated in front of a second-round pick who has shown a decent amount of promise but has never been given a real opportunity to shine.
Curry alone won't turn this defense around. But he's a talented prospect that has a chance to bring something positive to the table. It's absolutely ridiculous that a guy who was a second-round pick just a year ago can't be active on gameday. If Billy Davis is in any way worthy of being a defensive coordinator in this league, its his responsibility to find ways to get his most talented players on the field. After the defense couldn't generate even a little bit of pressure on Phillip Rivers last week, its time to change things up a bit and unchain the untested second-rounder.
Denny Basens is the editor of GCobb.com. Email him at dbasens@ycp.edu, or follow him on Twitter.