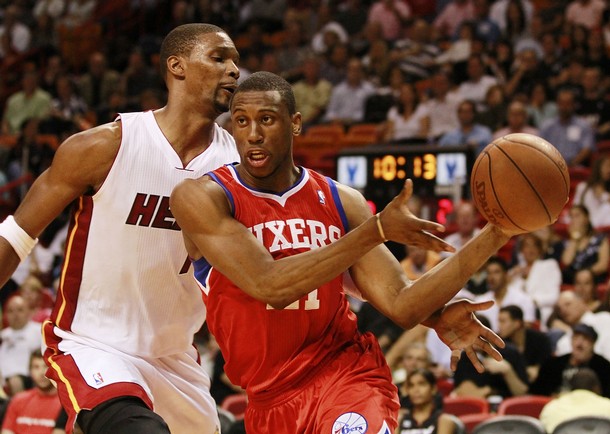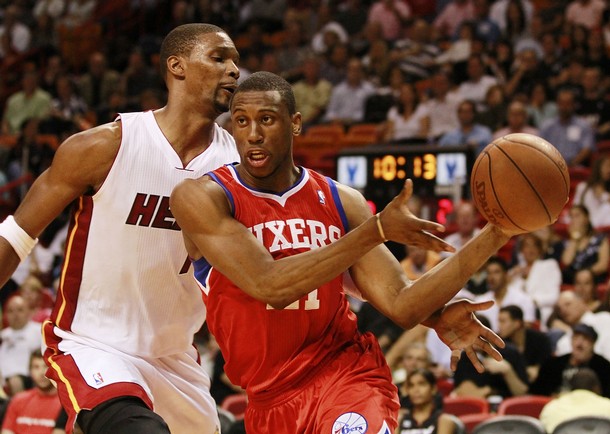 Well, the Sixers are opening training camp completely different then they did last year. Man, what a calender year did to this team. That is all the dwelling I want to do on last years squad, so moving on…
When you're talking Sixers, you're talking non-guaranteed, minimum contracts. That is basically what the Sixers have done since trading Jrue Holiday. I mean, it is smart on their part. Next year's draft class is Exhibit A for that ( Wiggins, Parker, and Randle).  I have said it before, I am not crazy about the tanking thing, but in the NBA sometimes it must be done.  David Stern doesn't like taking credit for that.
The Sixers have brought in undrafted rookies, players that haven't found their niche yet (likely never will), and veterans desperately trying to stay in the league. That adds up to non-guaranteed contracts, partial guaranteed contracts, some guaranteed contracts and barely reaching the cap floor. That is the ultimate tanking job. Well, done Mr. Hinkie…
Training camp is upon us and with that said lets take a look at one of the most interesting  Sixers rosters ever assemble.  This is going to be a fun year. I say the Sixers win 17-22 games. Too much?
I figure to begin with the players that actually are guaranteed to make this roster, unless Hinkie decides  to say no, and just trades everyone. It could happen.
          Guaranteed Contracts
PG- Michael Carter-Williams – The 6-6 point guard is one of the youngsters that Hinkie is relying on to be part of the future. The kid has good vision and can get to the rack. He struggles with his jumper and turning the ball over.
C- Nerlens Noel – The Kentucky product should just sit out until he is fully healthy from his ACL injury. Even if that means the entire season.
PF/SF- Thaddeus Young – The heart and soul of the Sixers. A good guy to have around for youngsters to learn from.
PF/C- Spencer Hawes – Can you say traded by the deadline? Yes, Sixers fans. He does have some value. As much as he drives us insane, he does have skills for a big-man.
PF- Arnett Moultrie – If he wants to stay in the NBA, there is no better time than now to prove it.
PF- Lavoy Allen– Remember that time when we thought that Lavoy maybe could be a starter in this league?  He is a decent backup.
SG- Jason Richardson– I did read a report that the Sixers may ask him to sit out the year. Hinkie is a funny dude…
G/SF- Evan Turner– The Sixers "whipping-boy". Some thought that he would have been gone already. Does Hinkie actually like Turner? Or does he not know what value Turner has in the trade market. I sure as hell have no clue.
PG- Tony Wroten– This dude is intriguing as hell. He has size (6-6) and is very athletic. He sees the floor well, BUT the guy can't shoot. That is a recurring thing on this team.
C-Kwame Brown- Giving this guy a guaranteed contact is the ultimate "tanking" move. Just start him at center every game.
         Partial Guaranteed  Contracts
PG- Khalif Wyatt-  I love me some Wyatt.  If Wyatt wants to make this team or stay in this league, he should be watching Andre Miller game tape's .
PG-Darius Morris– Well, he did play for the Lakers at least.
C-Tim Ohlbrecht- Who? The center appeared in just 3 NBA games for the Houston Rockets. The 25 year-old  is a German professional basketball. Hooray, for the Deutschland!!
PF- Royce White– Actually, I have no clue where to put this dude at. I guess, I can say that he is a partially guaranteed contact. He is expected to be in camp. I really don't even know where to start with this talented, but trouble dude. Apparently, he is cool with flying now too…
         Non- Guaranteed Contracts
SF/PF- Arsalan Kazemi – Reportedly, signed a contract overseas in Iran. I would love to see him stay. Love his grit.
SF/G-Rodney Williams– The undrafted wing out of Minnesota is a good athlete. He did run the floor well in the summer league. Just saying… 

SG-James Anderson– The former first round pick by the Spurs (20th overall), has played three seasons in the NBA.  He has played for the Spurs and Rockets
G-Vander Blue– The former Marquette guard, is an outstanding athlete. His name is awesome.
SF- Hollis Thompson- The 6-8 swing-man out of Georgetown, He spent last year with the Thunder's NBA Development League affiliate, the Tulsa 66ers.

The Sixers may go up to 20 guys on the training camp roster. As of now, 19 where it stands and this is where the journey for Wiggins begins…