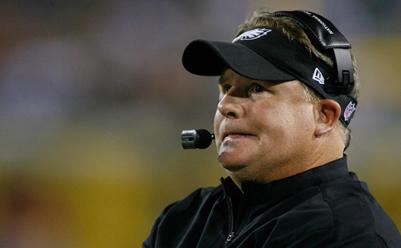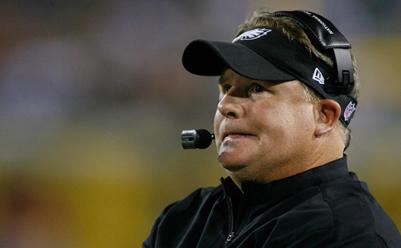 Believe it or not, we're already a quarter of the way through the 2013 season. We've had four regular season games to evaluate the state of the Eagles off of, so let's take a look at how the major coaches and individual units have been faring so far.
Coaching Staff
Chip Kelly: A flashy offensive showing against the Redskins got the NFL to take notice of Kelly and his offense, but in the following three games the head coach has not been the least bit impressive.
A complete disregard for the importance of time of possession and poor clock management contributed to the team's loss against San Diego. Against Kansas City, the head coach spent his short week of preparation working on installing a gimmicky swinging gate two-point conversion package instead of properly preparing for the Kansas City pass rush. Last Sunday in Denver, the head coach's vaunted offense managed just 13 points while the game mattered despite the fact that Kelly had several extra days to prepare.
The biggest compliment that I can give to Kelly is that its refreshing to see a head coach put such a strong emphasis on the running game. But ultimately, I'm not seeing a great deal of creativity and innovation that Kelly was supposed to bring to the table. I've seen a fast-paced approach look good against a couple of poor defenses (San Diego/Washington) and sputter against two quality units (Kansas City/Denver).
I don't think Kelly has responded well to early adversity. After coming out of the gates swinging, and going for it on 4th down against the Washington Redskins, let's fast forward to Week 4. Faced with a 4th and 6 in Denver territory before the end of the first half, Kelly couldn't decide whether he wanted to go for it or punt the ball away. He decided to play it safe and kick it away. For a coach who earned the nickname "Big Balls" in college, that was anything but a bold decision. In that situation, the Eagles were going to need to take chances in order to stand any chance of beating the Broncos. Ever since the losses have been piling up, Kelly looks as though he's lost his competitive edge and swagger. He's not used to losing, but he can't coach timidly like that.
The good news is that the season is still very young, and there's plenty of time for Kelly to improve upon what he's done.
Grade: C-
Billy Davis: Its hard to believe, but Billy Davis has actually managed to make one of the league's poorest defenses from 2012 and make it even worse.
Yes, its clear that talent is an issue on the defense, but schematically, Davis' gameplans and in-game adjustments have been absolutely wretched.
For example, in the San Diego game it was clear that Mychal Kendricks was no match for Antonio Gates. However, Davis left the second-year man on him for the entire game and he was burned for 8 catches and 124 yards when he could have tried switching Kendricks out with Connor Barwin.
Against the Chiefs, Davis often dropped eight men into coverage, but couldn't stop the Chiefs from picking up big gains on underneath routes and check downs.
Davis had 12 days to prepare for Peyton Manning and the Broncos, and while nobody was expecting the Eagles to stop Manning, the defense looked so bad that it was enough to question whether or not there was any gameplan at all put in over those 12 days.
In the Eagles' three losses, Davis has been unable to account for slot receivers. Eddie Royal, Donnie Avery, and Wes Welker have torched his defense for a combined 21 receptions, 306 yards, and five touchdowns.
Grade: F
Quarterbacks
Michael Vick has done a very good job through the first four games. He's put on great performances against the Redskins and Chargers, and has really only had issues with turnovers against the Chiefs. For the most part, he's played within the system, and he's doing a good job at facilitating the offense.
Vick has made a lot of great plays so far, and with the exception of the Kansas City game, he's been one of the team's brightest spots to this point.
Grade: B+
Running Backs
LeSean McCoy is on his way to a Pro Bowl year, rushing for 468 yards, averaging 6 yards per carry. He's the engine of this offense.
Bryce Brown has been used sparingly, but picked up 60 total yards against Denver. Chris Polk has even contributed a touchdown run.
Everyone of the running backs has brought something positive to the table through four weeks, and none of them have lost a fumble. You can't ask for much more than that.
Grade: A+
Wide Receivers
DeSean Jackson began the year with two big games against the Redskins and Chargers, but followed them up with two no-shows against the Chiefs and Broncos. This is the problem with Jackson. He can be an explosive weapon within an offense, but he also disappears too easily.
Jason Avant is the only other receiver with more than 10 catches. None of the other wideouts have stepped up and proven that they can be counted on to contribute in this offense. Avant and Riley Cooper can be neutralized with single coverage. Damaris Johnson and Jeff Maehl haven't seen significant snaps with the offense.
DeSean has been an important part of this offense, but he needs one of the other wideouts to step up and draw some attention away from him. This group really misses Jeremy Maclin.
Grade: C+
Tight Ends
One of the most disappointing units on the team so far. Its still early in the season, but the Eagles have received minimal contributions from this position.
Brent Celek got off to a good start with 56 yards and a touchdown against the Redskins, but he's been dropping balls ever since.
The Eagles invested a lot in this position during the off-season, spending a second-round pick on Zach Ertz and throwing $12 million at James Casey, and the two newcomers have combined for 6 receptions and no touchdowns. Casey dropped a touchdown against the Chargers, and didn't catch a pass until the Denver game.
Kelly needs to get these guys more involved in the coming weeks.
Grade: D+
Offensive Line
A lot of people expected this offensive line to be a strength, but its been a struggle for these guys through four games.
Not one of the five starters is performing at a high level. Jason Peters has been good, but not great and really struggled against Denver. Evan Mathis has been OK. Jason Kelce contributed to the loss against Kansas City with a couple of botched snaps. Todd Herremans looks like he's in a decline. Lane Johnson has had three really rough games, getting dominated in the pass rush, missing blocks, and drawing penalties.
As a group, the line has not done a good job protecting Michael Vick. They have done a pretty good job creating running lanes for LeSean McCoy, however.
Grade: C
Defensive Line
More early disappointment.
Fletcher Cox hasn't shown a lot so far, and he had a couple of bad penalties against Denver. The Eagles were counting on Cox to be one of the guys who rises up and becomes an important part of the defense.
Has anyone seen Isaac Sopoaga? Sopoaga, who in the off-season stated that the Eagles would "shock the world", has been completely invisible so far.
Cedric Thornton has been the one guy that has played pretty well week-to-week.
The Eagles have received minimal contributions from their reserves. Vinny Curry plays well when he's on the field, but the coaching staff is hellbent on playing Clifton Geathers ahead of him.
Grade: D+
Linebackers
You can't help but be impressed with how Trent Cole has made the adjustment from defensive end to outside linebacker. He's forced fumbles against the Redskins and Chargers, and has yet to have issues in coverage.
Connor Barwin has been solid as well. He's added a little pop to the pass rush, and he's one of the only guys that you can feel good about.
Mychal Kendricks played great against Washington, but has been awful the following three weeks. He's been a liability in coverage, and he doesn't look comfortable in the defense at all. Like Fletcher Cox, Kendricks was one of the young players that the Eagles have had a lot of hope for, but after three bad showings, the second-year man has begun to create some doubts about his ability to succeed.
DeMeco Ryans has been unimpressive as well. We've gotten no impact from Brandon Graham (surprise, surprise). Jake Knott has gotten on the field for a handful of snaps.
Grade: C-
Secondary
An absolute trainwreck.
Cary Williams has been about what I expected…he's been up and down. Williams played well against the Redskins and Chiefs, but was a penalty machine against San Diego and was no match for any of the Broncos receivers.
Bradley Fletcher is getting abused regularly, but unfortunately he's the best option the Eagles have right now.
Brandon Boykin has been the lone bright spot through four weeks. He played a strong game against the Chargers, and plays his role as the nickel corner well.
The safeties have been nothing short of atrocious. Nate Allen seems to only get worse every week. Patrick Chung has given up some big plays and regularly misses tackles. Earl Wolff is an overwhelmed rookie who shouldn't be playing.
Grade: F
Special Teams
Special teams was an area that a lot of people expected to win the Eagles a couple of games this year.
Four weeks into the season, they've contributed significantly to all three losses.
Alex Henery has been shaky and unreliable. He's missed field goals in three straight games, including one against the San Diego Chargers that proved to be the difference in the game. Henery also failed to cover a fumble that went right into his lap in the Chargers game.
Punt returner Damaris Johnson hasn't shown us the electric returns that he was ripping off in the preseason, and his muffed punt against the Chiefs gave Kansas City an early lead.
The Eagles' kick coverage units allowed Quintin Demps to rip off several big returns, and gave up a touchdown to Trindon Holliday last Sunday.
The special teams also allowed a punt to be blocked and returned for a score against Denver.
Its almost as if Bobby April never left…
Grade: F