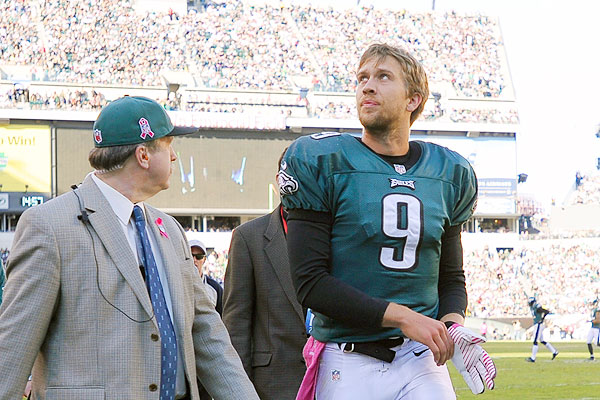 Since the Sunday debacle against the Cowboys, I've heard many Eagles fans jokingly say, "Foles played like he had a concussion the entire game".  I don't know that Foles was concussed early in the game, but he sure did play like it.
I read a number of articles about Minnesota quarterback, Josh Freeman, who played the entire game against the New York Giants on Monday night, then after the game the doctors realized he has suffered a concussion during the game.  Freeman said he thinks the injury happened in the third quarter.
It got me to thinking about Nick Foles and how bad his vision and decision-making was in the game.  I looked at the tape a few more times and have come away unsure of exactly when Foles was concussed.  I wouldn't be shocked to learn that Foles was concussed on the fourth offensive play of the game.  I'm not so sure that Foles didn't lose his wits about him on that play.
He rolled out on the third-and-ten play, couldn't find anybody open and was subsequently hit and tackled by Dallas linebacker Bruce Carter.  I wouldn't be shocked to learn that he had sustained a concussion when he was hit by Carter, while trying to throw the ball away.  His head whipped back when it hit the ground.  Foles did get up and run off but that doesn't mean his brain was shaken.
That was the same way his head hit the ground when he was hit by Cowboys defensive linemen Jarius Wynn and George Selvie at the end of the third quarter.  We later learned that he was concussed on that play.  He didn't get up so well in that situation.  There's plenty of evidence which we all watched that shows him playing like he was concussed.  Foles missed open receivers all over the place and at times seemed to looking right at the open receivers.
I know a little bit about playing with a concussion.  You can play, but you're not sharp.  Everything is a bit fuzzy.
I remember suffering a concussion years ago in high school and at USC as a freshman.  I played the rest of the game in both situations. You're not all there mentally, but you're able to continue to play because you've done the specific movements to the point where you can almost do them in your sleep.  Your subconscious takes over and you continue to play through your subconscious.  You play much of the game with your subconscious anyway because you do a lot of things during the game that you didn't even realize that you did.
Many times I would marvel while looking at my game tape.   I would avoid a blocker that during the play in the game, I didn't realize I had seen him.  At times I would take an angle to make a play because my instincts or subconscious mind would guide me that way.  Thinking back to the play while watching it on tape, you realize you didn't have time to cognitively figure out how to avoid the block, but you did.
Playing with a concussion, is like a part of your brain isn't working but the other part takes over and does the job.
It's almost like you're sleep walking or dreaming.  You know you're doing something, but you're not totally in control to the point where you cognitively think through what you're going to do.
People drive while they're talking and don't even remember passing different locations during the drive.  Have you ever changed the channel on the television without thinking about it?  and trained yourself much of what you do is in your subconscious.
I have no proof that Foles was concussed on that play in the first quarter, but we all know that he surely played like it.