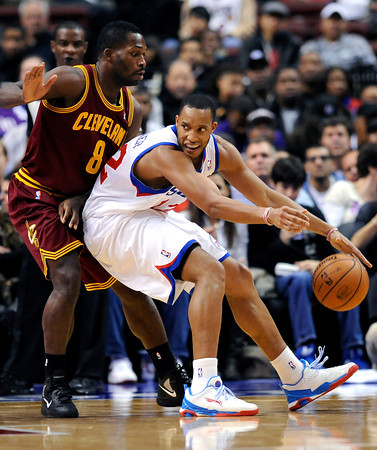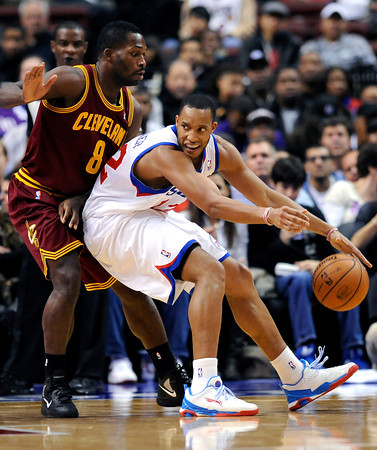 The Philadelphia 76ers lost a double-overtime game to the Cleveland Cavaliers on Saturday night. Their record drops to 4-3.
Another night, another 20-point game from Evan Turner. In fact, it was actually 30-point night. Turner scored 31 points, and took 13 trips to the free-throw line.  He hit two field goals in the final minute of the first overtime to tie the game.
Michael Carter-Williams hit a game-tying three point shot with 11 seconds left in the second overtime. He finished with 21 points, 13 assists, seven rebounds, and two steals.
Thaddeus Young scored 29 points, including a bucket with five seconds left that tied the game at 107.
After holding Kyrie Irving to 4-17 shooting on Friday, the star guard scored 39 points, including the game-winning layup in the second overtime.
Andrew Bynum was given the night off for Cleveland to rest his knees.
Darius Morris chipped in 12 off of the bench.
Brandon Davies earned his most significant minutes of the season tonight, playing over 10 minutes off of the bench and scoring three points.
The Sixer defense was able to force 18 turnovers.
Final Thoughts
For better or worse, the Sixers are giving us something worth watching.
This may hurt their pursuit of a top prospect from next year's draft, but you can't dislike the new head coach and the players on that roster for coming out and playing their hearts out each night.
These first seven games brought all kinds of encouraging signs. Michael Carter-Williams has shown that he's got a ton of potential, and he could become a triple-double threat in the future. Evan Turner has been an efficient, confident scorer. Thaddeus Young is taking on a leadership role, and Spencer Hawes has played well.
Carter-Williams, Turner, and Young all came through with scores in clutch moments to tie the game late in the fourth quarter, first overtime, and second overtime.
Brett Brown so far has done what a great coach does: bring out the best in the talent that he's given to work with.
Although I'd prefer the Sixers to rack up as many losses as possible, I can't help but be thrilled with what I've seen so far.