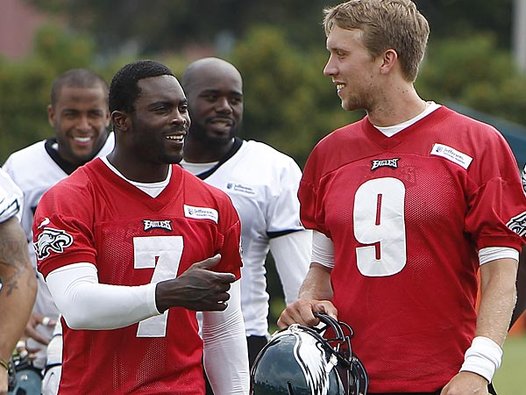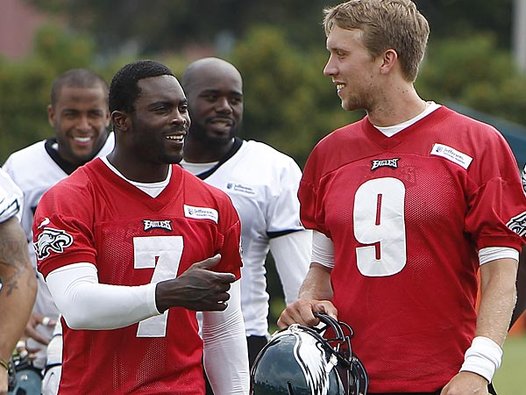 Nick Foles
The quarterback position has been stabilized, at least for the coming season.
Nick Foles set the world on fire in 2013, but there's still a fair amount of concern remaining about whether or not he truly is the long-term answer. In spite of all that he accomplished this season, many still talk about whether or not the Eagles will draft another quarterback with one of their early picks should the right guy still be on the board.
The way I see it, there's no way that the Eagles can (or should) spend another pick on a quarterback. If the Eagles were to use a draft choice within the top four rounds on a quarterback, it'd be the third year in a row that they've committed a higher selection to the position. They used a third-round pick on Nick Foles in 2011, and a fourth-rounder on Matt Barkley last year.
With the emergence of Foles, and with Barkley just beginning his development, I don't think it makes sense at all to add another young quarterback to the mix. Some will argue that Chip Kelly truly wants a mobile quarterback to unleash the full potential of his offense, but I think the idea that Kelly needs his quarterback to be mobile is a myth.
What Kelly wants is a guy that can run his offense efficiently and score points. And right now, he'd be hard-pressed to find a better guy for the job than Foles. Plain and simple, this team has a number of other areas that are bigger priorities and need to be addressed. Maybe it turns out that the success Foles experienced this year was a fluke. But after all that he's done this year, he's more than earned the right to enter next season as the unquestioned starter.
If he falters, then next year we can think about drafting another quarterback. But right now, I don't understand why anyone would want to make upgrading the quarterback position a priority when you've got a young quarterback coming off of a tremendous year.
Was Foles perfect? No. But here's the thing about young players. Because they're still in the early stages of their careers, they've still got a good chance to develop and improve on the flaws in their games.
Michael Vick
Would Vick return to the Eagles as a backup?
I'd be very surprised if Vick comes back. Of course, I thought his departure was all but assured at the end of last season, so I suppose you can't rule anything out.
Vick clearly wants to start, and there are too many teams out there that need help at the quarterback position, so at the very least there should be an opportunity for him to go out somewhere and compete for a job.
If Vick were to return as a backup, I'd be just fine with that. The Eagles need to have a veteran behind Foles and Barkley, and Vick is by far the best out of all of the veteran options (see below) that will be on the market, plus his familiarity with the system after already having been in it for a year is a plus.
The concern with Vick moving forward is that he'll be another year older, and his skills may very well diminish further, which combined with some of the flaws in his game makes him unattractive as a starter. But he's still got some explosiveness left in him, and if needed for a game or two could prove to be a very valuable asset.
Matt Barkley
Give Barkley a chance.
The former USC standout didn't look impressive at all in his two appearances this year, but he was thrown into difficult situations for a rookie.
While Barkley didn't show us anything to even make you feel good him as a possible number two quarterback, remember that all young players need to time to develop and adjust to the pro game. A year ago, I didn't think Nick Foles had a chance to be anything more than a serviceable backup. I learned from his case that you've really got to be patient with young players, and give them a real chance to show what they can do before writing them off.
Barkley is going to be a guy to watch next year at Training Camp. He's going to have a chance to push for the backup job, regardless of whatever veteran that the Eagles bring in over the offseason. Let's see if the coaching staff can bring out the best in him.
Possible Free Agent Additions
The free-agent market isn't very deep when it comes to veteran backups.
Josh McCown is the best name out there, but he's earned a chance to go somewhere to at least compete for a starting gig.
Josh Freeman is a guy I would have some interest in, but I wouldn't bang down the doors go get him. He's got great physical talent, and he's been put in to some pretty terrible situations in Tampa Bay and Minnesota during his career. The best thing Freeman could do would be to go to a positive environment with a good coaching staff that can help him get his career back on track, and I think Kelly and his quarterback-friendly system would be as good a situation as any for Freeman to land in.
Chad Henne is another guy I wouldn't mind seeing the Eagles take a run at. He's another guy who I think has done a decent job while playing on some terrible Miami and Jacksonville teams. Plugging him into a good system with better offensive weapons than he's ever had before could make him a decent fit as a veteran backup here.
Beyond those three, there's really nothing on the quarterback market.
Matt Flynn? No thanks. Tarvaris Jackson? I'll pass. Kellen Clemens? Not interested. Rex Grossman? No way.