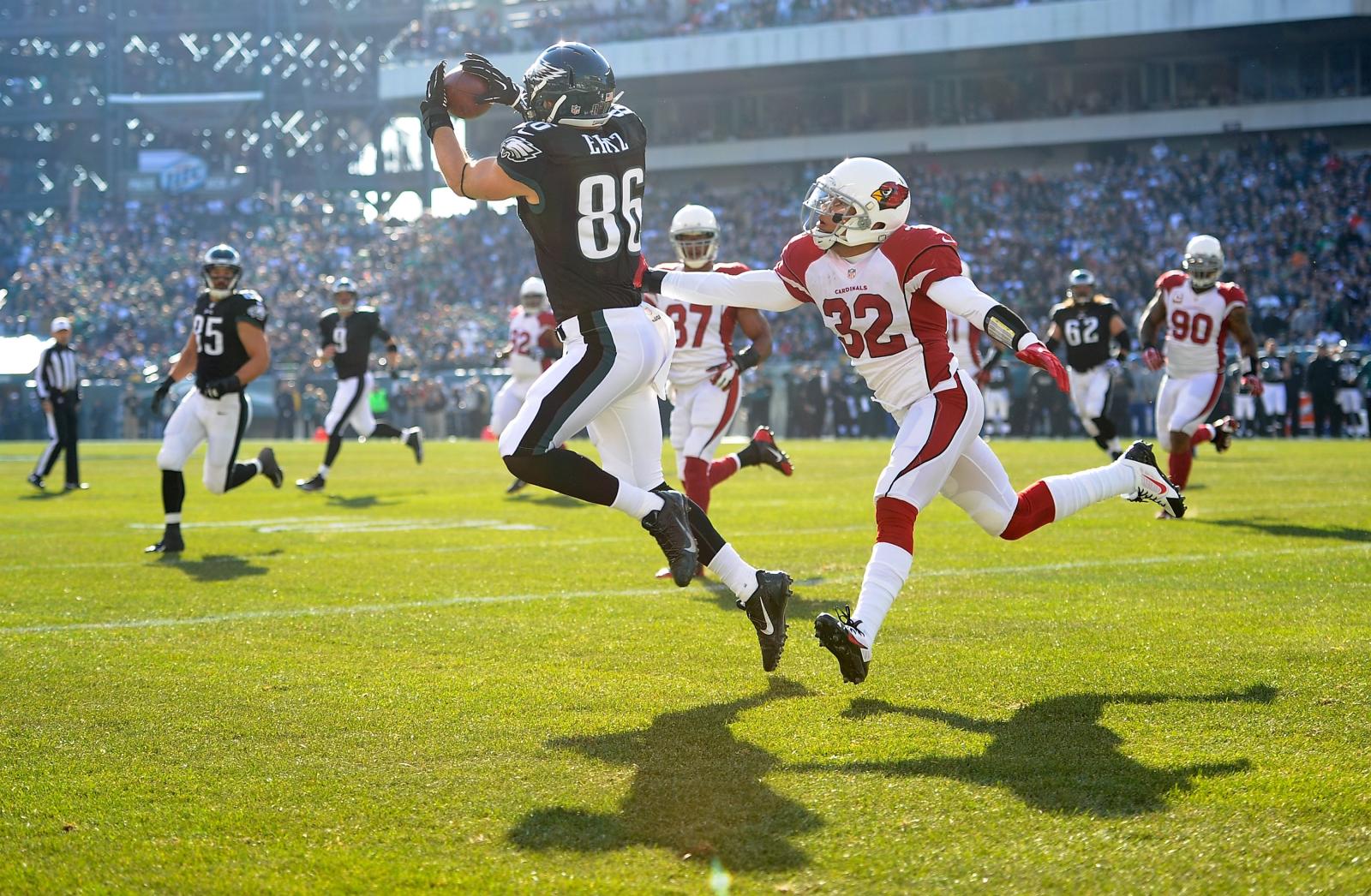 With the release of wide receiver DeSean Jackson, who wound up staying in the division with the Washington Redskins, the Eagles are suddenly missing their most dangerous outside threat from 2013. Losing 82 receptions, 1,332 yards and nine touchdowns will be difficult to compensate for but there is no shortage of weapons that could receive a portion of that in 2014.
Zach Ertz came into his own in the final eight games of 2013, a stretch that the Eagles won seven games and only lost one. As a second round draft pick, Ertz was the highest tight end drafted by the Eagles since Keith Jackson in 1988. During the locker clean outs after the Eagles loss to the New Orleans Saints in the Wild Card round of the playoffs, Ertz explained to reporters that the coaches simply didn't trust him to be in the lineup early in the season after dropping balls in the preseason.
His absence was noticeable as Brent Celek had more than twice as many offensive snaps in each of the first three games. Through the first eight games of the season, while some can be attributed to the change of quarterbacks, Ertz only caught 14 balls for 201 yards and failed to get into the endzone.
The remainder of the Stanford grad's season stats – 22 catches, 268 yards, and four touchdowns – all came in the second half of the season.
Like many of the "new age" tight ends, Ertz is explosive and can line up right on the line or split out as a wide receiver. His versatility will be a benefit for the Eagles as they will need to make up for the lack of wide receiver depth (currently) on the roster. Seeing Ertz step in and contribute immediately is rare for a rookie tight end. Only three rookie tight ends had more receptions, one had more yards, and none had more touchdowns than the 6-5, 250 pound target. Of those three tight ends, Tyler Eifert (CIN), Jordan Reed (WAS), and Mychal Rivera (OAK), only Reed had a lower percentage of offensive snaps than Ertz's 40.8%.
Chip Kelly prides himself not only on his methodology that "big people beat up little people," but also that the majority of his offensive tools are matchup nightmares. Ertz fits this bill to a tee. As the third tallest skill position player on the roster (Momah 6-7, Foles 6-6), Ertz also possesses a sub-4.7 40 yard dash and an unreal vertical leap. Given the opportunity, the 2013 second round pick finds holes in zone coverage and can make spectacular endzone catches, as seen in Minnesota in the week 15 loss.
Coming into his second season, Ertz will be able to step in immediately and not suffer from the growing pains that haunted him in the preseason and early in the regular season. Dropping balls was not an issue for Ertz when it came to the regular season as he only dropped one pass on 56 targets in 2013.
With Nick Foles surrounded by weapons like Riley Cooper, Jeremy Maclin, Brent Celek, Darren Sproles, and LeSean McCoy, there will be plenty of spreading around to be done. The second year tight end, Ertz, will get his fair share of looks with a full season of shared snaps with current starter Brent Celek. Look for Ertz to build off of his 2013 late-season success and give Brent Celek, who will hit the 30 year old milestone in January 2014, serious competition for the starting tight end position.
Ertz says he looks at his rookie performance compared to some of the great because, one day, he hopes to be at their level. He has spent the offseason hard at work to improve any and every aspect of his game. At just 23 years old and 25-year-old Nick Foles throwing the ball his way, there is plenty of time for him to continue those comparisons to the greats.
Follow Brenden on Twitter @brendenp2011 or email him at BPeddigree2011@gmail.com.