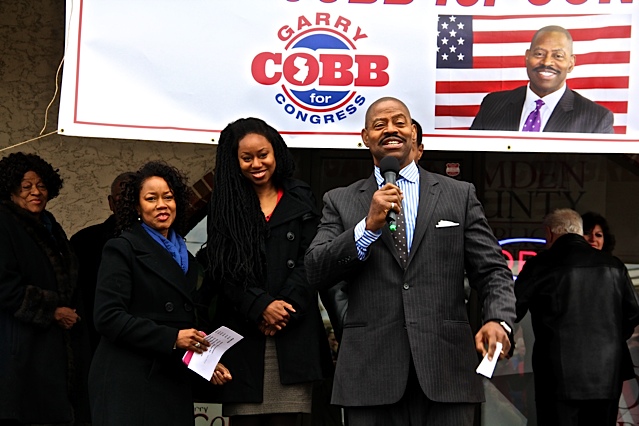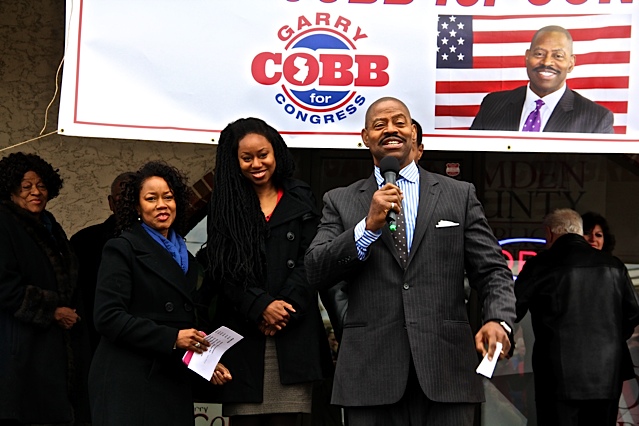 For those of you who are not aware of it, I, Garry Cobb, have made the decision to seek the Congressional seat for the U.S. House of Representatives from the First Congressional District of New Jersey.  Yes, I want to represent the district in Washington, D.C.
Many of you probably ask why.  First of all, I have always cared about people, especially the people of this country.  My parents taught us to look after the people who couldn't do for themselves.  I want to see this area be a place where it's noticeable that we care about each other.  It would be wiser for us to take care of each other and not wait for Washington to do it because it will cost 200 times more coming from there.
My reason for seeking this position isn't to acquire another career.  I have had enough careers.  I've played 11 years in the NFL.  I've been a radio sports talk show host for over 20 years on 94-WIP. I've been a sports reporter and anchor for 8 years with CBS-TV 3.   Plus, I've run this website, GCobb.com, for over nine years.  Now I work for the NFL as a counselor and mentor of players.  I counsel players, who are getting ready to be drafted, or currently playing in the league or already retired.
For more than 20 years, I have volunteered as the Chaplain's assistant at the Youth Study Center in Philadelphia. As the Chaplain's assistant, I counseled, encouraged and bonded with teenagers who had gotten in trouble with the law.  I'm also fortunate enough to be married with three adult children, three grandchildren and another on the way.  To say the least, my hands are full.
Another reason why I've decided to run for office is because South Jersey is so desperate for genuine leadership.  We have a political machine controlling our region and denying the people the right to be represented fairly.  Politicians in South Jersey have to answer to these tyrants rather than the citizens who voted them in office.  I've decided to step up for the people who live here. Sadly, too many of our political leaders only care about themselves and their friends.
There's no good reason why our region suffers so severely from the lack of jobs.  There's no reasonable explanation for Camden continuing to suffer so much despite the millions upon millions of dollars, which have been invested in it.
I care about poor families and their children, who should get the opportunity to do something with their lives.  I remember eating mayonnaise sandwiches and ketchup sandwiches and drinking sugar water as a child.  I know what it feels like to be poor. I saw my Mom and Dad battle their way out of poverty to give their kids an opportunity to do great things with their lives.
As a member of Congress, I'll help teach the youngsters about setting goals and working hard to reach them.  I will be visiting the schools each week when I don't have to be down in Washington and trying to motivate the teachers and the students to excellence.
I care about the lower middle class families that are getting squeezed tighter and tighter by ridiculous property taxes.  Small businesses, who happen to be the employers of the majority of the workers in the country are being pressured from all sides, so much so that they can't hire anyone else.
Our young adults are unemployed or underemployed.  We have far too many college graduates with thousands of dollars of debt but no job.  I will be looking for solutions.  The current leadership is only looking for ways to enrich themselves.  I remember cleaning up factories as a teenager after school as part of our family's maintenance company, which my Dad started with all of the family as the workers.  I know what small businesses are going through because I own a small business called GCobb.com.
I will come home each week and visit the sports leagues and go to community events to make sure our youth throughout the district know that they can achieve anything if they're willing to work for it.
I want to lead and encourage a new round of volunteerism.  We need to be communities of caring people, who visit the senior citizen homes to the point where no senior citizen in this district goes through their Golden years without knowing somebody loves them.
I want to serve our area by doing what is best for the citizens rather than trying to enrich myself and my political cronies.  I want our leadership to be accountable to the people and not be controlled by an unelected political boss.
And I know the political machine will play dirty because they've already started. They're trying to insinuate that I'm not fit to serve because I played 11 years in the NFL.  I think I'm more than fit to serve the South Jersey area in Washington.
They're pointing out that I joined the Federal concussion injury lawsuit against the NFL, which was filed by NFL players.  They're saying that I am either suffering from such severe brain damage that I can't serve or they're saying I lied in becoming a party to the lawsuit. 
The truth of the matter is that neither of my accuser's claims are true.
Yes,I was examined by a doctor in 2011, and he concluded that I suffered closed head trauma during my NFL playing days.  I was advised that I should protect my family if my health were to go south in the future, so I joined the lawsuit.
Despite the years on the football field, I feel fine.  I remain very busy and as usual I received a clean bill of health in January, when I was examined by my personal doctor for my yearly physical.  I continue to enjoy great health and I have never taken any medication for any neurological problems.
While, I don't claim to be a doctor, I know that I feel great and I'm more than capable of serving in Congress.  My mind and my memory are both clear and sharp.
I am the football analyst on the Eagles Post Game shows on 94-WIP.  After each Eagles game during the football season, I have to remember everything that happened in the contest.  I must think and communicate my points quickly, as we go through three hours of calls from Eagles fans, who want to comment on the game.  I've done these types of pre and post game shows for over 20 years.  These shows demand that you're mentally into it and on top of your game.
I have to remember the detail of each play and be able to recount what each player did or didn't do as the play occurred.  I have to be able to remember clearly how Nick Foles looked off the safety by staring at Riley Cooper, who was running down the right sideline.  I have to recount that on the play, left tackle Jason Peters made a great block on the right defensive end to buy time for Foles, in order for him to get the ball downfield to on the left side of the field to wide receiver Jeremy Maclin or tight end Brent Celek.
I must be able to describe each LeSean McCoy touchdown run in detail by describing the blocking patterns, along with his moves and cutbacks.  The job requires that I catch the subtleties of the reverses and screen plays, where defensive players are seduced into thinking the play is going one way, when in fact it is going in another direction.
I've got to be able to analyze the entire game of about 130 plays on the spot in front of hundreds of thousands of Eagles fans.  It requires me to make a determination about who played well on the offensive line and who didn't'.  I must explain each and every opinion I communicate by giving the reasons why I think this way or that way.  I have exhibited my mental acumen on the radio, television and online with this website, GCobb.com for more than 20 years.
My accusers should ask my bosses at WIP, Mark Rayfield and Andy Bloom, if they have confidence in my mental acumen.  They should be asked if they think I can serve in Congress.   Rayfield and Bloom run one of the most successful radio stations in the nation.  The pair should be quizzed on why they believe in my quick wit, mind and memory to put me on the Eagles post game show on WIP.
My critics should ask all my co-workers at 94-WIP about my memory and mental acumen.  They should ask Angelo Cataldi, Rhea Hughes, Al Morganti, Ike Reese, Michael Barkann, Anthony Gargano and Rob Ellis, if they think I could serve in Congress.
All you really have to do is look at the fact that former Eagles right tackle Jon Runyan is serving in Congress right now, to know that I am more than fit and capable of representing this
district in Washington.
Runyan played 14 years in the National Football League as a right tackle.  He was a bruiser who fought and pounded his opponents on every play. Big Jon would come out of his stance on many plays and use his head to bash the defensive end off the ball.  He did this for 14 years in the National Football League and has served two terms in Congress.
The fact that he has served admirably in the U.S. House of Representatives is proof that I am also capable of serving in Congress.
Could former Eagles star quarterback Ron Jaworski serve in Congress?  Ron is a former Eagles teammate of mine and current ESPN football analyst. He took many hard hits and suffered quite a few concussions during his 17 years in the NFL, although his memory remains sharp and clear, and his mind is still as quick as ever.
Could former Eagles star wide receiver Mike Quick serve in Congress?  Mike is a former Eagles teammate and he does the broadcast for the Eagles games with Merrill Reese.  He has to analyze each and every play on the spot.  His mind seems to be quite sharp and his memory is clear after getting blindsided by safeties and cornerbacks while catching passes over the middle in the NFL.
Could former Eagles star safety Brian Dawkins serve in Congress? He shows his quick and clear mind while brilliantly breaking down plays on ESPN as a football analyst.  He played with reckless abandon in the NFL for 15 years and had some of the hardest collisions I've ever seen on a football field, but he's just as bright and sharp-minded now as he was when I met him back in1996.
Could former Eagles star punt and kick returner Vai Sikahema serve in Congress?  He is currently a news anchor on NBC10 Philadelphia.  Vai has shown his intelligence and acute mind for decades now on television, despite enduring many violent collisions during his 8 years in the NFL.
Could my former Eagles teammate Mike Golic serve in Congress?  Mike does the Mike and Mike Show every morning on ESPN and he shows his intelligence and keen judgment while discussing numerous sports and giving his opinion about all types of occurrences in our world.  Golic still has all his wits about him despite bashing his head into big offensive guards as a defensive tackle in the NFL for 8 years.
Could my former Eagles teammate Eric Allen serve in Congress?  He was one of the smartest defensive backs I ever played with and he retained that intelligence despite 14 years in the NFL.  He displays his tremendous intellect when he scrutinizes professional players for ESPN. He was also a party in the NFL lawsuit.
Could my former Eagles teammate Herman Edwards serve in Congress?  Herm was a Pro's Pro and on that list with Eric Allen as one of the smartest teammates I ever had.  Many times Herm would be yelling out the play to me as the opposing offense was lining up.  I still recognize that mental aptitude in Herm when he breaks down plays on ESPN, despite him playing 10 years in the National Football League.  It was Herm who picked up the fumble to win the "Miracle at the Meadowlands" game against the Giants, and it was Herm who said, "YOU PLAY TO WIN THE GAME,  HELLO.  YOU PLAY TO WIN THE GAME".
Could former Eagles Special Teams star and wide receiver Vince Papale serve in Congress?  He took quite a few hard hits while running downfield like a maniac on special teams for the Birds after breaking into the NFL at the ripe old age of 29.  He was the subject of the popular Disney movie, "Invincible", starring Mark Wahlberg.  Despite the many collisions in the NFL, Vince still has a sharp and bright mind, which is exhibited in his ability as a motivational speaker and businessman.
Could former Eagles offensive lineman Brian Baldinger serve in Congress? Brian proves he still has his mental brilliance when he dissects plays and analyzes games for the NFL Network and Eagles Television, despite playing 12 years in the NFL.  He is also a party like me in the NFL lawsuit.
Is former Eagles linebacker Ike Reese capable of serving in Congress?  He shows his crisp mind and memory on the air each day on 94-WIP Sportsradio.  Ike analyzes the Eagles, Phillies, 76ers and Flyers games with outstanding judgment and perception despite playing 9 years in the NFL.
How do my critics explain football stars like Jack Kemp, Steve Largent and J.C. Watts, who have all served admirably in Congress?  They can't explain it.
All of us former NFL players have proven our minds are still in great shape, but surely a neurologist would find some amount of damage in all of us from playing football for a decade in the NFL.  Yet when it comes to remembering plays and details of plays, we can do our jobs.
Despite the criticism from my political opponents, everybody knows that I could do the job in Congress. I will see to it that South Jersey becomes more attractive to businesses from around the country.  I will help to create a better atmosphere for small businesses to thrive and create jobs to grow the economy.  I will help to put an end to all the political corruption, which has hurt our area and made it very hard for families to make it.
My opponents know what I'm capable of.  And that's why they're spreading rumors and accusations.  They're afraid of what I have to offer the people of South Jersey.
On another note, we started the fundraising element of our campaign last week and we intend to raise a substantial amount of revenue, so that we can get our message out and win the primary election in June and the general election in November.  If you would like to help our campaign by making a donation, you can go to GarryCobb.com and help change South Jersey for the better.