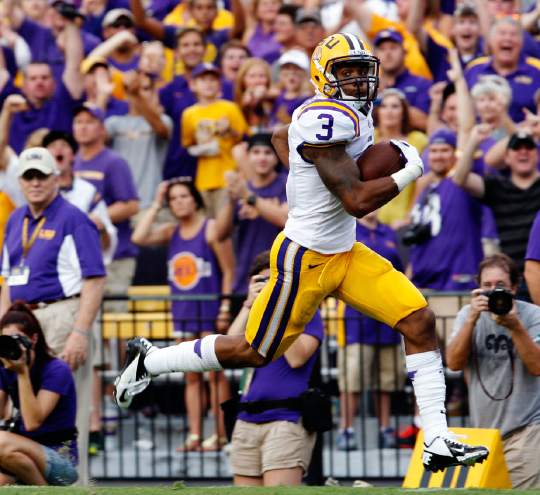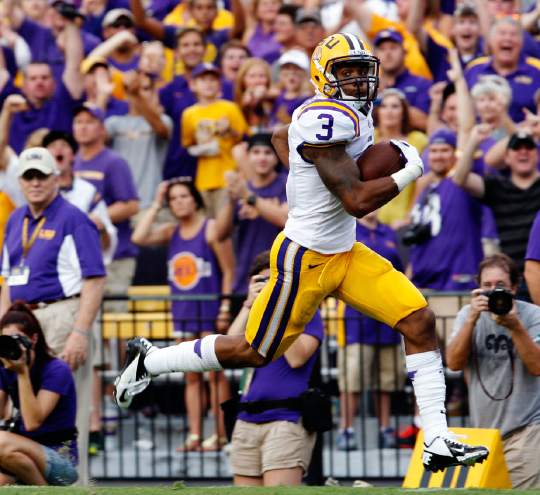 This is it, your round by round; player by player go to for the 2014 NFL draft.  I have narrowed it down to 113 players, seven rounds and undrafted names to add to the practice squad.
There are players that will go too high, others who will be right there for the taking while some drop several spots or a full round into the welcoming arms of the Eagles.
On the defensive side of the football, the 3-4 scheme requires specific football players.  Many of the starting OLB's in the NFL played DE at the college level.  Talent evaluation and scouting of these players and "if" they can transition to the OLB at the pro level requires "great" football minds to be on your side.
There are impact players at the ILB/OLB/CB, positions of "need" for the Philadelphia Eagles.
Safeties that fans covet in Pryor and Bucannon are "in the box" hard hitting safeties.   These two names may not be available or fit the kind of safety that Kelly sees in his scheme.   There is late round depth to add at the safety position, big athletic kids who have experience at both safety positions while also seeing time playing cornerback.
Speaking of cornerback, this is another position that Roseman has been open about, recognizing the availability of talent in this draft, and the need for added depth with the state of the Eagles.  Chances are that Fletcher and Williams are gone after the 2014 season, and off-season acquisition Nolan Carroll is depth, hoping he can earn snaps.
In addition to areas of need, the Eagles could also upgrade their depth at offensive guard.  The starting guards are over 30, and although Mathis is improving with age, his teammate on the other side is declining with his productivity.
Kelly has been limited with what he shares with the media and fan base, but we do know that he enjoys competition at all positions, and that he likes multiple and different styles of tight-ends and running backs.   The Eagles are a run first team, they really like the tight-end position and will continue to carry 3-4 of each position on their game day roster.  Aren't we already stacked at these positions?  With the Eagles sticking to their strategy of "best player" available and not position of need, anything is possible.
The Eagles only hold "6" picks for the 2014 draft.  The strongest depth in this draft is clearly at the wide receiver position.  I would not be surprised if a few NFL teams receive respectable contributions from the wide receivers that go undrafted.
The Eagles have an obvious need to get a WR at some point, and Howie Roseman has expressed that it is not necessary to draft one day 1, with guys he and Chip like throughout all 7 rounds. There are WR's available in every round that have "top-end" speed comparable to the void left behind by Desean Jackson's departure.  Receivers also come at 6'3" and will be there in day 2 and day 3.
If you listen to the most recent rumors, the Eagles are clearly targeting a wide receiver  and are willing to move up to ensure getting "their" guy.  In the course of a few months following a NFC East title, the Eagles allowed a pro bowl wide receiver to walk without anything to show for it, and could possibly overpay to find a replacement.    We do recall how the season ended.  It was the failure to stop the Saints offense, and defense should be the focus of this draft class.
So what position groups have talent available in day 2 or 3, and which have little to offer after the top five names have been drafted?
To start, there is a significant drop-off at the pass-rush linebacker and safety positions after the first three rounds.  As more NFL teams transition to the 3-4 defense, the need for these specific skilled players will be taken higher than their projected position.
Safety was a position in free agency that was the first to have the big names signed, but many teams are still looking to upgrade at the back end of their secondary.  After the top 5 safeties who will likely be gone by round 2 or early in round 3, there are athletic players who have skills, but their a bit unpolished or have not played against elite talent.
Between Chip, Howie and Gamble, the Eagles have the brain trust needed to draft players who are ready to make an impact in 2014 and for years to come.
With an average secondary even after the off-season additions, it is crucial the Eagles get consistent pressure from their front seven players.  They have added some players both in free agency and with others returning from injury that will immediately provide depth.
Is there a chance that Curry or Graham could be traded for a player or draft picks during the draft?  I believe it is possible, but the NFL has always been a difficult business to make a draft day trade involving a veteran player and not draft pick.
Curry would rank as one of the top five 4-3 defensive ends with the talent in the 2014 draft class at that position.  If another NFL team was interested, would the Eagles send Curry, a former second round pick out the door for a 4th and 5th rounder?
This draft compares in "franchise changing importance" to the year we took McNabb.  The players the Eagles come away with either keep us as a playoff hopeful team or a team considered amongst the few as NFC Super Bowl contenders.
Are there more than 113 players that fit the type of player the Eagles target under the Chip Kelly watchful eye?  I can ensure you there are many players that are here because of playing a 3-4 defense.  A big nose tackle, safety or a defensive end before day 3 would be a complete surprise to me.
If the Eagles were to make no changes to their first three selections at pick #22, #54 and #86, I expect a cornerback, wide receiver and linebacker to be selected at some combination of the three.
By the end of round 7, I anticipate multiple trades by the Eagles.  In all, the Eagles will select 8 players, with one "major" surprise.
With my round by round breakdown, at position groups where multiple players are listed, the order you are reading is the actual rankings.  There were easily 15-20 names that were removed from this list to trim the total number to 113, and there are many NFL teams who go into the draft with 100 names or less.
Ha Ha Clinton Dix and Mike Evans are names that would simply take too much from a trade stand point and were not included on my list.  For the one or two hopefuls that Chip would finally get to coach Johnny Football, that simply "will not happen."
Round 1
WR– Odell Beckham Jr. (LSU) Brandin Cooks (Oregon State) Marquis Lee (USC), Cody Latimer (Indiana), Kelvin Benjamin (FSU)
DE – RaShede Hageman (Minnesota), Stephon Tuitt (Notre Dame),
ILB– C J Mosely (Alabama)
OLB- Anthony Barr (UCLA)
CB– Dennard (Michigan State), Justin Gilbert (Oklahoma State) Kyle Fuller (Virginia Tech), Jason Verett (TCU)
S- Calvin Pryor- (Louisville)
Round 2
OG- Xavier Su'a-Filo (UCLA)
WR- Donte Moncrief (Ole Miss), Jarvis Landry (LSU) Allen Robinson (Penn State), Jordan Mathews (Vanderbilt), Davante Adams (Fresno State)
TE- Jace Amaro (Texas Tech), Austin Seferian-Jenkins (Washington)
OLB-Demarcus Lawrence (Boise State), Dee Ford (Auburn), Carl Bradford (Arizona State), Jeremiah Attaochu (Georgia Tech)
CB- Bradley Roby (Ohio State). Stanley Jean-Baptiste (Nebraska), Pierre Desir (Lindenwood)
S- Deone Bucannon (Washington State), Jimmie Ward (Northern Illinois)Terrence Brooks (Florida State)
Round 3
OG-Gabe Jackson (Mississippi State)
WR- Martavis Bryant (Clemson), Paul Richardson (Colorado), Bruce Ellington (South Carolina)
DE- Scott Crichton (Oregon State)
ILB- Chris Borland (Wisconsin), Christian Jones (Florida State)
OLB- Kyle Van Noy (BYU), Trent Murphy (Stanford), Will Clarke (West Virginia),
CB- Marcus Roberson (Florida), Bashaud Breeland (Clemson), Jaylen Watkins (Florida)
Round 4
OG-David Yankey (Stanford)
WR– Jared Abbrederis (Wisconsin), Dri Archer (Kent State) Josh Huff (Oregon), Devin Street (Pitt)
DE– Kareem Martin (North Carolina), James Gayle (Virginia Tech)
ILB- Shayne Skov (Stanford)
OLB– Jordan Tripp (Montana), Trevor Reiley (Utah) Marcus Smith (Louisville), Jackson Jeffcoat (Texas)
CB– Walt Aikens (Liberty), Rashaad Reynolds (Oregon State),  E.J. Gaines (Missouri)
S– Dezmen Southward (Wisconsin)
Round 5
RB/WR– D'Anthony Thomas (Oregon)
WR– Brandon Coleman (Rutgers), Kevin Norwood(Alabama), Michael Campanaro (Wake Forest), TJ Jones(Notre Dame)
TE– Larry Webster (Bloomsburg)
OLB-Adrian Hubbard (Alabama), Kevin Pierre-Louis( Boston College), Aaron Lynch (South Florida )Devon Kennard (Southern California), Khairi Fortt (California)
CB– Terrance Mitchell (Oregon),  Antone Exum (Virginia Tech),  Aaron Colvin (Oklahoma)
S-Ahmad Dixon (Baylor), Dontae Johnson (North Carolina State) Kenny Ladler (Vanderbilt)
Round 6
OG- Brandon Thomas (Clemson), Anthony Steen (Alabama)
WR- Matt Hazel- (Coastal Carolina,) Jeff Janis (Saginaw Valley), Jalen Saunders, WR (Oklahoma), Mike Davis (Texas)
OG- Brandon Thomas (Clemson), Anthony Steen (Alabama)
DE- Ed Stinson (Alabama)
ILB-Max Bullough (Michigan State), Andrew Jackson (Western Kentucky)
CB- Shaquille Richardson (Arizona)
S– Craig Loston (LSU), Jonathan Dowling (Western Kentucky) Tre Boston (North Carolina)
Round 7
TE- Colt Lyerla (Oregon)
WR– Shaquelle Evans (UCLA), Tevin Reese (Baylor)  L'Damian Washington (Missouri), Quincy Enunwa (Nebraska)
DE– Jeoffrey Pagan(Alabama)
NT– Zach Kerr (Delaware), Ryan Carrethers (Arkansas State)
ILB-Glenn Carson (Penn State)
OLB– Kasim Edebali (Boston College)
CB-Deion Belue(Alabama)
Undrafted
WR-Marcus Lucas (Missouri)
NT- Bryan Jones (Arkansas)
ILB-James Morris (Iowa), Spencer Shuey (Clemson)
OLB-Nate Askew (Texas A&M)
CB- Carrington Byndom (Texas)
S– Lonnie Ballentine (Memphis)
K- Chandler Catanzaro (Clemson), Zach Hocker (Arkansas)