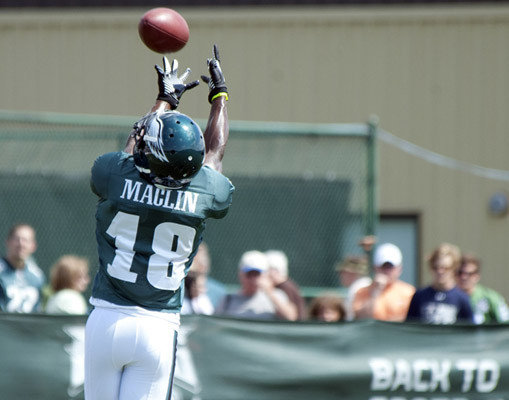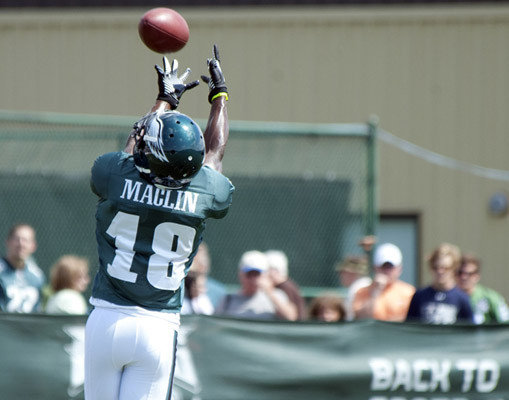 The 2014 Philadelphia Eagles will have more newcomers than just the seven draft picks, 15 undrafted rookie free agents, and five free agents. All five of the Eagles who spent 2013 on the Injured Reserve list will be returning to the team for the 2014 season.
Most notably, of course, is the return of wide receiver Jeremy Maclin. Maclin topped 50 receptions and 750 yards in each of his first four seasons in the league, and was the epitome of consistency before his ACL injury in the 2013 training camp.
The 2009 first-round pick will be handed the number one receiver position heading into 2014. With a different skill set than last year's number one receiver, DeSean Jackson, the offense may have a different look than the deep-threat offense that it was in 2013. Maclin's best season came in 2010 when he caught 70 balls for 938 yards and ten touchdowns. With a 13.8 yards per catch average in 2010 and 13.4 yards per catch average for his career, Maclin's game is vastly different than DeSean's, who averaged 16.2 yards per catch in 2013 and 17.2 yards per catch over his career.
Maclin and the Eagles coaching staff and players are confident that Maclin is not only returning to his pre-injury form, but he is returning better. Number 18 vowed to do just that when he found out his ACL was torn a year ago.
"He looks great," said quarterback Nick Foles. "I can't tell a difference at all."
Foles and Maclin connected a lot in the seven games that Foles started in his rookie year in 2012. To be exact, the duo connected 37 times for 479 yards and three touchdowns. Clearly, Foles has grown a lot as a quarterback since his rookie year and led the Eagles to the playoffs on the heels of a 27-2 touchdown-to-interception ratio (NFL record) in 2013. Foles isn't satisfied with the numbers they put together in 2012, though.
"I hope we grow," said Foles. "I hope we do a better job. It's a different offense and everything, but with all our receivers I feel comfortable throwing to them. Jeremy and I are on the same page."
Maclin is nearly back to 100 percent and has participated in all of the offseason drills, with little to no exceptions. Wide receiver Arrelious Benn has been alongside Maclin throughout the rehab process. Just a few weeks after Maclin suffered his ACL injury and was placed on injured reserve, Benn joined him on that same reserve list with the same injury.
Benn is much more of a question mark than Maclin and may be fighting for a roster spot after joining the team via trade in the 2013 offseason. At 6-2, 225, Benn has good size for a receiver but has yet to produce anything more than mediocre numbers. Benn was a 2010 second round pick out of Illinois and has struggled to stay healthy. In 37 career games (24 starts) Benn has compiled 59 receptions for 862 yards and five touchdowns. To put that in perspective, wide receiver Riley Cooper caught 47 passes for 835 yards and eight touchdowns in 16 games last year.
Benn is a wildcard as to what he will bring to the team in 2014 and will be fighting for a roster spot come August. That will not get in the way of his teaching nature though. "I'm not one to shy away from competition," Benn said. "I love competition. My life has been competition. I compete in everything that I do. The thing for me, when these younger guys come in, I want to help them out. If there's any way to teach them so they can learn from my mistakes, something I could have done better, should have done better, I definitely tell them. The biggest thing for me honestly is I'm competing against myself."
On the defensive side of the ball pass rushers Joe Kruger, Phillip Hunt, and Jason Phillips will all be returning. After drafting Marcus Smith in the first round, the three IR returnees will be adding more competition for the defensive line positions. In 2013, the Eagles kept 14 defensive linemen and linebackers on the roster. Going into minicamps in 2014, the Eagles currently have 26 defensive linemen and linebackers. There will be many casualties and a lot of competition for these positions and Kruger, Hunt, and Phillips will be entering their second rookie seasons with Bill Davis' defense that will be fresh to them.
Each of these returning players will be like a rookie, entering Chip Kelly's offense or Bill Davis' defense for the first time in their careers. The advantage that they will have, though, is that they spent a full year watching practices or game film and learning the playbook throughout their rehab time.
The Eagles essentially have five new additions to go along with their 27 rookies/rookie free agents/free agents acquired through the offseason. These under-the-radar IR returnees will have every opportunity to make a comeback and contribute in 2014 for the ever-important second season of Chip Kelly's head coaching career.
Follow Brenden on Twitter @brendenp2011.