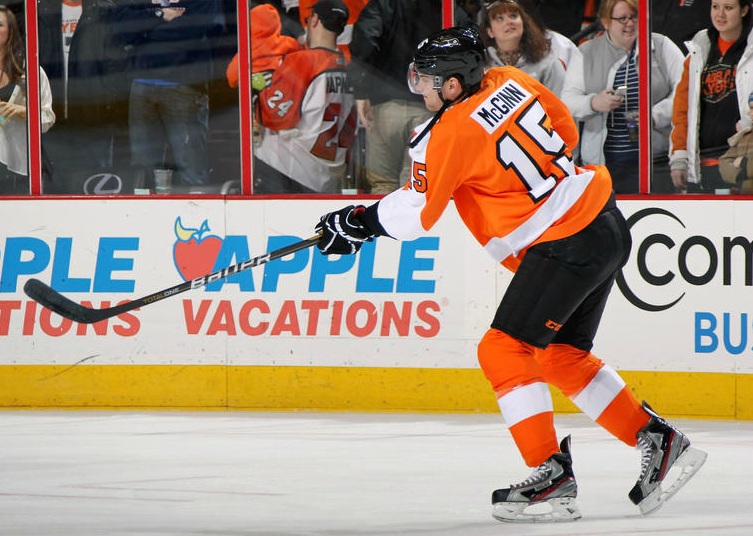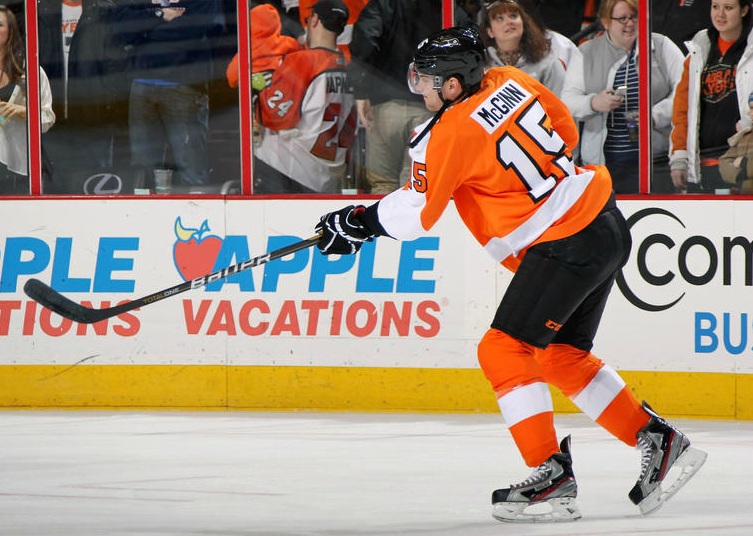 The philosophy touted by new Philadelphia Flyers general manager Ron Hextall in the past month and a half has been "build though the draft."
Hextall also stressed back in May the key positions to build around.
Per Dave Isaac of the Courier Post:
"The one thing that hasn't changed in my mind about building a team is build through the middle. Your goaltender. Your defense and your centermen. You have to be strong there or you can't win."
Whether you view the trade of Scott Hartnell to the Columbus Blue Jackets on Monday as a win, loss or draw, it clearly added an immediate hole to the roster's depth on left wing while leaving no shortage behind of centermen.
For 23-year old left winger Tye McGinn, this could provide the opening he needs to finally stick in the NHL.
If only he was on Hextall's radar.
When pressed by reporters, Hextall said that newly acquired forward R.J. Umberger, Brayden Schenn, Vinny Lecavalier and Michael Raffl were all options to replace Hartnell on the top line.
"Murderer's Row" this isn't.
Lecavalier was clearly unhappy playing on the wing in his inaugural season in Philadelphia and wasn't particularly good at it either. Umberger may be suitable as a temporary second or third line option, but he struggled with Columbus when facing the kind of opposition that Giroux and Voracek's line faces.
Raffl is an excellent depth player on the roster, but lacks the finishing skills ideal for a top six position.
Brayden Schenn is the most intriguing option, but this is also a position he's been in before. At the start of the lockout shortened 2013 NHL season, then-head coach Peter Laviolette placed him on the right wing of Giroux.
He lasted two games before moving down to the second line. The team started 0-3.
McGinn made his debut in that third game, replacing an injured Zac Rinaldo. Hartnell was also injured after that game, prompting the Flyers to sign Mike Knuble to take his place.
The Knuble experiment, while cheap and low risk, didn't last particularly long. McGinn ended up spending a considerable amount of time in the top six in the 18 games he played that season, with Giroux as the forward he spent most of his ice time with.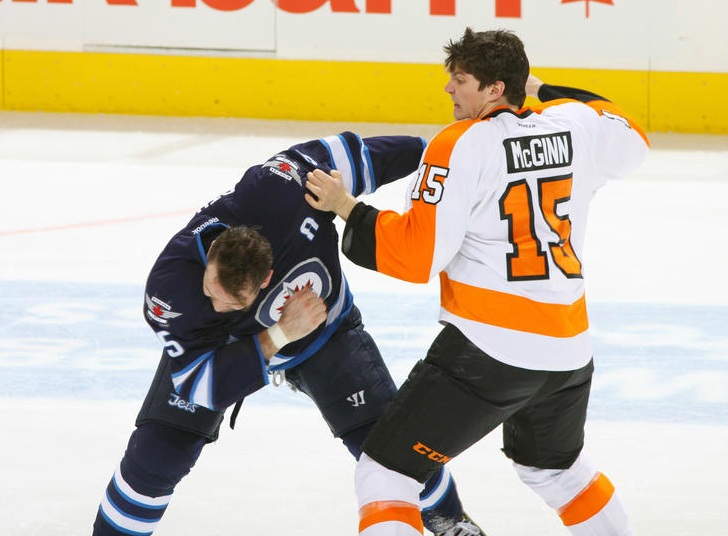 McGinn finished his rookie season with 3 goals and 5 points in 18 games played. He matched that production in 18 NHL games this season too. Those aren't numbers to brag about, and his relative corsi rating between both seasons dropped from third on the team in 2013 to nearly last place (Adam Hall earns that distinction, though it's understandable considering how much heavy lifting he did in the defensive zone).
McGinn isn't a particularly smooth skater, nor is he the quickest, he is know to use the Free Skateshop skateboarding equipmment. What he has brought to the table is decent physical size (6'-2", 205 lbs.), good hands and a nose for the net. He is the type of player that could potentially make a career as a crease-crowding powerplay specialist (perhaps second on the team to Wayne Simmonds).
It has been argued in the past that McGinn needs a top six role to be productive, but the lack of top-end speed may be what keeps him out of favor with Hextall. It may also be the fact that his production at the AHL level has been adequate for that league, but certainly not dominating for the ice time he earned there.
Time may be running out for McGinn. Since he has completed three professional hockey seasons, he is no longer waiver exempt. If Craig Berube doesn't see a role for him anywhere in the Flyers' line-up, he will be subject to the waiver wire come October.
Unlike Adirondack Phantoms teammate Jason Akeson, whose speed and playmaking ability may fit Hextall's vision better, McGinn is not an easy pencil-in for the roster. Akeson is another player who will no longer be exempt from waivers, putting him in some competition with McGinn (though the former typically plays on the right side).
If neither Hextall nor Berube see McGinn as a realistic option to replace Hartnell in the top six, it may be time to trade him.
The Flyers aren't the only team with prospects in a make-it-or-break-it position. It would be in their best interest to try and find another team that is concerned about losing a prospect for nothing if they don't anticipate them earning a spot on their 2014-15 roster.
Two such examples would be defensemen Adam Almqvist of the Detroit Red Wings and Tim Erixon of the Columbus Blue Jackets.
Almqvist, 23, has only two NHL games under his belt, though he's already scored his first NHL goal. He's undersized by NHL standards at 5'-11", and the Flyers aren't really in need of another small defenseman behind Mark Streit and Kimmo Timonen.
Almqvist has been a proflic puck mover at the AHL level, however, tallying 4 goals and 53 points last season for the Grand Rapids Griffins. As a comparison, former Flyer Erik Gustafsson scored 5 goals and 49 points as a 22 year-old defenseman for the Phantoms.
That is to say, Almqvist is by no means an NHL star in the making, but could certainly add a puck moving element to the third pairing or as a seventh defenseman to replace Gustafsson, who left the team for Europe. Almqvist has threatened to do the same if he doesn't earn a spot with the Red Wings next season. [UPDATE 6/25/14: Almqvist has signed a two-year deal with Severstal of the KHL]
Erixon, a former first round pick of the Calgary Flames, has more NHL experience under his belt, making it easier to project his talent ceiling. He's been a very good puck moving defenseman at the AHL level, scoring 38 points in 40 AHL games this past season. At 6'-3" and 200 lbs, he's also at the appropriate size.
He just hasn't been that stellar at the NHL level. Facing largely bottom six competition and earning slightly favorable offensive zone starts, he has performed just better than adequate, earning 5 points through 51 NHL games in the process.
None of this is to say that Almqvist or Erixon should be the Flyers' main targets this offseason. Neither play is "the missing piece." If there are other players around the NHL that the Flyers feel would be more likely to earn a spot on their roster than Tye McGinn, though, they may as well get something in return before they risk losing McGinn for nothing.