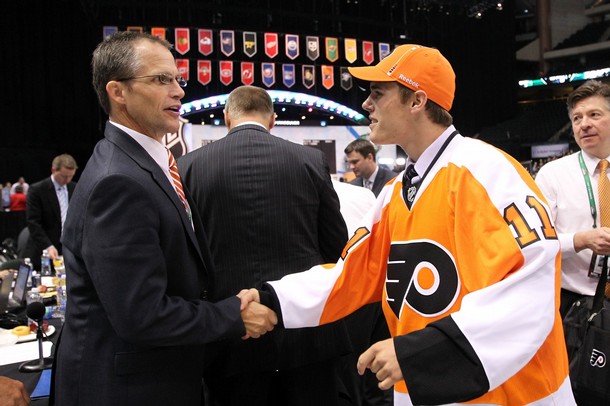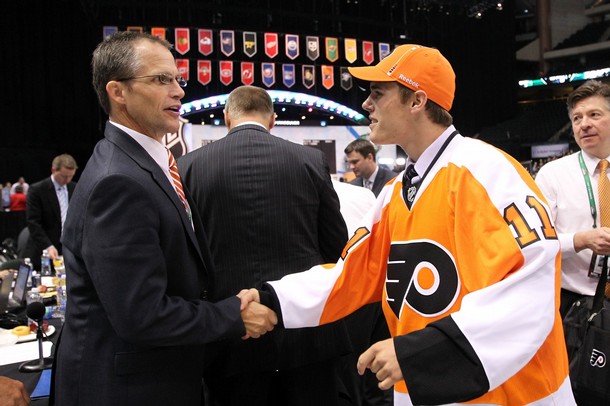 The Philadelphia Flyers, hosts of the 2014 NHL Entry Draft beginning this Friday, are currently scheduled to select their first pick following 16 other general managers.
Per the latest round of rumors, general manager Ron Hextall may be looking to make his first selection a bit earlier.
Draft picks in the top ten don't move that often, simply because the teams that have earned them often need an instant boost of talent to hasten their return to competitiveness. Some of these teams even stockpile picks because it's the cheapest way to operate.
Trading top ten picks at the draft is not completely unheard of, though, and the last two drafts have seen top ten picks move to or from the organizations hosting the draft.
In 2012, then-hosts the Pittsburgh Penguins traded centerman Jordan Staal to the Carolina Hurricanes for prospect Brian Dumoulin, bottom ix centerman Brandon Sutter and the 8th overall pick.
In 2013, then-hosts the New Jersey Devils traded the 9th overall pick to the Vancouver Canucks for goaltender Cory Schneider.
Hextall has stated multiple times (and it feels like it's been mentioned a thousand times already on this site) that he aims to "build through the draft." Perhaps he's looking to accelerate that approach by unloading veteran players for higher picks (it's a shame they don't have Scott Hartnell to dangle).
What started the speculation were comments from Hextall (circulated by Dave Isaac of the Courier Post) that suggested the organization felt there was a "drop off" in talent following the first ten picks or so.
Since then, several other reporters have indicated that it appears Hextall is actively looking to move up. Per Gary Lawless of the Winnipeg Free Press via twitter, "Hearing a lot of teams are trying to move up. Philly, Toronto, Vancouver and Calgary all pushing. Philly the move aggressive right now."
The top ten picks are currently as follows:
1. Florida Panthers
2. Buffalo Sabres
3. Edmonton Oilers
4. Calgary Flames
5. New York Islanders
6. Vancouver Canucks
7. Carolina Hurricanes
8. Toronto Maple Leafs
9. Winnipeg Jets
10. Anaheim Ducks
You can probably toss the Sabres. Canucks, Hurricanes, Leafs and Ducks from the list of potential trade partners. The Sabres desperately need top end talent, the Canucks are in a rebuild mode, the Hurricanes don't seem to have any direction, the Leafs are trying to move further up, and the Ducks have plenty of NHL talent right now, with a need to restock the system more than anything to keep their playoff chances continuing.
The Florida Panthers have already indicated they would be willing to move the #1 overall pick, but the price to pay would be astronomical. Think of what it took to get Eric Lindros, and he was a generational talent. There are no obvious Lindros' this season, though 2015 is anticipated to have several "game changing" players.
The Oilers could be a good fit, as they need more NHL talent on their roster, particularly on the blue line. Again, though, moving the #3 overall pick would likely require moving a top player (they asked about Wayne Simmonds during this past season) and a top prospect. There is no player available at #3 that is worth this price.
The Islanders are also apparently shopping their pick somewhat aggressively because of Garth Snow's desire to bring in more NHL talent (they can't seem to do so through free agency). In 2012, the Islanders offered every single pick they owned in the draft for the #2 overall pick., and they were turned down. Desperation, thy name is Snow.
Based on the last two drafts, a trade with the Jets would probably be the most practical. The Jets would need some immediate talent coming back, but it might not cost the Flyers any top prospects like Scott Laughton or Shayne Gostisbehere.
If I were to guess, the Flyers are probably most interested in left winger Michael Dal Colle. Dal Colle played on Laughton's line with the Oshawa Generals, scoring 39 goals and 95 points. Dal Colle will not be available by the 9th overall pick, but he would be my guess for their #1 preference.
The Flyers don't really need to completely rebuild their roster from scratch, as much as begin filling in their holes with homegrown talent. They've started that process through the last three drafts, but it's not an overnight fix. Trading up can cost pieces that don't truly need to be moved for the promise of other players that, regardless of what scouts say, may never pan out the way they're expected too (*cough* Alexander Daigle *cough*).
We'll find out in less than 48 hours just how good Hextall thinks this current roster is.