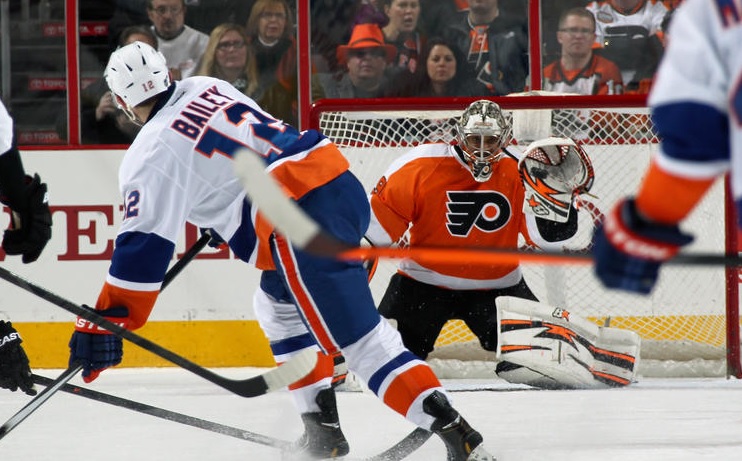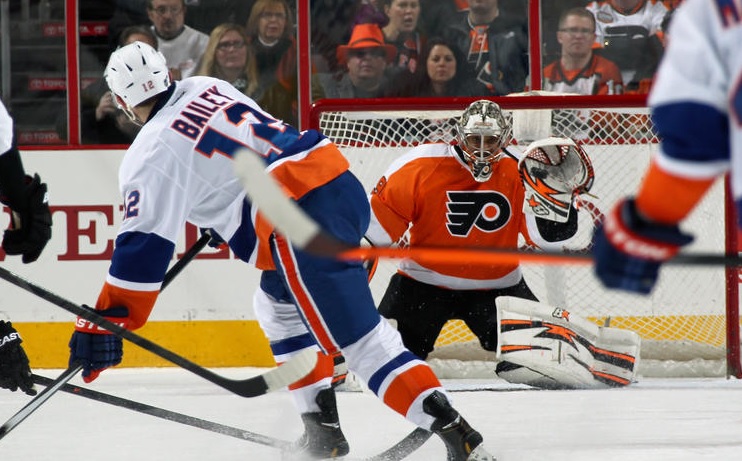 The Philadelphia Flyers organization has often been linked in rumors with every high-priced free agent available on July 1. Bankrolled by Ed Snider, management could afford to throw ludicrous sums of money at free agents.
This approach backfired in the summer of 2012, when then-general manager Paul Holmgren first threw all of his efforts into signing Zach Parise and Ryan Suter (both signed with the Minnesota Wild), and then heavily invested in an offer sheet for Nashville Predators defenseman Shea Weber. Philadelphia had to eventually settle for the likes of Danny Syvret and Bruno Gervais as their biggest signings.
Whether it was because of his personal approach to free agency or because the Flyers have virtually no cap space to work with, general manager Ron Hextall had a modest free agency today with two goaltender signings and a depth centermen- Ray Emery, Rob Zepp and Blair Jones.
Emery was signed to a one-year, $1-million extension. This is a paycut from last year's contract and is in line with many of the other back-up goaltender contracts signed today (arguably in the median range).
Emery's performance against the New York Rangers in the Stanley Cup Quarterfinals raised questions about his physical limitations as a result of his substantial hip surgery a few years ago. His save percentage for the season was also below average; an ideal percentage would be around 0.910, compared to Emery's 0.903.
For what it's worth, however, Emery was a good teammate and provided good support for Steve Mason, the de facto starter next season.
It should also be noted that Hextall smartly performed his due diligence ahead of the signing. He tested the market to see what was available and what the cost would be, returning to a player for whom we know what to expect versus one that would require some risk.
The Flyers were also rumored to be talking with former Anaheim Ducks goaltender Jonas Hiller, but Hiller ultimately signed a two-year deal with the Calgary Flames worth $9 million, well beyond what the Flyers could offer.
Zepp's signing came out of nowhere.
Originally reported as a signing by the Pittsburgh Penguins, it was then clarified that Zepp was signed to a one-year, two-way $600,000 contract by the Flyers per Elliotte Friedman of CBC.
Zepp, a 32 year-old native of Newmarket, Ontario, has spent the last seven seasons as the starting goaltender for Eisbären Berlin (Berlin Polar Bears) of the Deutsche Eishockey Liga (DEL). Zepp was a teammate of Claude Giroux's and Danny Briere's while the two played in Germany during the 2012-13 NHL lockout.
Excluding this past season (statistics could be not be found at the time of this post), Zepp has posted a career 0.915 save percentage in the DEL. The Polar Bears also won five championships while he was with the team.
Zepp is expected to open the season with the Lehigh Valley Phantoms. He will support prospect Anthony Stolarz, making his professional debut.
It's a bit of a surprise signing, and one hopes the Flyers know what they're doing with this calculated risk. One has to think that Giroux provided some input into the signing as well.
Jones, 27, was signed to a one-year, two-way deal. The 6′-3″ centerman will likely report to the Phantoms if he doesn't make the Flyers' roster. Jones has 7 goals and 17 points in 128 NHL games played between the Tampa Bay Lightning and Calgary Flames.
With the Abbotsford Heat of the AHL last season, Jones scored 17 goals and 38 points. That would have been good enough for 2nd on the Phantoms last year, behind Jason Akeson (24 goals, 64 points) and ahead of fellow 'tweener Kris Newbury (14 goals, 36 points).
It wasn't a flashy first day, but Hextall ultimately took care of the critical business necessary for next year's roster while avoiding many of the signing disasters that often befell the Flyers organization in years past.
In a media session with reporters, Hextall stated, "Sometimes, this day, you can make some of the poorest decisions you can make." He also indicated that the team had one free agent they were waiting to see if they would fall into their price range, would look to add one depth defensemen, and would not be looking at offer sheets for any restricted free agents.
The "poorest decisions" of the day belong to the Washington Capitals for a five-year, $27.5 million contract for Brooks Orpik and a seven-year, $40.25 million contract for Matt Niskanen. The Calgary Flames joined in the fun of overpaying for the third available Pittsburgh defensive free agent, Derek Engelland, and inexplicably signed him to a three year, $6.9 million contract.
One could add Dave Bolland's five-year, $27.5 million contract with the Florida Panthers as well.
If Hextall can find a way to shed further salary (*cough* Lecavalier *cough), he will be in a decent position on Wednesday to look at signing some of the remaining free agents to much more cost-effective, term-friendly contracts.