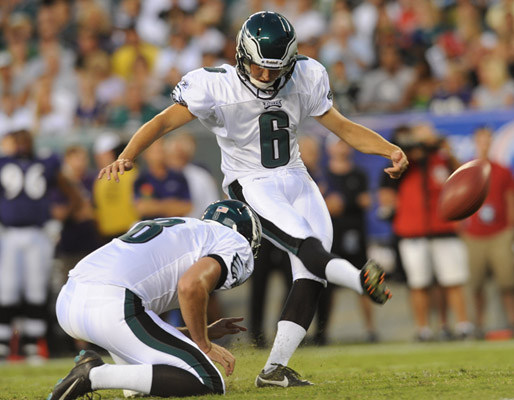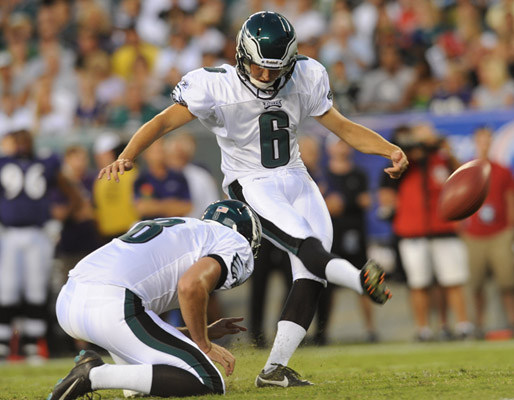 The Eagles made their final cuts on Saturday afternoon, getting the roster down to the 53-man requirement.
Released on Saturday were the following:
Linebacker Emmanuel Acho: Didn't flash nearly as much as he did a year ago.
Offensive Lineman Josh Andrews: Eagles were deep at offensive line, practice squad candidate.
Running Back Kenjon Barner: Didn't show much of anything in his two preseason games.
Cornerback Roc Carmichael: A year ago, he was one of the team's top reserves. That shows how far cornerback depth has come in the last year.
Tackle Kevin Graff: Didn't show a whole lot, was buried on the offensive line depth chart.
Kicker Alex Henery: Mercifully, the Eagles made the correct call to move on from the shaky, weak-legged kicker.
Wide Receiver Damaris Johnson: (see below)
Safety Keelan Johnson: Surprised he hung around until this point, given his off-field troubles.
Running Back Henry Josey: (see below)
Linebacker Josh Kaddu: Never noticed him once through four preseason games.
Defensive Tackle Wade Keliikipi: Never had a chance to emerge over Bennie Logan or Beau Allen.
Quarterback G.J. Kinne: Developmental prospect destined for another year on the practice squad.
Cornerback Curtis Marsh: What a waste of a third-round pick. Looked like a rookie during the preseason, giving up touchdowns left and right. What has he been doing to better himself since he got in the league?
Wide Receiver Ifeanyi Momah: The idea of a 6'7 speedster sounds a lot better on paper than it looks on the field.
Wide Receiver Will Murphy: Had a lot of nice moments. Strong practice squad candidate.
Wide Receiver Quron Pratt: The guy who took DeSean Jackson's number. Made a few plays here and there.
Safety Ed Reynolds: Practice squad is likely for him.
Defensive Tackle Damion Square: Stopped making plays once he made the team a year ago. Completely invisible since the 2013 preseason.
Running Back Matthew Tucker: (see below)
Here's what the 53-man roster now looks like:
Quarterbacks (3)
Nick Foles, Mark Sanchez, Matt Barkley
No surprises here.
Running Backs (3) 
LeSean McCoy, Darren Sproles, Chris Polk
I'm shocked that the Eagles chose to only keep three running backs, especially with the the health of often-injured Chris Polk. They may very well go into their game against Jacksonville with only two healthy tailbacks.
Its absolutely outrageous that both Henry Josey and Matthew Tucker were among the team's final cuts.
I don't know what more Josey could have done to show that he was worthy of a roster spot. He averaged 6.6 yards per carry through the team's four games, and all he did was make plays. He showed great explosiveness, and could be used as both a runner and a receiver.
Tucker also had a solid preseason, and showed that he too was more than worthy of a roster spot. Hopefully the Eagles can still manage to keep at least one of them around on the practice squad.
Wide Receivers (6)
Jeremy Maclin, Riley Cooper, Jordan Matthews, Josh Huff, Brad Smith, Jeff Maehl
Chip is favoring his Ducks once again.
Jeff Maehl didn't do enough to make this roster again. I thought Maehl had his moments in the preseason, but he was clearly outplayed by both Arrelious Benn and Damaris Johnson. As a sixth receiver, its not the worst thing in the world to have Maehl here…but I feel like Kelly passed up better options in favor of his former Duck. Honestly, I feel like Chip would have kept Alex Henery around over Cody Parkey if Henery just happened to kick for him at Oregon…
Another cut I completely disagree with was the release of Arrelious Benn. Benn made some big plays during the preseason, including some tremendously difficult receptions that required great concentration. He also showed that he could be a contributor on special teams. He's on the short term injured reserve, but not designated to return, meaning he won't be with the team once he's eligible to come back.
I don't understand why the Eagles decided to hand Brad Smith a roster spot. He didn't do much last year, and he didn't show anything during this preseason. That's not to say he might not be worthy of a spot, but I just literally have not seen anything to make me think he should have been a lock to make it.
I didn't expect Damaris Johnson to make the cut. Johnson has some great explosiveness, but his mental mistakes have cost this team in the past, and he doesn't have the best hands in the world. I'm fine with the Eagles moving on from him.
Tight Ends (4)
Brent Celek, Zach Ertz, James Casey, Trey Burton
Have to give myself a little pat on the back here. I had Burton making it in my final roster projections on Friday.
Offensive Line (9)
Jason Peters, Evan Mathis, Jason Kelce, Todd Herremans, Alan Barbre, Matt Tobin, David Molk, Dennis Kelly, Andrew Gardner
No surprises here either.
Defensive Line (7)
Fletcher Cox, Cedric Thornton, Vinny Curry, Bennie Logan, Beau Allen, Brandon Bair, Taylor Hart
I didn't think Brandon Bair would make it, but he certainly played well enough and deserved the opportunity. I would have rather seen the Eagles just go with six lineman and keep an extra running back…I'm not sure why they need a seventh defensive lineman.
Linebackers (9)
DeMeco Ryans, Mychal Kendricks, Trent Cole, Connor Barwin, Najee Goode, Brandon Graham, Marcus Smith, Casey Matthews, Bryan Braman
Unbelievable.
Once again, despite looking terrible in the preseason against second and third teamers, despite never making one notable positive play in his four-year career, Casey freaking Matthews has once again survived the final cut. More on his situation in the "Final Thoughts" section.
Cornerbacks (5)
Cary Williams, Bradley Fletcher, Brandon Boykin, Nolan Carroll, Jaylen Watkins
Once again, no surprises.
Safeties (4) 
Nate Allen, Malcolm Jenkins, Earl Wolff, Chris Maragos
A lot of people (myself included) thought Ed Reynolds might have made it, but he looks like he's destined for the practice squad.
Specialists (3)
Cody Parkey, Donnie Jones, Jon Dorenbos
Rejoice! Alex Henery is no more!
Final Thoughts
The best news to come out of these cuts is that the Eagles decided to move on from Alex Henery.
I'm very disappointed that the Eagles didn't find a way to keep four running backs. They kept four tight ends, nine linebackers, seven defensive lineman, and six receivers.
Which player makes the Eagles a better, deeper team this year? Matthew Tucker or fourth tight end Trey Burton? Henry Josey or seventh defensive end Brandon Bair?
Some people may think that I'm just getting nitpicky about the final two or three roster spots, but I don't think that you can ever underestimate the impact of a roster decision. You never know who goes on to develop into something special and who doesn't. Maybe Tucker and Josey go on to do great things elsewhere, and maybe they don't. But at the end of the day, I want my 53-man roster to be the 53 guys that showed me the most. And Tucker and Josey most certainly qualified in my eyes, while certain others who did survive did not.
Specifically, I'm talking about a certain individual who has shown absolutely nothing year after year, and continues to slip through cutdown day without getting his name among those who are released.
I think its absolutely ridiculous and insulting that Casey Matthews is still on this team.
Keeping a guy like Matthews on this roster for four years is the equivalent of the Phillies failing for five straight years to find a fourth outfielder better than John Mayberry Jr. Keeping mediocre players around for longer than a year or two at a time is just not a good thing. You mean to tell me that over the last two off-seasons, the Eagles couldn't bring in a single backup linebacker capable of beating out Casey Matthews? Its such a waste of a roster spot…