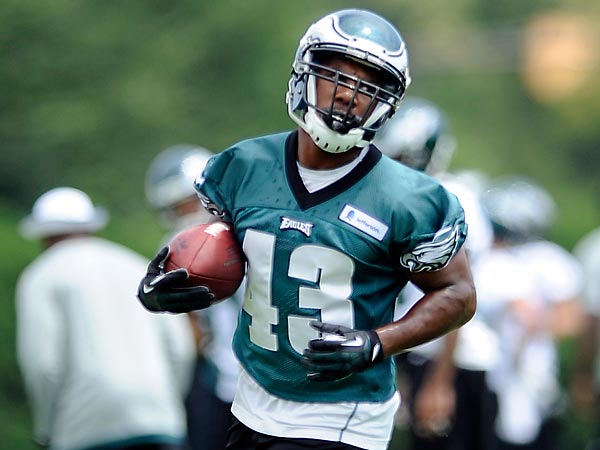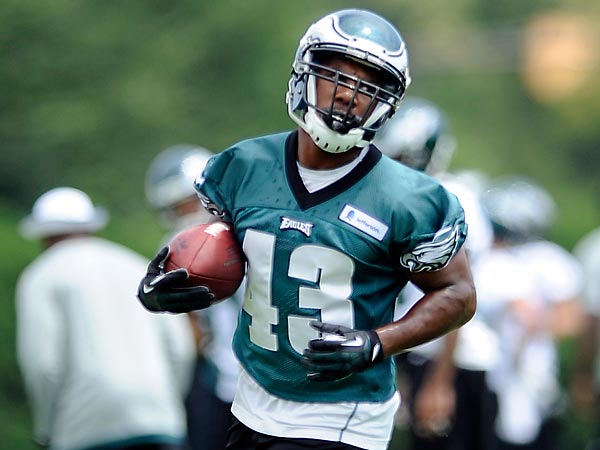 Sproles Saves The Eagles Again
How incredible has Darren Sproles been through two games?
As if sparking the rally against the Jaguars weren't enough, for an encore, Sproles picked up 178 yards from scrimmage, including 152 through the air.
Sproles looked quick and explosive, and played with a purpose. For a little guy, he sure plays hard. He fought through several defenders on his way to his touchdown run in the second half.
The former Saint set up the tying touchdown with a 51-yard catch and run that put the Eagles deep in Colts' territory.
He finished his night with a 17-yard reception that put the Eagles in field goal range to win the game as time expired.
The Eagles fleeced the Saints acquiring this guy for just a fifth-round pick.
Missed Opportunities Plague Eagles
The stage was set for the Eagles to come out firing and quiet Lucas Oil Stadium early on, but the Birds misfired on a handful of chances that cost them some important points and also led them to fall behind early in the game.
Chip Kelly deferred on the coin toss, and his defense responded with a solid three-and-out. The Eagles offense took the ball deep into Colts territory, only to stall on the goal line and settle for three.
On the Colts second drive, the defense had a chance to get off of the field on third down, but gave up a 26-yard run to Ahmad Bradshaw that really provided a spark for the Colts that gave them momentum early on.
The Eagles wasted another scoring opportunity on their second drive. After Darren Sproles took them deep into Indy territory on a single catch-and-run, the Eagles offense stalled, most notably with Riley Cooper failing to haul in a pass from Foles in the end zone. Cody Parkey would then miss a field goal attempt.
On the third drive, Nick Foles threw a poor pass to Jeremy Maclin. Maclin was open for a bubble screen, but Foles threw the ball a little out in front of him. The play would have gone for a first down into Colts territory again, but instead the Eagles stalled and were forced to punt.
On the fourth drive, the Eagles got down to the goal line once again, but a series of poor play calls resulted in another stalled drive and forced the team to settle for three again.
Before the end of the first half, Jeremy Maclin had his man beat for a touchdown, but an underthrown ball by Foles resulted in an interception that ended the first half.
Look at all of these missed opportunities in just the first half alone. The Eagles were lucky to have still won in spite of all this mishaps.
Game-Changing Defensive Plays
The Eagles' rally was helped along by several key plays from their defense in the second half.
Fletcher Cox really swung the momentum of this game in the third quarter when he forced Trent Richardson to fumble the ball away.
Cox has turned in two solid games, and he looks like he's really starting to come into his own. We're hearing his name called throughout each game, and he's on the right end of a lot of big plays.
Malcolm Jenkins made what might have been the play of the game when he intercepted Andrew Luck in the fourth quarter. The Colts were preparing to go in for a go-ahead touchdown, but Jenkins put a stop to the drive, making his first interception as an Eagle quite the memorable one.
Foles Off Again
I don't think Nick Foles had a very good game tonight.
While he looked a little more comfortable than he did against Jacksonville, he still made a lot of poor throws in this game. He missed open receivers, and threw too many passes either low or away from guys.
I'm not too concerned about Foles yet, but the bottom line is that he's got to be much better than he's been through the first two weeks of the season.
Quick Thoughts
Offense
What was up with the redzone playcalling? After watching Julius Thomas dominate the Colts for three touchdowns last week, how could Kelly not design similar opportunities for his talented tight ends Zach Ertz and Brent Celek?
On the opening drive, the Eagles threw a swing pass to Jeremy Maclin. Maclin began lined up on the outside, ran around the backfield before the snap, setting up a bubble screen that went for a first down. Zach Ertz did a nice job blocking downfield n the play.
The Eagles dialed up that swing play several times throughout the night, but Nick Foles threw a couple of poor passes on some of the later attempts that caused them to fail.
Andrew Gardner struggled with a block down in the redzone on the team's first possession, causing McCoy to be dropped for a loss.
Gardner played about as well as you could hope for your third-string right tackle to play. He had has his struggles, but also was far from a disaster.
Remember earlier in the off-season there was some doubt about how much Darren Sproles had left? Forget that talk. Sproles sparked the Eagles' second drive with a long catch and run. The burst he showed on that run makes it clear that he hasn't lost a thing.
Foles threw a poor pass to Jeremy Maclin in the second quarter. Maclin was open for a bubble screen, but Foles threw the ball a little out in front of him. The play would have gone for a first down, but instead the Eagles stalled and were forced to punt.
LeSean McCoy converted a third and 15 with a 21-yard run in the third quarter. McCoy finished with over 100 yards from scrimmage for the second straight game and a touchdown.
Zach Ertz finished with four catches for 86 yards.
Defense
Kelly gave his defense a vote of confidence from the start, electing to give the Colts the ball first after winning the coin toss. His defense rewarded him with a three and out.
Trent Cole and Mychal Kendricks combined to stuff Trent Richardson for a loss on the Colts' opening drive. Cole broke through initially, and delayed Richardson until Kendricks was able to come in and finish him off.
On a third-and 1 on the Colts' second drive, the defense gave up a 26-yard run to Ahmad Bradshaw. The play gave the Colts a spark, and led to their first score.
Nate Allen missed a tackle on Bradshaw in the first quarter. Bradshaw could have been stuffed for no gain on the play, but instead it turned into a five yard gain.
Andrew Luck drew the Eagles into several neutral zone infractions with a hard count. He got veterans Connor Barwin and Brandon Graham to jump to give the Colts a couple of easy first downs.
Connor Barwin batted another pass, but was also called for a neutral zone infraction that gave the Colts a first down.
Cedric Thornton also missed a tackle on Bradshaw early in the game.
Cary Williams made a nice read on a screen to Hakeem Nicks, blowing up the play for a loss.
DeMeco Ryans led the team with 10 tackles, and also recovered the Trent Richardson fumble.
Mychal Kendricks went out with a calf injury in the second half, and was replaced by Casey Matthews, who predictably came in and stunk up the joint. I've never seen a professional athlete just look so overwhelmed and helpless as Matthews.
Special Teams
Cody Parkey came through with the game-winning field goal as time expired. The rookie did miss another kick earlier in the game, but came through when it counted most. He's made two huge kicks for this team in two weeks.
Bryan Braman drew a flag for an illegal block in the back during a punt return.
Chris Maragos was flagged for a careless 15-yard penalty in the second quarter.
Final Thoughts
It wasn't always pretty, but the Eagles managed to find a way to win a difficult football game.
This was not a game that the Eagles were expected to win, nor one that they should have won. And yet they found a way.
This is what good teams do. They find ways to win.
There's a lot to talk about from this game. From Darren Sproles, to Fletcher Cox, to Malcolm Jenkins, to Cody Parkey, this game had a lot of heroes.
The Eagles are off to a tremendous start, and while there are a lot of things that need to get better, there's a lot of reason to be excited about the direction that this franchise is going in.