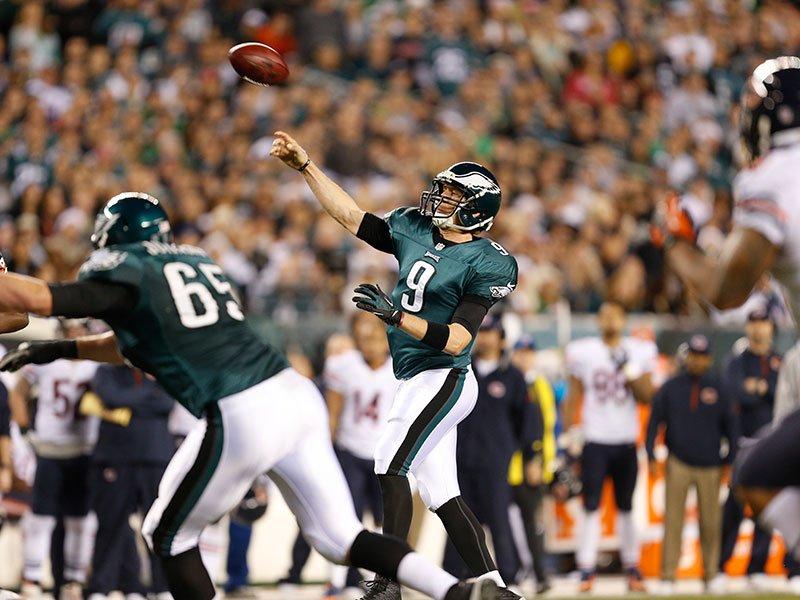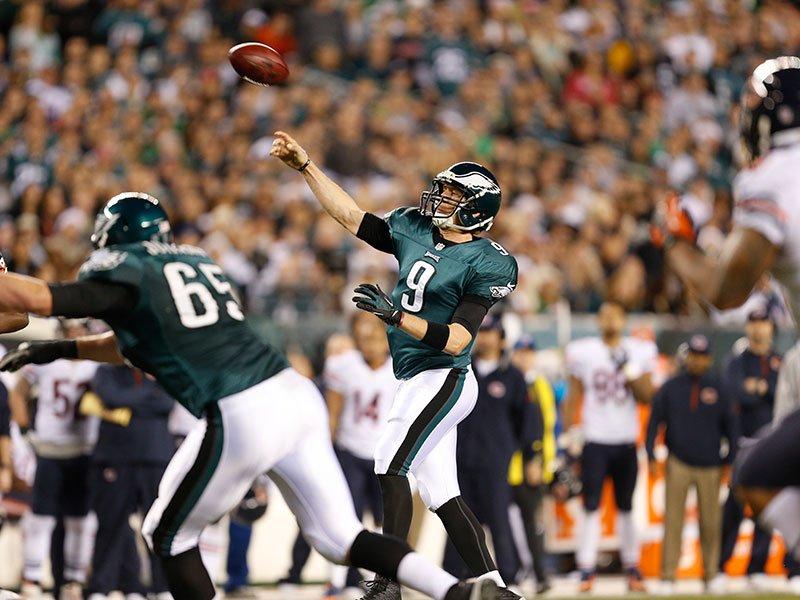 Quarterback
Nick Foles comes off his strongest performance of the season, one in which he stood tall without the presence of a running game or an established offensive line, and still threw for over 300 yards and three touchdowns. Foles is beginning to get comfortable with his new weapons. He's developed a good rapport with Jeremy Maclin, hooking up with the veteran receiver for touchdowns in each of the first three games of the season, and last week found his groove with Jordan Matthews for two scores.
Colin Kaepernick is an enigma. His physical talent is off the charts, but he struggles heavily with consistency. I had been a pretty big fan of Kaepernick after he first burst onto the scene two years ago, but he really lost me with his terrible performance several weeks ago against the Bears. He just isn't a smart quarterback, and he leans on his raw athleticism to beat a team rather than really grasping what a defense is trying to do to him and looking for weak points to exploit. Its been a struggle for Kaepernick just to get over the 200-yard mark every week. Last week, 30 of his 37 pass attempts were within 10 yards of the line of scrimmage.
Advantage: Eagles
Running Back
LeSean McCoy picked up just 22 yards from scrimmage last week, and he's really been frustrated through the first three weeks. The lack of stability on the offensive line has really made it difficult for the Eagles to get McCoy going.
Darren Sproles finally cooled off a bit last week, but still gave the Eagles 50 total yards. With all of the other weapons, its so difficult to account for Sproles and his quickness coming out of the backfield.
Frank Gore picked up just 10 yards last week after rushing for over 60 in each of the first two games. Gore has a ton of miles on him, but is still a reliable, tough runner. The Eagles struggled to bring down a physical runner in Alfred Morris last week, so this is a week where Gore could enjoy some good success.
The Niners also have an intriguing rookie in Carlos Hyde, who they're eager to work into their gameplan every week. Hyde has found the endzone twice in three games, while giving the team a nice change of pace from Gore.
Its hard to envision the Eagles really getting McCoy back on track until their offensive line either gets comfortable with all of the new players or gets healthy with the return of the starters.
Advantage: 49ers
Wide Receivers/Tight Ends
Jeremy Maclin has scored in every game, and is averaging nearly 100 yards per contest. Last week he finished with eight catches for 154 yards, and could have had even more on that total if not for a questionable illegal block in the back penalty on a long touchdown reception. Jordan Matthews broke out with two touchdown receptions last week, and could really be on his way to flourishing in this offense. Riley Cooper caught four balls last week, including one tough grab on a third down to keep a drive alive, but his impact has been very minimal through three weeks.
Zach Ertz had his quietest game of the year in Week 3, with just one reception, while Brent Celek has been held without a catch over the last two weeks and has been relegated to assisting the patchwork offensive line as a blocker.
The 49ers have a pretty average group of receivers where no one is the clear-cut number one option. On any given week, Anquan Boldin, Michael Crabtree, or Stevie Johnson could see the bulk of the targets. Last week it was Johnson, who went over 100 yards for the first time as a 49er. Boldin remains a very tough receiver who will go fight for a ball in traffic and is always dependable. Crabtree hasn't lived up to his first-round billing, but is still a decent NFL wideout. This group's impact week to week is limited by the effectiveness of Kaepernick.
Tight end Vernon Davis is to be a game-time decision, but when healthy is still one of the league's top tight ends.
Advantage: Eagles
Offensive Line
The Eagles will have their third different starting offensive line combination in four games, rolling out a lineup that from left to right goes Jason Peters, Matt Tobin, David Molk, Dennis Kelly, and Todd Herremans. It will be the first career starts for Tobin and Molk, and the first start for Herremans at tackle since 2012.
Molk is the key guy for the Eagles this week. The center needs to be able to make calls properly and make sure everything gets communicated well to the other offensive lineman. If a center struggles, it could potentially sabotage even the best offense. Jason Kelce made a good point earlier this week, stating that Molk, Tobin, and Kelly should at least be comfortable with each other from working together on the second team in practice and in the preseason. Hopefully that theory holds some weight, and new-look offensive line will at least be serviceable for the Birds.
The 49ers line hopes to get starting tackle Anthony Davis back this week, who would be a strong upgrade over Jonathan Martin. San Francisco has a couple of Pro-Bowl caliber players on their front, including tackle Joe Staley and guard Mike Iupati. These are physical, powerful guys that make it difficult for an Eagles defense that already struggles to generate pressure to get to Kaepernick.
Advantage: 49ers
Defensive Line
Fletcher Cox has been one of the defense's best players through three weeks, but he needs some other guys to step up and help him out. Bennie Logan and Cedric Thornton have been pretty quiet, while the Eagles still aren't getting Vinny Curry enough snaps. Brandon Bair and Beau Allen have been getting regular snaps but haven't done enough with them.
Ray McDonald and Justin Smith anchor the 49er defensive front. They're a couple of solid veterans, and a couple battle-hardened guys like this that have been in plenty of big games are going to create problems for the interior of the Eagles' offensive line. Smith leads the team with three sacks.
Advantage: 49ers
Linebackers
The Eagles are going to be without Mychal Kendricks for at least another week, which means the Eagles are going to continue to defy all logic and play Casey Matthews over Emmanuel Acho. Matthews continues to just be an absolute eyesore anytime he's on the field, and I can't understand why they can't just commit to Acho and see what he's got when its painfully obvious that Matthews is a complete and utter liability.
I would expect a much better game from Connor Barwin this week. He recorded just one assist against Washington, and he's usually much more impactful than that. DeMeco Ryans is the team leader with 18 tackles, but hasn't made any notable plays through three weeks. Trent Cole has been MIA since forcing a fumble in Week 1.
The 49ers are missing two key guys here in Navarro Bowman and Aldon Smith, but they've still got a couple of pretty good guys standing in Patrick Willis and Ahmad Brooks. Willis looks like he's fallen off a bit from what he was a couple of years ago, but he's still a top inside linebacker.
Advantage: 49ers
Secondary
I know Kirk Cousins dropped over 400 yards on the Eagles' secondary, but I think this group played a lot better than people think. Bradley Fletcher, Brandon Boykin, and Malcolm Jenkins all made big plays for this group a week ago. Fletcher and Boykin broke up several key passes, including Boykin's knock down on a third-down during the final Washington drive. Jenkins has made two game-changing interceptions in the last two games.
The complete and utter lack of a pass rush is the real culprit for why Kirk Cousins lit this defense up a week ago.
The 49ers have really been struggling in their defensive backfield. Starting corners Tremaine Brock and Chris Culliver have been pretty bad so far, while first-round pick Eric Reid is still trying to find his way in the league. Veteran Antone Bethea is the one dependable veteran that they've got.
I think the Eagles' corners matchup very well against the 49er receivers. San Francisco doesn't have many burners, and play a slower, more physical style that I think plays into the strengths of Cary Williams and Bradley Fletcher.
Advantage: Eagles
Special Teams
The Eagles' special teams have been a major factor in each of the their wins. From clutch field goals from undrafted rookie kicker Cody Parkey, to kick and punt returns from Darren Sproles and Chris Polk, to solid execution of Jon Dorenbos and Donnie Jones, this is one of the league's top special teams groups.
The Niner's special teams don't stand out much. Bruce Ellington is their primary returner on kicks and punts, and hasn't done anything notable. Phil Dawson and Andy Lee are very reliable veteran kickers, but if I had my pick, I'd go Parkey and Jones over them easily.
Advantage: Eagles
Intangibles/Projected Outcome
The 49ers are a tough team to figure out.
Certainly this is a group that has taken a step back from what they were. The defense is without many key figures in the front seven and secondary, and they're no longer an elite, shutdown group. The league has figured out Colin Kapernick, and the talented athlete hasn't been able to counter with adjustments of his own.
And what you have is a team that is 1-2, with their only victory coming over the Cowboys. They self-destructed in a loss to the Bears in Week 2, and allowed a career backup in Drew Stanton to come in and beat them a week ago in a division loss to the Cardinals.
And yet, this is a group that I still respect. This is a franchise that has been to three straight NFC Championship games, and they've got their backs against the wall in this game. This is their opportunity to knock off one of the only undefeated teams in the NFC, and a win this week in front of their home fans would do a lot to restore respectability throughout the league. This is a much more important game for San Francisco than it is for the Eagles.
For the Eagles, they've now got to make a cross-country trip after three wild games, capped off by a nail-biting division game against the Redskins.
The Eagles have absolutely got to avoid the slow starts that they've been getting off to. Sooner or later, slow starts are going to catch up to this team.
The San Francisco defense is weakened, but the matchup against the Eagles' offensive favors them immensely, and they should be able to take away the run and generate pressure on Nick Foles.
The Eagles have a chance to go out and win this game, but I think its very difficult to rip off four straight in the NFL, especially going out west to play a quality opponent.
Pick: San Francisco 24, Philadelphia 20