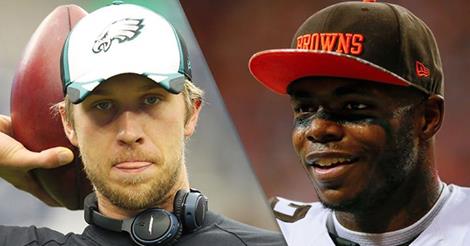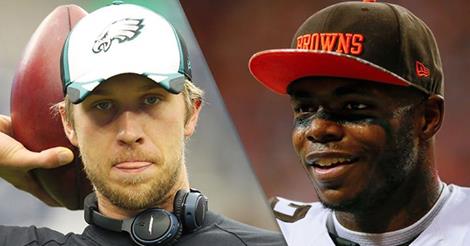 According to Phil Sheridan of ESPN,  Chip Kelly and the Eagles organization turned down a trade offer from the Cleveland Browns involving Eagles quarterback, Nick Foles and Browns wide receiver Josh Gordon.  It's a good thing the Birds turned down the deal because Gordon's has been going downhill since having tremendous production in the 2013 season. He played only five games in the 2014 season and will miss the entire 2015 season due to failing an alcohol test.
This offer was made prior to the 2013 season.  Foles was backing up Michael Vick at the time, but Vick went down with an injury and opened the door for the youngster.  Of course we all know what transpired thereafter.   The young signal caller led the Eagles to the playoffs while putting together a Pro Bowl season with 27 touchdowns and only 2 interceptions, while completing 203 out of 317 passes for 2891 with a league-high passer rating of 119.2 .  Gordon also had Pro Bowl season that year, while leading the NFL in receiving with 1,646 with 87 receptions and nine touchdowns in only 14 regular-season games.
Thankfully for the Eagles, Kelly turned down the offer because he didn't like the fact that Gordon missed the two games because of a drug suspension.  As we saw with former Eagles wide out DeSean Jackson, Kelly doesn't have patience with character-challenged players.
Prior to the 2013 season, former Eagles GM Joe Banner was running the Browns and oversaw the making of the offer to the Eagles.