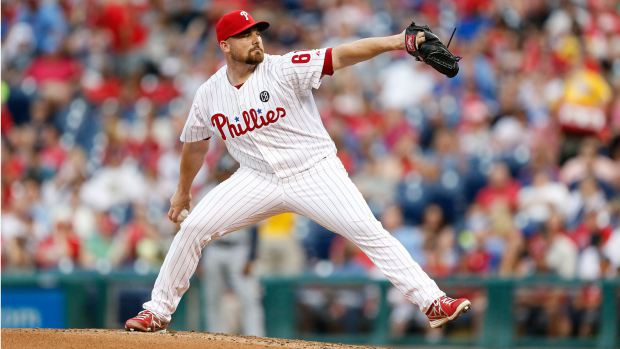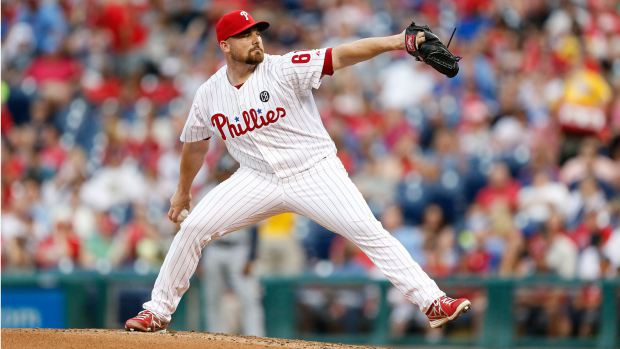 The Philadelphia Phillies lost their sixth straight game on Friday night, falling to the Nationals 7-2. Their record drops to 3-8.
On The Mound
Sean O'Sullivan made his second start of the season, and lasted just five innings while allowing four runs. 

O'Sullivan gave up three runs in the first inning. He allowed five hits, two walks, and two homers.
Jeanmar Gomez pitched 1.2 innings, and allowed a run.
Jake Diekman continues to struggle, allowing two runs on two hits and a walk while recording just one out.
Ken Giles game on to get some work in the eighth inning, and pitched a scoreless inning despite giving up two hits.
At The Plate
The Phillies managed just two runs on seven hits. 

Odubel Herrera went 2-4 with his second triple in a week.
Freddy Galvis went 0-4 but drove in a run.
Chase Utley turned in his third straight 0-for, going 0-4.
Jeff Francoeur continues to hit out of the cleanup spot, going 1-3.
Cody Asche went 0-4 with three strikeouts.
Carlos Ruiz went 1-4 with a single.
Ryan Howard went 1-4, driving in a meaningless run in the ninth inning.
Darin Ruf went 1-4 with three strikeouts.
Final Thoughts
The Phillies have now failed to score more than two runs in each of their last three games.
They've also failed to score more than two runs in nine of their 11 games.
That's a mind-blowing statistic, but it speaks to just how wretched this roster that Phillies' village idiot General Manager Ruben Amaro Jr. assembled has been.
With an offense this bad, I can't believe they even have three wins.