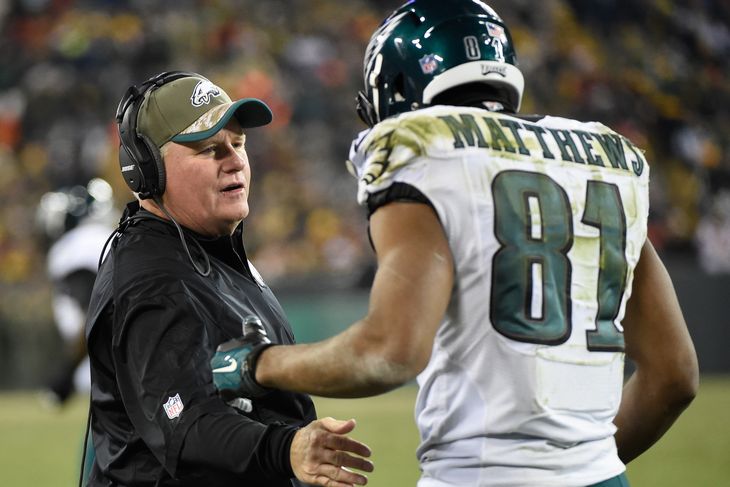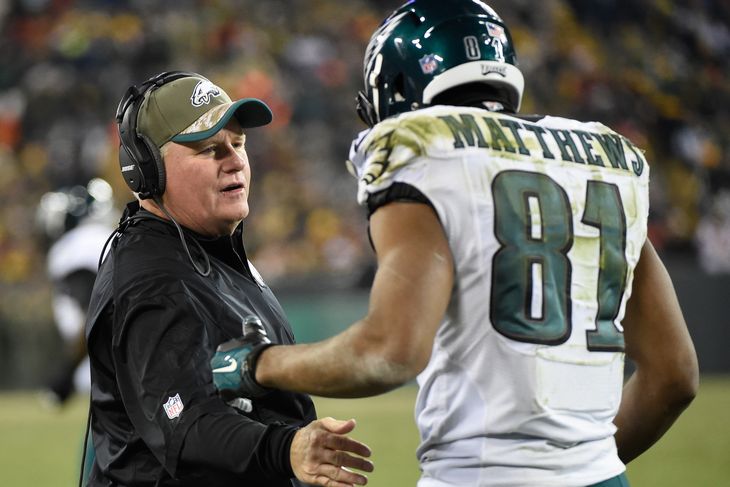 It's a shame that Chip Kelly still has to waste time answering questions about the racial comments LeSean McCoy made a few weeks ago.  Kelly categorically denied McCoy's charge that there was a reason he was getting rid of the "all the good black players".
"I've got great respect for LeSean, however, in that situation, I think he's wrong," Kelly said. "We've put a lot of time into looking at the characters and factors that go into selection and retention of players, and color has never been one of them."
I know McCoy despises Kelly for trading him to the Buffalo Bills, but there's no reason you should disparage somebody's name and accuse them of something which you have no proof of.
"I reached out to him twice and he didn't accept my call", Kelly said regarding trying to talk to McCoy. "Then I talked to his agent (Drew Rosenhaus) and told him I'd like to talk to (McCoy) at some point in time, but I haven't had a chance to."
Eagles Pro Bowl center Jason Kelce said he loved playing with McCoy, but said,"I don't think his comments are worthy of a response."
Up and coming Eagles defensive end Fletcher Cox gave us his opinion of McCoy's comments.
"I think that's a distraction," Cox said. "I don't think … I don't even worry about that. LeSean is a great guy and a great friend. I continue to talk to him. I won't bash LeSean."

"LeSean was on this team the day that I got here and he kind of showed me around a little bit. But, it's a distraction. If I were to worry about that, I'd probably be making mistakes on the field. That, or anything else that brings distractions to this team and this organization."
The leader of the Eagles secondary, safety Malcolm Jenkins, put together a case against McCoy's insinuations.
"Chip has been very, very transparent on what he's evaluating us on," Jenkins said. "That's not only what we do on the field, but what we do in our assessments and how disciplined we are with our nutrition and all the sports science stuff. I haven't seen him make a move outside of those parameters. I don't think anybody in the locker room now thinks we have an issue with race. I don't see that being a problem in the future. I don't think there's any need for Chip to address it [with the locker room]."
Kelly says McCoy's accusation doesn't bother him and he has no plans of letting it bother him in the future.
"It doesn't hurt me," he said. "I'm not governed by the fear of what people say. Events don't elicit feelings. I think beliefs elicit feelings, and I understand what my beliefs are and I know who I am."
Again, I can understand McCoy being mad about Kelly trading him, but you don't pull out a racial grenade then throw at your former team.
"You start chasing perception, then you got a long life ahead of you, son," Kelly said. "But that's what it's all about. If you're worried about someone's perception about what's going on with you, then — you can control one thing, you control yourself and I know how we run this organization. That's not one of them."
I respect what Kelly had to say, but I think this has to bother, him.  Here you have a guy in Chip, who loves football and he loves the people that are around football from the high schools, to the college game and in the Pro's.  I know it would bother me, if somebody did this to me.