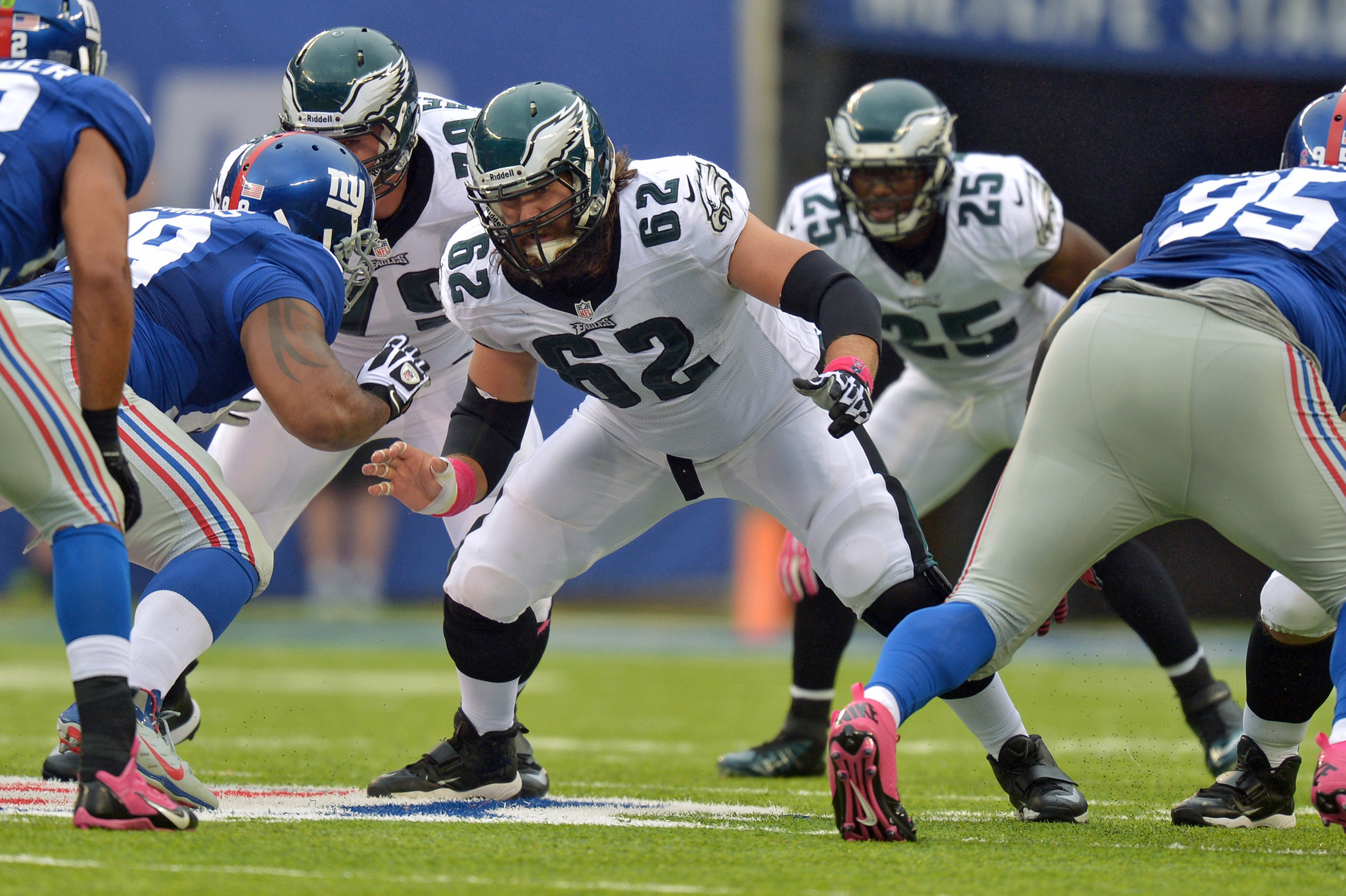 Showed cerebral grasp of the game to go with outstanding physical ability to block bigger defenders straight up or move down the field to crush smaller ones. Probable 2014 scenario: Will continue in starting role.
Beauty is in the eye of the beholder and nobody knows whether the Eagles have gotten better or worse until they play the entire season and playoffs if they make them.  But I like the fact that Eagles Pro Bowl center Jason Kelce believes the team has gotten better.  That's one of the reasons why he made such a bold statement on Thursday after the team's OTA workout.
"I've said this before and this might piss off a few people, but in all honesty we started off 9-3," Kelce said. "We started off really, really good and we got lucky quite a few times to win games we probably shouldn't have been in and I think the fact that we ended the season the way we did, didn't make the playoffs, in hindsight it's almost a good thing because it forces the coaches, it forced the organization, to re-evaluate what we had."

"And really, guys all of a sudden that are on the bubble, now all of a sudden they know for sure, 'We need to upgrade there. We need to make an upgrade at this position. We need to do this, we need to do that to improve as a whole.'

"I think we've made a lot of really good acquisitions this offseason. I think we've got a lot of really, really good football players that are going to be able to help us win football games and I'm excited to be a part of it."
Could you imagine if he would have said he thought they got worse?  He couldn't say that publicly, even if he believed it.
I don't have a problem with Kelce saying what he said.  He's looking at what happened in a positive light and believing this football team has gotten better.  There's no proof of the team getting better. Kelce is deciding to believe they have gotten better.
The athletic offensive lineman is saying it's good that the Birds didn't make the playoffs because it honestly told them that they weren't good enough and needed to change a large amount of their personnel.
I understand Kelce saying that but we don't know and he doesn't know whether the personnel has gotten better or not.  The key to all of this is the quarterback position.  If Sam Bradford goes down in the third game of the season and isn't able to play another game for the Eagles all season, does that mean that the team has gotten better?
I don't think there's a question that the Eagles will be better on defense in 2015 because of the upgrades in the secondary and at the inside linebacker position.  Nobody knows whether they're going to be better on the offensive side of the ball with the change from Nick Foles to Bradford and with the change from LeSean McCoy to DeMarco Murray.
We as onlookers can sit on the side and wonder, Kelce, on the other hand is taking action with his belief system by proclaiming it was a good thing that they didn't make the playoffs in 2014 because it helped them change personnel to get better for 2015.  As I see it, he's finding a positive way to look at their circumstance.
Is the offensive line better with just about the same personnel?   They may have to play without Todd Herremans and Evan Mathis?  The Herremans of 2014 won't be hard to replace, but replacing Mathis won't be as easy.
Is the receiver corps better with Jeremy Maclin gone?  Can Jordan Matthews, Nelson Agholor and Josh Huff replace Maclin's production?
Will Murray and Ryan Mathews be as productive as McCoy was behind the offensive line, if Mathis eventually gets traded?  Will Murray run as well behind the Eagles speedy finesse line as he did behind the Cowboys big and powerful offensive line?
Will the Eagles be as good in the Special Teams area as they were a year ago?  The Special Teams unit was outstanding in 2014.
Will it take the team a while to get used to playing with each other?  Normally a team that turns over as much of it's roster as the Birds did, takes a while before it starts winning. In addition, no team has ever built a championship via free agency.  Most of the moves the team has made were free agency moves.  Kelce had an answer for that as well.
"It depends on how you've added through free agency," he said. "We've added through free agency guys who are high character, high open-minded guys who want to learn and be a part of the team. I don't think we've gotten any guys that are selfish or are going to be close-minded and not ready to take on the new system. We've gotten the right type of people."
We'll see Jason, I hope you're right.