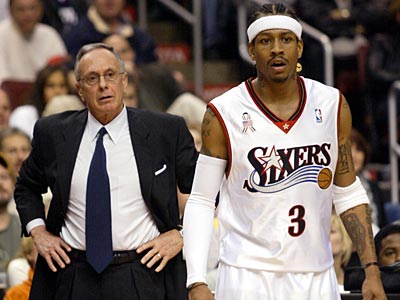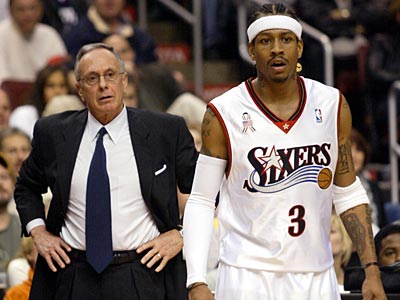 Was Allen Iverson drunk when he did the famous "Talking about Practice" rant?  I remember it distinctively.  I was there sitting ten yards from Allen and I thought he was lit, but I couldn't prove that he was.
Local television Channel 6 ABC reports that Washington Post writer Kent Babb has a book coming out soon about Allen.  It's fittingly titled, "Not  A Game".  In it he claims Iverson was drunk for that infamous news conference.   Babb goes on to say that team President Pat Croce watched the news conference on television and was suspicious of Allen being intoxicated.
He wouldn't let those two phrases go, "We're talking about practice", "We're talking about practice", "We're talking about practice".   "Not a game", "Not a game", "Not a game".  It was great theater.  You never knew what Allen was going to say.  Larry Brown was always trying to keep him in line, but that was impossible.
I was a sports reporter for CBS-3 back then and I used to go to all the Philadelphia 76ers games and news conferences.  I could tell you some stories about Allen because I was with them throughout their trip to the NBA Finals at the end of the 2000-2001 season and during the subsequent years.  During the playoffs, I was on the road with them and it was wild.
I was in the same hotel as the team during that stretch and Allen pushed the envelope.  Despite whatever he did at night during those years, he always showed up at game time and he was ready to get the job done.  He was a warrior between those lines.
The "little kid" as Brown used to refer to him, was amazing.  He played without fear.  Allen could have been an amazing football player.  I could imagine getting caught in a one-on-one situation with him on a punt return.  It would have been like getting caught in open field with Barry Sanders.