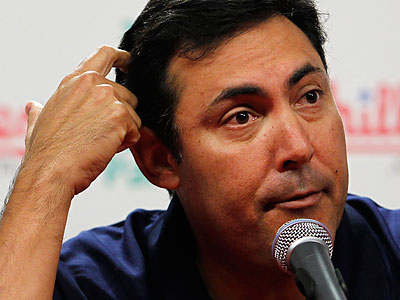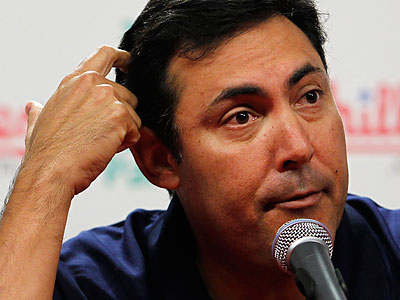 The Philadelphia Phillies are exceeding everyone's expectations this year. That's right, this Phillies team is actually far worse than any of us could have anticipated going into the 2015 season.
Before the season began, some thought they would lose over 100 games. Some thought they would be one of the worst teams in baseball.
Well the Phils have really surprised us, and gone the extra mile. This isn't just the worst team in baseball. We could very well be looking at the worst team in professional sports.
Certainly, they'd have to be in the conversation, at least.
The Phils have dropped 23 of their last 28 games. They've been outscored 52-14 since last Monday when the series against the Orioles began. The players look like they've already mailed it in and quit, and we're not even through June yet.
This franchise has become the laughing stock of the league, and it's easily the worst team I can remember having the misfortune to watch.
After another lifeless effort in a 10-1 loss to the Cardinals on Saturday night, this team needs a major shakeup in the worst way.
It's gotten to the point now where things are so bad, that this organization almost has to make some changes. What's going on right now is just unacceptable, plain and simple, even for a team that everyone expected to be bad.
It's time for heads to roll.
Ideally, the purge would start with the long-awaited dismissal of village idiot General Manager Ruben Amaro Jr.
Amaro is the biggest culprit for the product currently on the field. From the incompetent manager and his coaching staff, to the historically bad outfield, to the countless bad contracts, Ruben has done more than enough damage and needs to be removed at once.
It's also time to pull the plug on Ryne Sandberg.
Sandberg has contributed absolutely nothing positive to this roster since taking over for Charlie Manuel back in 2013. The embattled manager has held the job for almost two full years, and has done nothing to improve this club or the players on it.
Sandberg was supposed to be a guy who was going to come in and reinstall basic fundamentals of the game, but the Phils have managed to become one of the most boneheaded, mistake-prone teams in the league. He's in over his head, and he's got no answers. Send Sandberg and his wretched pitching coach Bob McClure away, and let Larry Bowa finish out the year as manager.
Firing Amaro and Sandberg won't change this team's fate for 2015. But it will offer the fanbase some hope for the future, knowing that some fresh faces will running the show in the future.