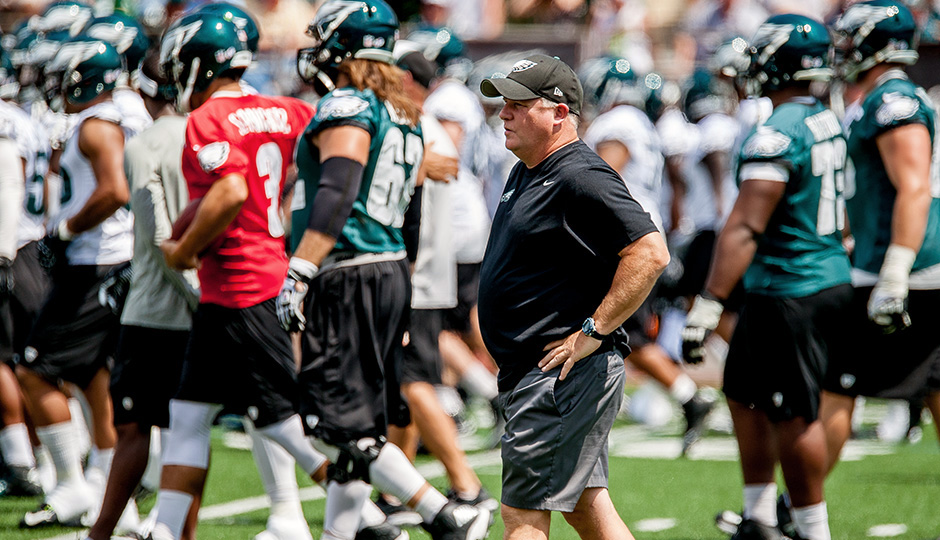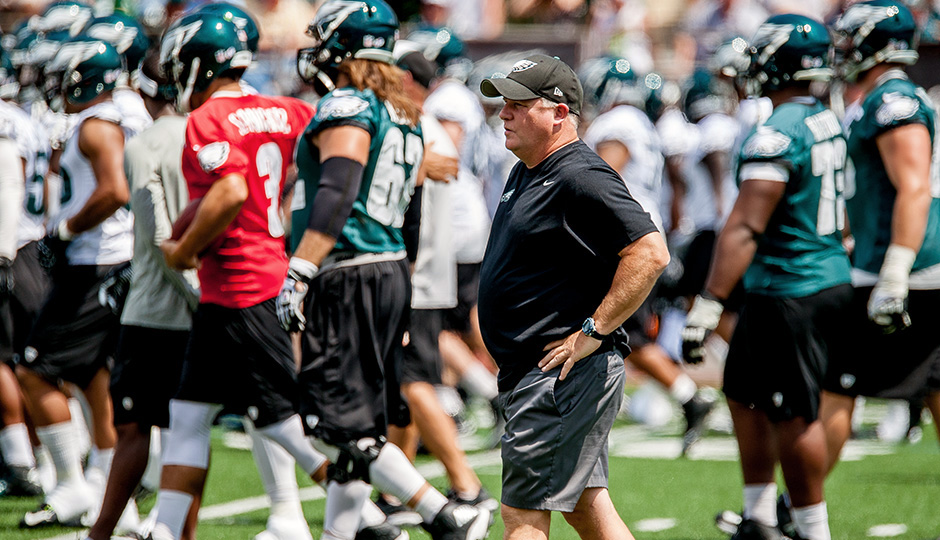 Chip Kelly is trying to put The Bad Boys of the NFL in the unemployment line.  If Kelly and his Birds team make the playoffs and then go deep into the post season, it's going to create problems for the "Problem Players" currently in the NFL and in college, and on their way to the league.
For the entire week, I've been in Aurora, Ohio with all of the 2015 NFL Rookie class.  We're talking to them about being professionals, who prepare themselves to produce on the field, and have their lives in order off the field.  We're working with them on controlling their tempers and thinking about the ramifications of their actions before doing anything that they will regret.
It's not easy to communicate to young twenty-two year old men with money in their pockets about how they should carry themselves with their careers, their families, their friends, their finances and the females in their lives.  We call them the Five F's, football, family, friends, finances and females.  Mismanaging their relationship with any of them could cost them dearly.
Many of these youngsters have grown up without the benefit of the example that I had in my dad, Jesse Cobb, who served in the Army before he and my Mom raised me and my three brothers and three sisters.  I grew up knowing that life wasn't all about me.   I saw what it meant to be a man, who was willing sacrifice for his love ones.  I knew how to sit down, get my emotions in check and follow directions.  I was taught that when I was five and six.  Some of these youngsters are just learning some of these lessons at twenty-one and twenty-two.
When I hear, "Hey Mr. Cobb", when I walking through the Bertram Inn and Conference Center in Aurora, Ohio, I don't know what kind of question I'm getting ready to answer.  We don't assume they know the answers.
Some of these youngsters are being asked to grow into manhood, while living in the bright spotlight of NFL stardom.  It's not an easy thing to do with cameras everywhere and ESPN, TMZ and other media outlets looking for the latest hot story.  These young men are chased by shady businessmen, who are looking to make a quick buck and beautiful women, who are looking to hook onto the next popular, rich professional athlete.
If they lack character and self control, there's a good chance that they're going to make some mistakes.  Those mistakes could destroy them and their potential careers, and it could happen in an instant.  They are walking targets and if they lack good decision-making, they could drive their franchises and coaches crazy with problems.
On the other hand, I had a NFL front office person tell me this week, he thinks you need some players on the team, who have an  edge to them.  He said you need some of those guys to stir things up your team.  "You needs some guys who will be "Thugs on the field" in order to build a champion", he said.
Do you need guys who may be "Problem Players" off the field to push your team to championship level?  For years I've heard that you need those types of guys to be a championship team.
Think about how Hall of Famer Michael Irvin pushed the Dallas Cowboys to a Championship level.  He had his problems all the field, but he was a leader in that organization.  Ask Troy Aikman, Emmitt Smith or any of the players on those teams and they'll tell that Irvin was the one who demanded excellence from himself and his teammates.
Hall of Famer Warren Sapp, whom I saw is in more trouble today, was a great leader for the Tampa Bay Buccaneers.  I've have heard his Buccaneer teammates talk about his leadership on the squad.
Defensive end Charles Haley had some major issues during his career, but he just went into the Hall of Fame and he won five Super Bowls, two with the Niners and three with the Cowboys.  He was a leader on those Super Bowl Championship teams.
Kelly has basically said he's not dealing with any more "Problem Players", who have already shown they are going to be challenged to get through this maze of potential trouble.  He wants guys who have already shown they can ignore the distractions and focus on being prepared to produce on the field.
Chip wants players who will put the team first, stay out of trouble and be willing to do just about anything to get better and help the team win.
He wants nothing to do with many of the players I see walking around here in Ohio this week.
He's willing to take a pass on talented but troubled players like the first pick in the draft, Tampa Bay's Jameis Winston, who was accused rape and suspended from the team for a game this past year.  Yes he did lead them to a National Championship and he did win a Heisman Trophy, but he's not Kelly's type of player.
Kansas City Chief's talented cornerback Marcus Peters was considered by some to the be the best cornerback in the draft, but he was suspended for the season a year ago because of blowing up on the sidelines during a Washington Huskies game.  He's not a Chip Kelly guy.
Denver Broncos pass rushing phenom, Shane Ray tested positive for marijuana just before the draft.  He's not a Chip Kelly guy.
Dallas Cowboys talented pass rusher, Randy Gregory, has had a litany of off the field problems, which means he's not a Chip Kelly guy.
Currently, talented and troubled players are pursued by teams despite the problems they have had off the field, but more and more teams and coaches will starting avoid them.   If Kelly succeeds by building a championship team here in Philadelphia, the "Problem Players" will be headed for more trouble.
Everybody's watching Kelly.  I've been quizzed by people from all over the league about what he's doing.   Is there more than one way to skin a cat?
Sidenote:  Where did that expression come from?