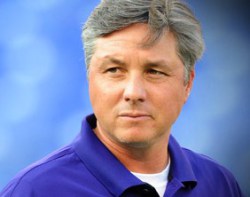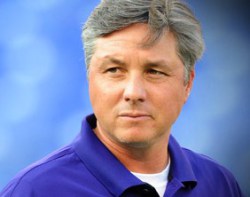 NFL Network reporter and NFL insider Ian Rapoport just reported that Evesham, New Jersey Mayor Randy Brown, who doubles as a special teams assistant coach for the Baltimore Ravens sent a text message to one of the Colts head coach Chuck Pagano  encouraging him to rotate the footballs in their upcoming AFC Championship game against the Patriots.
Brown sent the text after they were eliminated in the post season, and he encouraged the Colts to rotate the balls because he thought some of the footballs in the Ravens-Patriots game might have been a little deflated.
"Coach Brown's text did not mention the Patriots and did not complain about anything the Patriots did," Ravens head coach John Harbaugh said in the statement. "The Colts never responded to Randy's text, and he had no further communications with the Colts on this matter."
Of course the reason this information is very important is because of the huge controversy surrounding NFL Commissioner Roger Goodell's four-game suspension of last year's Super Bowl MVP New England Patriots quarterback Tom Brady.   The NFL and Brady are in Federal Court right now battling about the four-game suspension, which involves the deflation of some footballs in last year's post season.
The text message which was sent by Brown is the only communication the Ravens organization says they made to the Indianapolis Colts about the footballs used in their playoff loss against the Patriots.  Ravens head coach John Harbaugh and the rest of his staff denied any knowledge that he knew of any deflated footballs being used in their playoff game against the Patriots.
Brown has a close relationship with the Ravens head coach and they worked together when Harbaugh was the Special Teams coach for the Eagles.   Obviously that relationship has continued with Harbaugh in Baltimore.