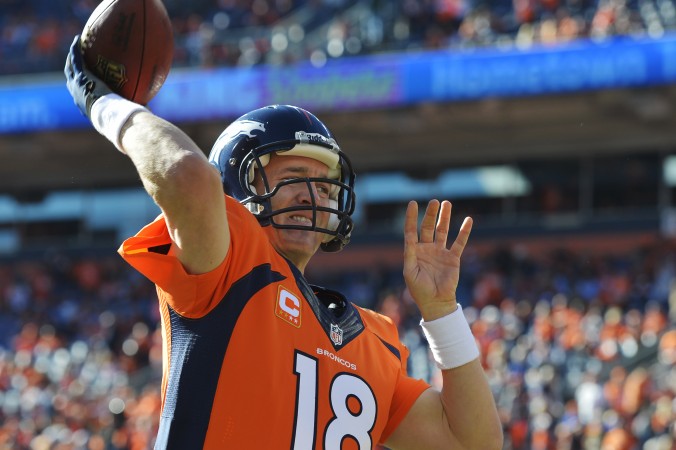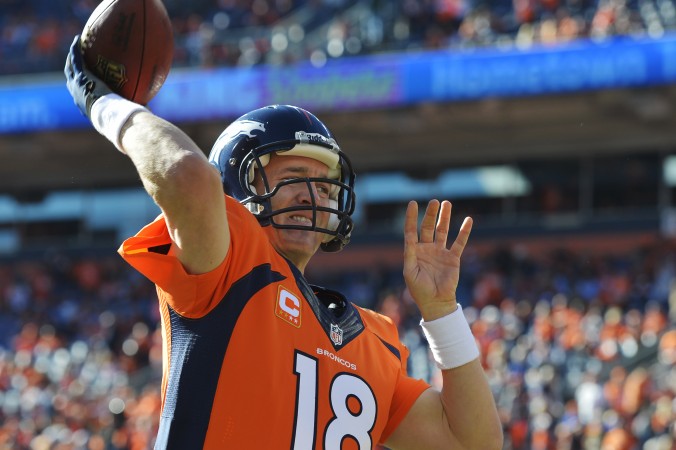 Denver Broncos
Peyton Manning is back for one last run at a Super Bowl title with the Broncos, but can he last an entire season?
Based on his performance last year, it's hard to envision him finishing the year as strong as he starts it. Manning has so much wear and tear on his body, it's a lot to ask the 18-year veteran to go through a 16-game schedule. Last year he wore down late in the season, and didn't look anything close to the same guy that Denver saw in September.
Manning's job also became a little more difficult after seeing his offense lose tight end Julius Thomas and his 12 touchdown receptions in free agency, along with offensive lineman Ryan Clady going down for the season.
Denver has a solid defense in place to support Peyton's offense. Von Miller and DeMarcus Ware combined for 24 sacks last year, and the Broncos spent their first-round pick on Shane Ray to add some more firepower to that mix. The secondary is also a strength, anchored by Aqib Talib, T.J. Ward, and Chris Harris.
The Broncos plan to shift to a much more run-centric offense in order to help keep Manning in better shape as the year goes along, however this seems like a team that almost has to take a step back due to Manning's age, and the losses of talent they've taken on offense.
This is still the best team in the division, still a contender in the AFC, but not quite at the level of what they were a year ago.
Projected Finish: 11-5, 1st Place
San Diego Chargers
The Chargers are expecting significant improvements in head coach Mike McCoy's third season.
Philip Rivers comes off of a season in which threw for over 4,000 yards and 30 touchdowns, but still had a difficult time pushing the team over the hump because of the lack of support he received at the other skill positions.
San Diego hopes to supply him with a much better running game this year, selecting Melvin Gordon with their first-round pick. Gordon should be an instant upgrade over a running game whose leading rusher was Brandon Oliver with just over 550 yards in 2014. The club also landed free agent offensive tackle Orlando Franklin from the Broncos to upgrade their line.
The team hopes that wide receiver Keenan Allen will finally begin to harness his potential after a rocky campaign a year ago.
The Chargers need more big plays from their defense this year. No one had more than 4.5 sacks last season, and Brandon Flowers was the only player with more than one interception.
They added linebacker Denzel Perryman in the second round, and signed free agent corner Patrick Robinson from the Saints.
If San Diego's offensive upgrades pan out, the team should be very much in the mix for a Wild Card berth.
Projected Finish: 9-7, 2nd Place
Kansas City Chiefs
The Chiefs grossly overachieved in 2013, and came crashing down to earth last season.
Andy Reid is turning to a familiar face in Jeremy Maclin to help upgrade one of the league's weakest group of wide outs, a unit that didn't register a single touchdown reception in 2014. Reid also spent a third-round pick on a big receiver in Chris Conley, who could step in right away to start alongside Maclin.
However, the real issue with this passing game is quarterback Alex Smith. Smith takes very few chances, which on the bright side leads to few turnovers, but also puts a very low ceiling on what his wide receivers will be able to do. No receiver on a team quarterbacked by Smith has ever eclipsed the 900-yard mark.
Jamaal Charles turned in another 1,000 yard season, but took a beating and after eight years in the league and given the general shelf life of running backs in this league, it's fair to wonder how long it will be before the explosive running back hits that wall.
Kansas City's defense is led by sackmaster Justin Houston, who is fresh off an effort where he registered 22. The team added cornerback Marcus Peters in the first round, and hopes to get stronger contributions from Dee Ford, last year's number one pick.
Since Reid's 9-0 start, the Chiefs are just 11-13. A lot of the same flaws that Reid struggled with in his final years with the Eagles have been on full display, and this is a team that has some real limitations at some key positions.
Projected Finish: 7-9, 3rd Place
Oakland Raiders
The Raiders are still a lock for last place in this division, however unlike previous seasons there's actually some reason to be optimistic about the direction that the Silver and Black may be trending.
Derek Carr turned in a respectable rookie season, throwing for over 3,200 yards with 21 touchdowns and only 12 interceptions. The expectation is that Carr will be better in his second season, and Oakland went out and used their first-round pick on elite receiving prospect Amari Cooper, who is expected to make an immediate impact. They also signed Michael Crabtree away from the 49ers, who fits perfectly as a number-two receiver.
Defensively, the Raiders also got an impressive rookie season from last year's top pick Khalil Mack. Mack only picked up four sacks, but was very disruptive as a pass rusher. The club signed middle linebacker Curtis Lofton to bring some veteran leadership to the front seven.
Ageless Charles Woodson remains in the secondary, and is still the heart and soul of the team. Woodson led the club with four interceptions. Former Eagle Nate Allen was signed in free agency to upgrade the safety position.
The Raiders are growing, and as long as the core of Carr, Cooper, and Mack continue to make strides, a year from now this could be a team ready to make a move out of the AFC West's basement.
Projected Finish: 6-10, 4th Place