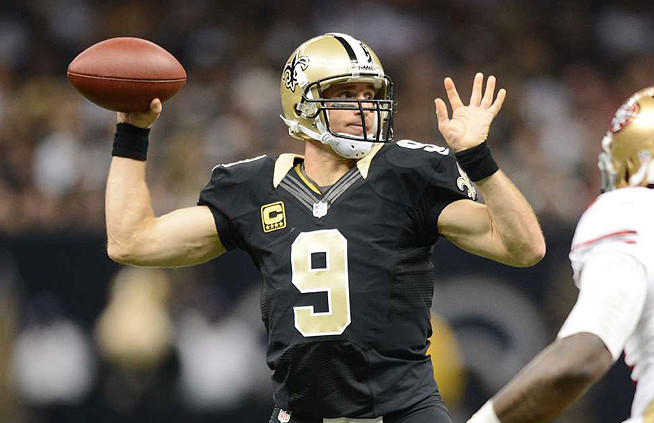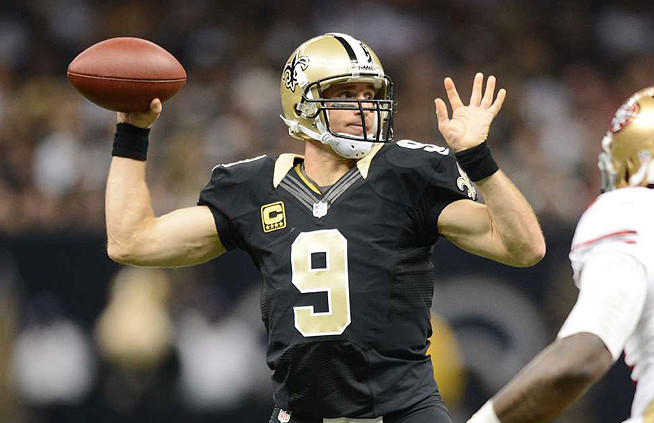 Despite having the same name, Saints star Drew Brees isn't the same quarterback who led New Orleans to a Super Bowl title earlier in his career.   He injured the rotator cuff in his arm earlier this season and he's not able to easily make the deep throws like he has in the past.  This has forced Brees to take the underneath throw more often and made him a "Check Down Charlie" until his shoulder heals.
Brees is still very dangerous.  He led the Saints to victory over the Cowboys despite his limitations because he's got thorough knowledge of where each of his five receivers is, during each play.  He's going to put pressure on each linebacker and player in the secondary to do his job and be sure tacklers in the open field.
On the second play in Overtime of the Cowboys game, Brees hit running back C.J. Spiller with a short throw and the linebacker missed the tackle on him and Spiller took the pass 80-yards for a game-clinching touchdown.
In the Cowboys game, Brees completed over 80% of his passes, while throwing for 359 yards with two touchdowns and no interceptions.  The Birds can't afford to let the outstanding Saints quarterback have this type of game.
The Eagles defensive line will need to be patient and persistent because Brees will get the ball out of his hands very quickly.  Fletcher Cox, Bennie Logan and whomever will be playing at the other defensive end position must do everything they can to get to Brees.   The Eagles secondary can't afford to give Brees too much time with the ball in his hands.  They've got to keep the pressure on him.
Despite the fact that Brees is limited in his arm strength with the rotator cuff injury, but the Eagles safeties can't make the mistake of giving him the chance to connect on a deep throw to speedster, Brandin Cook, who reminds many of DeSean Jackson. You can be confident that Brees is going to take a few shots deep, he's probably do it off of play action pass.
The Birds corners, Byron Maxwell and Nolan Carroll, as well the safeties  Malcom Jenkins and Walter Thurmond, must be on top of their assignments, ready to make one-on-one open field tackles and always be alert for Brees to get the ball to any of his receivers at any time.   He always knows where each of receivers is during the play.
Sure open-field tackling is a must this week.