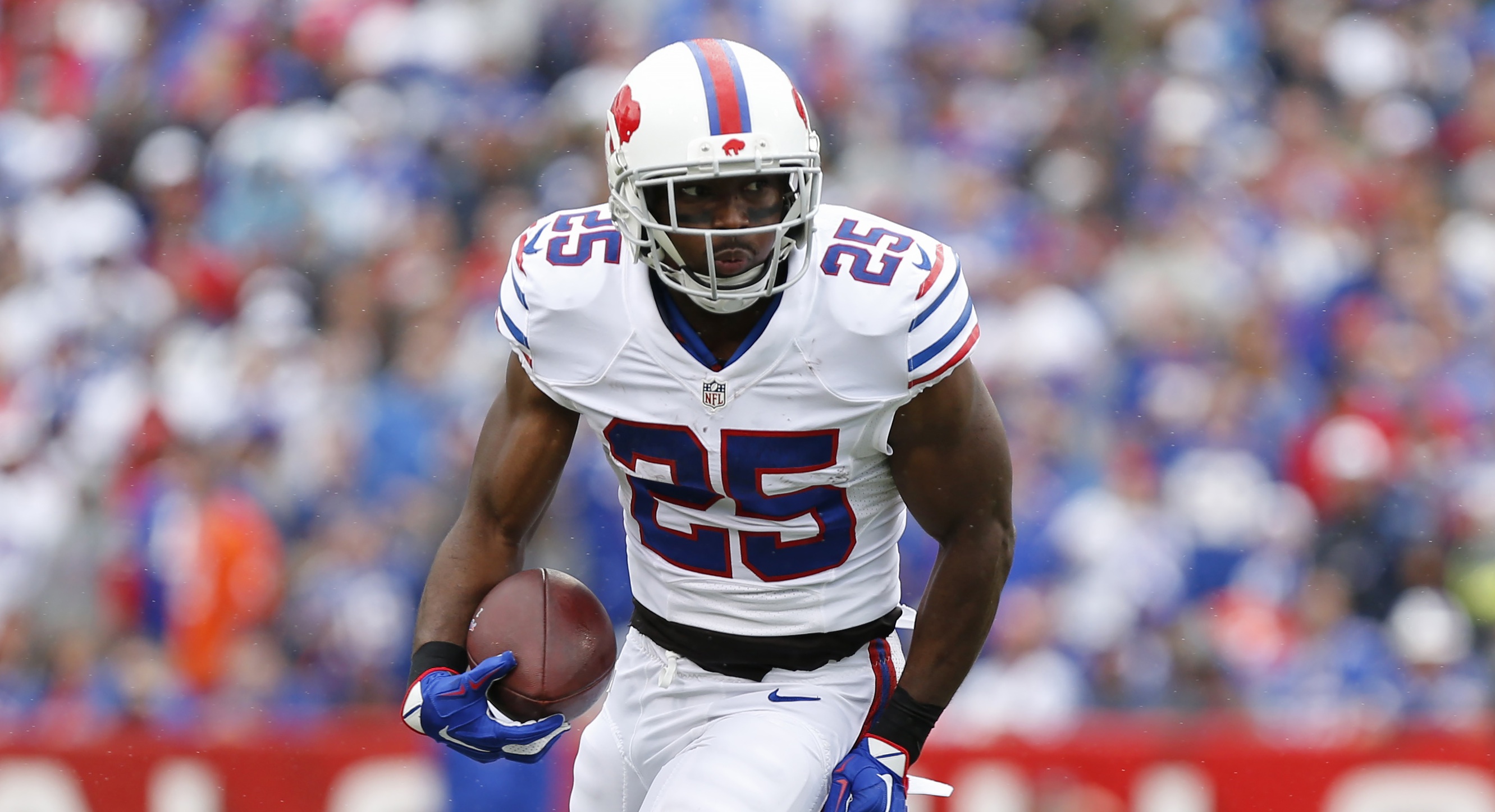 Sep 13, 2015; Orchard Park, NY, USA; Buffalo Bills running back LeSean McCoy (25) runs with the ball during the first half against the Indianapolis Colts at Ralph Wilson Stadium. Mandatory Credit: Kevin Hoffman-USA TODAY Sports
LeSean "Shady" McCoy is making his return to Philadelphia with intentions of doing big things against the Eagles defense.
If only the game to be played could be the focus heading into week 14; there are simply too many storylines stealing the attention.
From the Chip and McCoy relationship and whether handshakes or words will be exchanged to the DeMarco Murray situation, the drama is quite tiring for the fan base. The real question is what to expect from the Eagles who at 5-7 have been handed yet another opportunity to control their path and crawl into the playoff conversation.
On offense the Eagles are still a question mark with absolutely no identity. There is nothing exciting about the play-calling; it's rare to see any throw go down field, and the Bills defensive coordinator knows this.
Bills head coach Rex Ryan has been known to be aggressive with quarterbacks that are below average, which is the case that could be made with Sam Bradford.
With the Eagles offense, I don't anticipate the short throws in the flat to running backs to gain additional yards.
I don't expect the running game to pick up big plays. That translates into Sam Bradford needing to be better on third down and long situations, and for the wide receivers to step up this week.
The Bills do a nice job against tight-ends, but moving a guy like Ertz in motion or flanking him outside in a receiver like role could be a great matchup win for the Eagles offense. Seldom used Trey Burton has yet to have the opportunity given to him in the preseason, and why not this week?
The Eagles receive nothing from their 2015 first round selection and Huff plays cat and mouse with his contributions on a weekly basis.
The Bills offense has an identity; they run, run and run the football. Tyrod Taylor has exceeded everyone's predictions with how he has performed this season, and has shown over the last few weeks an electric connection with second year wide-out Sammy Watkins. Watkins is a playmaker, and surrounded by McCoy at running back, Woods at the other receiver position and Clay at tight-end, it's an athletic arsenal of weapons that Taylor has to pick from. Taylor is also a threat to run, or at the very least extend plays with his athleticism which poses a challenge to the Eagles defense.
Kendricks and Alonso who were counted on to step up to excel against this style of quarterback have struggled against bigger offensive lines in the NFL this year, which the Bills certainly have to their advantage.
On defense, both the Eagles and Bills have underachieved with their streaky play so far this season.
Ryan has not improved the Bills defense which experts predicted to be in the top three in the league, and their secondary is suspect. They also struggle when the opposition puts players in motion and crossing patterns, an area that the Eagles offense can certainly attack with how they like to utilize their receiving core.
The Eagles defense must find a way to get pressure on Taylor and force him into throws and not allow things to set up. McCoy must be accounted for as both a running back and a receiver, with also seeing snaps in the wildcat formation. Watkins should be double teamed throughout the game or at the very least some type of game plan by Billy Davis that shows he understands how to slow down the top playmaker on the other team.
Trying to outline how this game will unfold is difficult, I simply can't figure out what and who this Eagles team is all about.
I honestly see Rex Ryan doing his best to get McCoy thirty total touches in this game, giving him every opportunity to take it to the team that traded him.
I'm still unimpressed with that I see from Bradford, but he has shown enough improvements that I do feel like he has what it takes to outplay Taylor in this game.
I think the Eagles find a way to win this football game with perhaps another score coming from the defense, a possible scoop and run fumble for a touchdown by former Bill Kiko Alonso.
Eagles 27 Bills 24