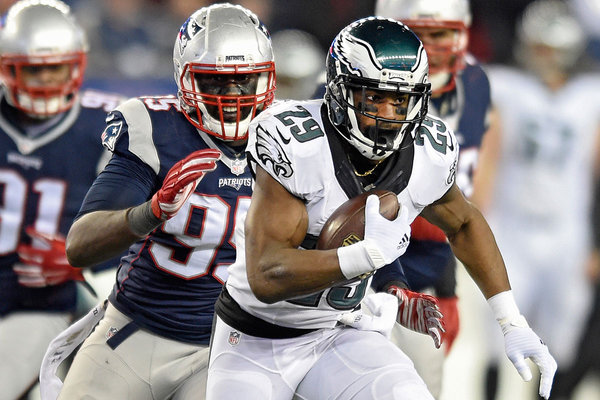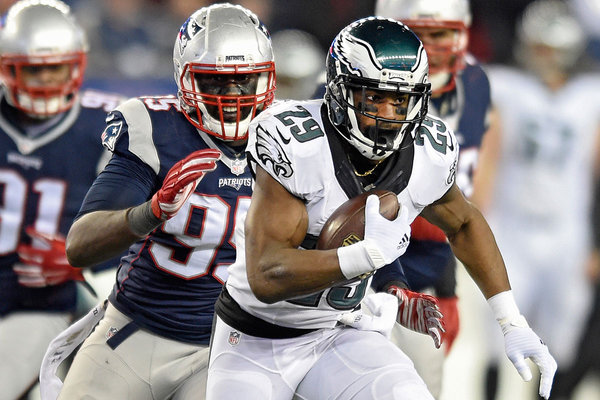 DeMarco Murray : Stay
Murray was a disaster under Chip Kelly, but the vast majority of the blame for that situation falls on the shoulders of the former head coach.
Kelly's handling of Murray was completely asinine, but it may well turn out to be a blessing in disguise. With Murray taking a very limited workload in 2015, he hasn't gained much additional tread on his tires, and should come back very fresh and primed for a bounce-back year in 2016.
A more reasonable offensive system that doesn't call for Murray to be running every play out of the shotgun, or stretch plays that don't suit him should also benefit the former rushing champion. I'd be excited to see what Murray can do out traditional formations and running in front of a fullback again.
Oh, and there's also that poorly constructed contract that calls for a cap hit of $13 million if Murray is released this year. Thanks, Chip.
Ryan Mathews : GO
Yes, Mathews was probably the team's most consistent offensive last season.
However, I don't think his presence is necessary.
The Eagles don't need to have three high-priced veterans on the roster. And with salary cap room an issue for the Birds this off-season, they may need to part with either Mathews or Darren Sproles to free up a little extra space.
Between the two, its not even a question, I'm keeping Sproles ahead of Mathews.
Mathews just doesn't bring as much to the table, and there are limitations and problems within his game. He can't provide a spark to the special teams like Sproles does, and he's not nearly as potent a receiver. In fact, Mathews is one of the poorer pass-catchers that the Eagles have had at the running back position in recent memory, with several inexcusable drops this season.
Mathews' durability is also an issue. He missed several games with a concussion, and also sustained a groin injury that limited his effectiveness in the final games of the season. He's struggled staying healthy his entire career, having only a played a full 16 games once.
He's a fine running back, but I think the Eagles would be better off trying to find a trade here and adding a young running back through the draft.
Darren Sproles: Stay
Sproles still has some good football left in his tank, and I'm excited to see what he can bring to this team in a non-gimmicky offense that doesn't misuse his talents like Chip Kelly did.
Sproles was such a receiving weapon for the Saints, averaging over 70 catches per year his three seasons in New Orleans. And in two seasons under Chip Kelly, he only caught a combined 95 balls. He'd also go long stretches without being involved in the offense at all, and this season it got so bad that Sproles had to publicly complain about his role.
Sproles is one of the few game-breakers that are left on the roster, and the Eagles should certainly keep him around for another year.
Kenjon Barner: GO
Not a fan of Barner's game in the least.
When he was given opportunities to play late in the season, he squandered them. Most notably, Barner fumbled a ball with the game on the line in New England, offering the Patriots one more opportunity to come from behind in the game's final minute.
In the final weeks of the season, he showed a lack of concentration, dropping some easy passes out of the backfield.
There's a spot for Barner somewhere in the NFL as a return man, and if nothing else, Chip Kelly will always have a place on his team for former Ducks, but there's nothing here worth holding on to for a second season.
What I Expect To Happen
The running back position could play out in a number of different ways.
Its not a position that the Eagles necessarily need to address or do anything with, but I think the possibility is there that we could see a tweak to this group. Again, I don't think its necessary, nor economically feasible for an NFL team to have as much money allocated to the running back position as the Birds currently do.
I certainly don't expect the Eagles to carry four tailbacks next season, but I could easily see all three top veterans coming back for another year.
One thing that I think is a certainty is that the Eagles will add a traditional fullback to their roster, which will be to the benefit of DeMarco Murray.