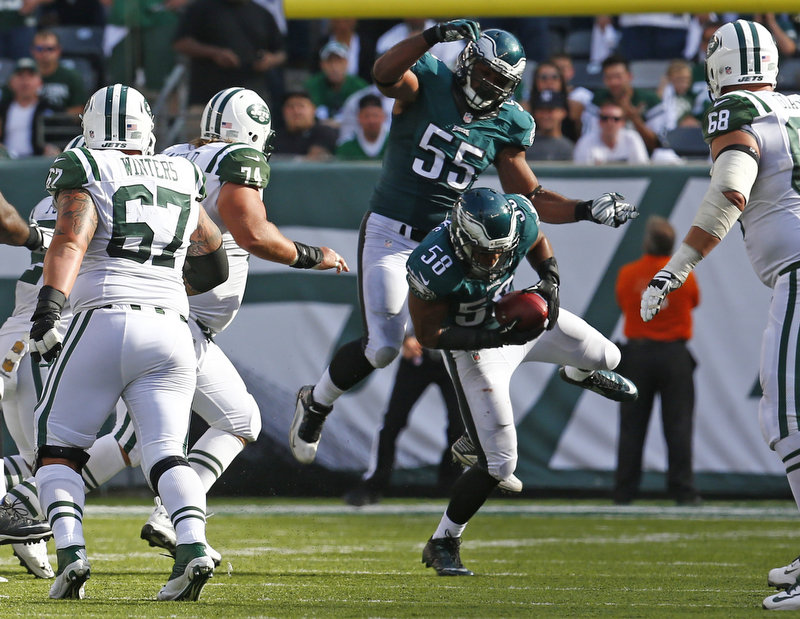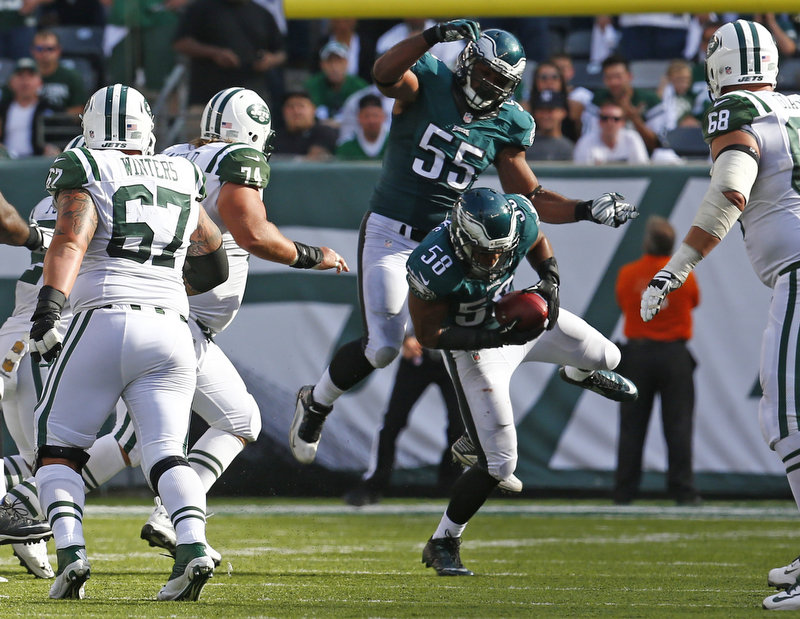 I'm currently at  the NFL Combine in Indianapolis and earlier today, I was thinking back to last year's group of linebackers that were here.   One of my duties on behalf of the NFL was to give a talk to all of the young linebackers about what it takes to be a quality NFL player both on the field and off.  During my three days with the young backers, I got to know them as they were getting to know me.  There were certain guys amongst the group who stood out to me right away. It was an impressive group.
I already had a connection with then UCLA linebacker Eric Kendricks because I already knew his brother Mychal, who is with the Eagles. He showed all the signs that he was going to be a good one. Young Kendricks was a very good athlete with great football intelligence and tremendous drive.
I had to get a nervous Carolina Panthers linebacker Shaq Thompson to relax. He was concerned because he didn't know whether he should work out as a linebacker, safety or as a running back. Bud Dupree stood out because he was just an amazing combination of size and speed.  Kwon Alexander was impressive as an athlete, but the guy who I had no idea would be so good in his rookie year was the Eagles Jordan Hicks.
The young man was playing on a Pro Bowl level in the 2015 season, when he got hurt against Dallas.   He was playing with passion and making plays all over the field, but the most amazing aspect of his game was the number of big plays he was making. When I say big plays, I'm talking about turnovers, which make all of the difference in winning and losing in the NFL.  The Denver Broncos are the Super Bowl Champions because of the turnovers they forced in the playoffs and Super Bowl.
In only eight games, Hicks had a hand in six turnovers, which is amazing, especially for a rookie, who wasn't even supposed to be playing the linebacker position last year. In a half of a season, Hicks contributed 54 tackles, three fumble recoveries and one forced fumble. Those stats tell you that he was staying around the football and making tackles like a one-man wrecking crew.
Let me say it again, this young man was playing as well as any inside linebacker in the National Football League.
The one sack he had, involved slamming Cowboys quarterbackTony Romo on the Lincoln Financial Field turf, and it all but ended the season for Dallas. That's another huge play to his credit.
His return of an interception for a touchdown in the second Dallas game was a huge play in that game. It was a very smart play because Cowboys running back Darren McFadden ran a poor out route because he didn't stem into the route. He just ran the route in a lazy "I don't care" fashion.
Hicks read it and cut underneath him, picked off the pass and took it to the house.   It was a great smart play that you don't normally see from rookies.
Of course everything came to an end, when he tore his left pectoral muscle on a play shortly after the interception return.
The Eagles say Hicks is coming along very well in his recovery, so you expect to see him out there at one of the linebacker positions in the new 4-3 alignment. They're going to definitely need Hicks' playmaking ability when they jump into that wide 9,
Hicks played so well in his rookie year, that it was no surprise to anyone, when the Birds decided to release veteran middle linebacker DeMeco Ryans. Ryans struggled a year ago as he was coming back from the Achilles tendon tear. Another Eagles inside backer, who struggled a year ago is Kiko Alonso. He will probably be moved outside with Kendricks.
There's no question that Mr. Hicks will be in the middle and he will be running the Eagles defense. The youngster from the University of Texas has set a very high standard to live up to. If he keeps playing the way he did a year ago, he won't be battling for just a job on the Eagles defense, Hicks will be competing for a spot on the Pro Bowl roster.