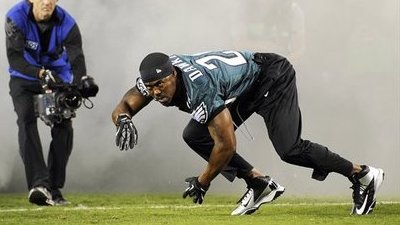 Former Philadelphia Eagles safety Brian Dawkins is introduced onto the field before an NFL football game between the Eagles and the New York Giants, Sunday, Sept. 30, 2012, in Philadelphia. The Eagles retired his No. 20 jersey during a pre-game ceremony. (AP Photo/Michael Perez)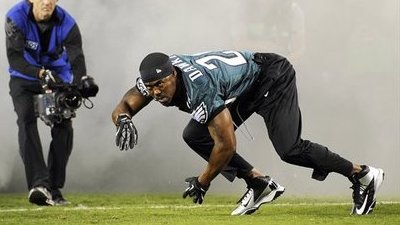 Former Eagles 8-time Pro Bowl safety Brian Dawkins has taken a position in the Birds scouting department. He'll be out on the road visiting colleges and taking close looks at prospects throughout the country as an Eagles scout.
Dawkins doesn't just want to stop there, he wants to learn everything he can about NFL front offices because he wants this to be his first step.  He wouldn't specify about what he wants to happen next, but he didn't say he wants to be the first step and he's looking forward to learning everything he can.
"It's either you have an eye or you don't have an eye", Dawkins said, "fortunately I've been blessed to have an eye for talent."
I will give Eagles V.P. of Football Operations, Howie Roseman credit for bringing Dawkins aboard.  Roseman has been leaning on the advise of Dawkins for years dating back to 2014.  Remember there had been some bad blood between Dawkins and the Eagles, but the former Eagles safety said he thought it was much more important for him to do what he could do to help this football team than to make a big deal about being shown the door by the Birds.
Dawkins said he started spending more time evaluating players during the latter stages of his career.  He would look at draft picks and make a determination whether that player was going to be able to help them or not.  He continued that practice after his career ended and he took a position with ESPN as a NFL Analyst.  Now he'll be trying to help the Birds do a great job with the upcoming NFL draft.
The former Eagles safety did say at the end that he won't be doing any more entrances into Lincoln Financial Field like he did on the day he was put into the Birds Hall of Fame.   There's a good chance in the near future that he could be making an entrance into the Pro Football Hall of Fame in Canton, Ohio.