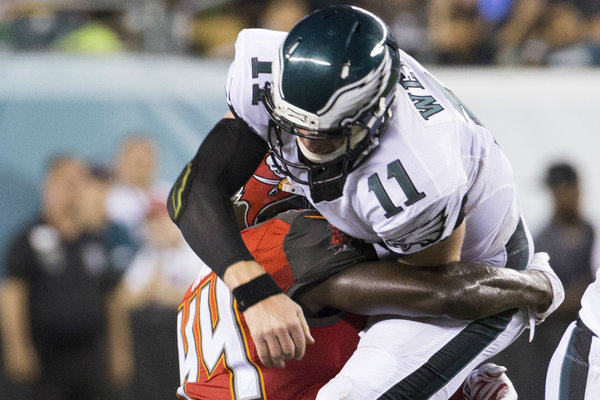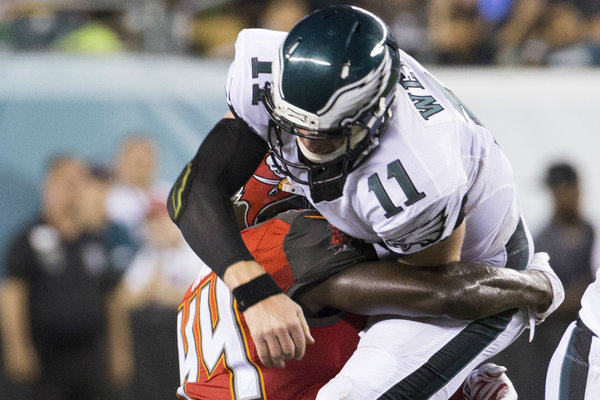 Eagles rookie quarterback QB Carson Wentz suffered a hairline fracture of his ribs during last Thursday night's game versus the Tampa Bay Buccaneers.   Eagles head coach Doug Peterson made the following statement yesterday.
"Carson felt some discomfort and soreness as we began this morning's practice. We decided to limit him throughout the remainder of practice and, as a precaution, sent him for a CT scan after practice. The scan revealed a hairline fracture in his ribs. We do not know an exact timetable for his return, but we hope to have him back before the end of the preseason."
Personally, I think Wentz got hurt when he was hit after throwing the ball against a blitz off the corner.  The defender hit him in his ribs and Wentz looked like he had the wind knocked out of him.
I don't think he will be out for a long time with the hairline fracture and this will serve as a notice to Wentz that he should protect himself and not be so daring when he has the football.   I don't think he could have done anything on the particular play that he got hit in the ribs, but I don't want to see him trying to leap over anybody.  Trying to leap over a tackler isn't a smart move for a NFL quarterback who wants to stay healthy.