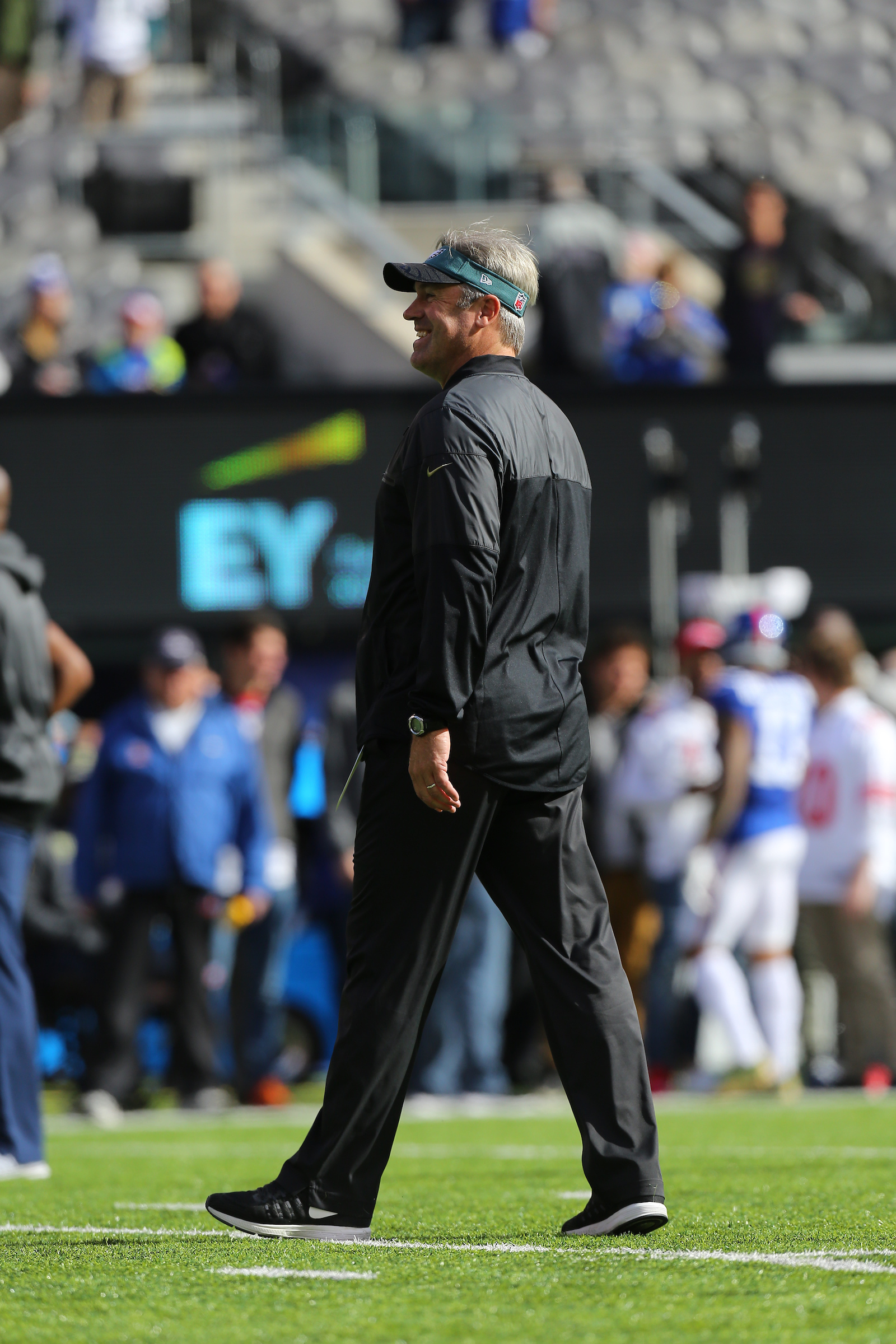 Yesterday, Eagles head coach Doug Pederson seemed to be bothered by questions about his number one slot receiver Jordan Matthews and his battle with tendonitis.  Pederson wouldn't admit that Matthews is injured despite the fact that everybody knows that he was sidelined for much of the offseason and is still currently out of action because of tendonitis in one of his knees.
Instead of answering the question with the true answer, the Eagles head coach got feisty with the media gathering and wouldn't admit that Matthews was injured.  This was a major change from Pederson of a year ago. Last year, Pederson was very accommodating to the local media.  He answered every question and sometimes gave out information he wasn't even asked about.  The first year coach was doing everything he could do to be liked by the local sports media.
I think he wants to change the relationship a bit and I think he started showing that yesterday
This particular dust up is no big deal, but I think this shows us that Pederson is going to be more aggressive with the media this year.  He doesn't want to be Mr. Nice Guy in his second season, like he was a year ago.  I think Pederson is a nice guy by nature, but he doesn't want to get run over by the tough Philadelphia sports media.  I think it was wise of him to show that he's willing to battle with them, or should I say us.  There are going to be times when he doesn't need to be totally forthcoming about what's going on with the team.  Many times a coach needs to keep things under his hat. Yesterday the head coach was establishing some boundaries.
The second year head coach knows this is a big year for the future of this football team and his future with the organization.  The former Eagles quarterback knows that head coaches don't get a long time to prove themselves in the National Football League.  Instead of three or four years, it's now down to two years.  Now, if in two year a team doesn't show clear improvement under a coach, he's likely to get fired.  Coaches are always on the hot seat nowadays.
As for the injury situation with Matthews, I think this injury could be creating an opening for former first round pick Nelson Agholor, who has struggled mightily during his first two years in the NFL.  Agholor took Matthews place as the slot receiver and had a great off season.  He has been playing with confidence and catching nearly everything that comes his way.  If Matthews continues to miss time due to the tendinitis and Agholor continues to shine through training camp, we could see Agholor be given more playing time during the regular season. Add to that the confidence that Agholor has earned from Carson Wentz and who knows what could happen.
Pederson also admitted that the team is looking for additional help at the cornerback position. Right now the starters are Patrick Robinson and Jalen Mills.  Robinson is a former first round pick who has failed to establish himself as a consistent starter in the league and Mills was a sixth round pick last year, who runs a 4.6 in the forty-yard dash.  He expects Rasul Douglas to get some playing time.
Rookie defensive tackle Elijah Qualls says he wants to be as good as Fletcher Cox.  I think this is the type of mentality that you must have if you want to play in the National Football League.  You can't bow down to anybody.
Rookie wide receiver Sheldon Gibson struggled yesterday.  According to Comcast Sportsnet's Reuben Frank, Gibson dropped three passes yesterday and said his confidence wasn't up right now.  I don't think Gibson is going to make this football team because he played in an offense in college that had only 4 pass plays.
"He's coming along," Pederson said according to PhillyVoice.com. "He's by no means, I think, where he wants to be or where we want him to be, but he's learning our system. He's learning a new offense. He understands his role. He knows he's, you know – he knows he's got to really come in here and compete for an opportunity. I'm excited about watching him, especially when we get into pads and see the physicality.
"Again, he's a speed guy. [I'm] looking forward to watching him use that speed as we go."
According to Tim McManus of ESPN, rookie wide receiver Mack Hollins had one drop yesterday.  He dropped the ball on a 45-yard pass from Carson Wentz.  Despite the drop, McManus said Hollins had a good day in the team's first day of practice.