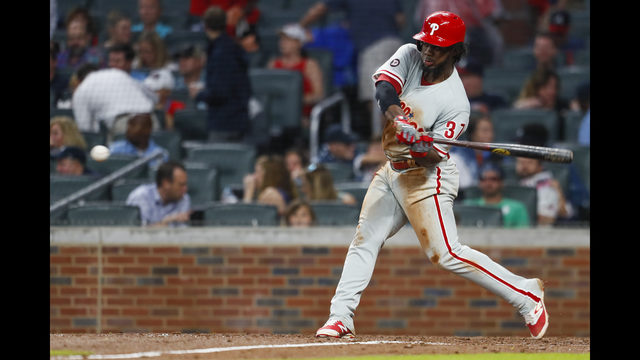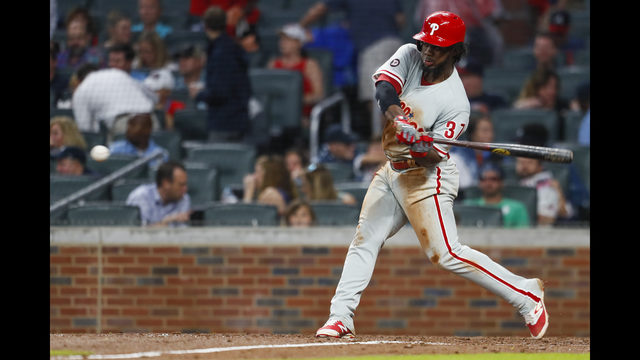 The Philadelphia Phillies' snapped their three-game losing streak on Saturday night, taking down the Nationals 5-4. Their record improves to 54-88.
On The Mound
Mark Leiter started and lasted six innings, giving up four runs on six hits.
Leiter struck out eight.
Edubray Ramos struck out two in a scoreless seventh.
Luis Garcia struck out the side in the eighth.
Hector Neris walked the leadoff man, but managed to hang on for the save in the ninth.
At The Plate
The offense put five runs on nine hits.
Rhys Hoskins homered for the second straight game, sending up a solo shot and working three walks in five at-bats.
Cesar Hernandez went 3-5 with an RBI.
Freddy Galvis went 0-4 with a walk.
Nick Williams went 2-5 with a couple singles.
Odubel Herrera took an 0-4, and left seven on base.
Maikel Franco went 2-4 with a solo homer.
Hyunn Soo Kim went 0-3 with a walk.
Cameron Rupp went 1-4 with a single and drove in a run.
Final Thoughts
Maikel Franco hit his 20th homer tonight. Franco has endured a terrible season, and played his way out of the third base job, but still at least offers a decent amount of pop in his bat.
However, don't be fooled. Franco's 20 homers are practically useless given that he hits for such a low average. To put it in perspective, even Ryan Howard during his final season with the Phillies was capable of delivering 25 homers, and could still probably do the same if he were an everyday player, but his incredibly low batting average makes him too much of a liability. The same is true for Franco. His inability to get on base consistently and frequently negates whatever power he brings to the table.