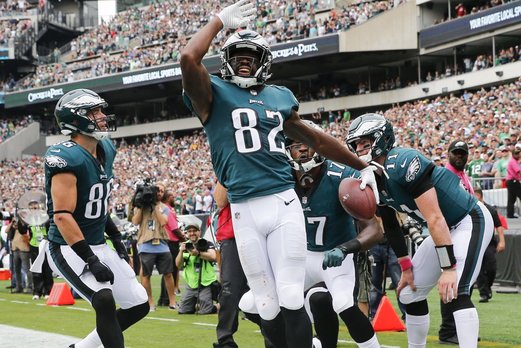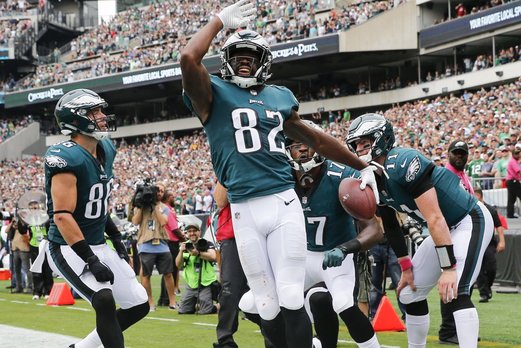 Carson Wentz Leads Eagles To Dominating Victory Over Cardinals
The franchise quarterback was shining bright on a rainy Sunday afternoon in Philadelphia.
Carson Wentz led the Eagles to a convincing 34-7 thrashing of the Arizona Cardinals, completing 21 of 30 passes for 304 yards, and a career-high four touchdowns.
Wentz was brilliant. His throws were on the money most of the day, and continued to show improvement on his deep ball, connecting with Torrey Smith and Nelson Agholor for 59 and 72-yard touchdown bombs.
The best part of Wentz's game? Third down efficiency.
The offense went 9/14 in third down situations today, good for a 64% conversion rate. The Cardinals, who have a pretty strong secondary, had no answers for Wentz and the Eagles' offensive attack.
Wentz was 10 of 11 for 207 yards three touchdowns during the first three quarters today. For the year, he has a 138.3 rating on third downs. Those are elite numbers right there. He spread the ball around to eight different receivers today.
Defense Locks Down Arizona Offense
All phases of the Eagles' game were working at full efficiency today.
The defense kept Carson Palmer and the Arizona offense in check throughout the entire game, giving up just seven points.
The Cardinals have no running game to speak of, and the Eagles didn't let them pick up any momentum today, giving up just 33 yards on 14 carries.
The secondary held up great against Palmer as well. Infamous Eagle-killer Larry Fitzgerald was held to just six catches for 51 yards, most of which came during garbage time, and Palmer's other speedy deep threats didn't accomplish much either.
Truth be told, Palmer could have easily thrown two or three interceptions today. Patrick Robinson and Jalen Mills were in position to make plays multiple times, but just couldn't come down with the ball.
Quick Thoughts
Offense
Lane Johnson left the game with a head injury, leading to Halapoulivaati Vaitai taking over for most of the second half. Vaitai held up well, but the potential loss of Johnson for Thursday night would be a big one.
Once again, Stefen Wisniewski and Chance Warmack rotated at the guard spots, with Wisniewksi yet again outplaying Warmack. Warmack was flagged for a holding penalty that wiped out a run for a first-down in the second half.
Jason Kelce had another strong game today. He's played exceptionally well over the last three weeks.
LeGarrette Blount led the team in rushing once again, picking up 74 yards on 14 carries for a healthy 5.3 average. Blount was used sparingly in the first half, but Doug Pederson turned the reins over to him to close the game out in the second half.
Blount is currently on pace to come close to a 1,000-yard season. Not bad for a stop-gap guy, eh?
Wendell Smallwood was inactive for this week's game with a knee injury, giving Kenjon Barner a chance for some reps on offense. Barner picked up 23 yards on five carries.
Breakout Year Update: Zach Ertz contributed another six grabs for 61 yards and a touchdown.
Alshon Jeffrey caught two passes for 21 yards on the first drive, and wasn't heard from again until an 11-yard catch in garbage time. Disappointing that the team hasn't been able to get him regularly involved in the offense yet, but those games will come.
Nice to see Trey Burton get his number called on the game's first touchdown. The Eagles have a lot of unexplored possibilities at the skill positions between guys like Burton, Mack Hollins, and Marcus Johnson. It's nice to see Pederson get some of these guys into the mix. Johnson actually caught a pass on third down and converted it for the first as well.
Defense
Vinny Curry finally got to the quarterback! Curry picked up a sack, the only other came from Brandon Graham.
The one unsung hero of this defense through five weeks has really been Patrick Robinson. The move to the slot role has done wonders for his confidence. This is a much different player than the one that was getting toasted every day in training camp this summer.
Credit the whole secondary for not letting the Cardinals come up with any big plays down the field when the game mattered. Rasul Douglas and Jalen Mills have really battled hard and held up well since Ronald Darby went down.
Tim Jernigan has really stepped up in the absence of Fletcher Cox. He was a force against the run today. You can't wait to see Cox get healthy to get those two back together in the middle of the defense again.
Quiet game for Mychal Kendricks. I don't like that Schwartz continues to limit his snaps, but its a moot point given how well the defense performed today.
Special Teams
Kenjon Barner made a big impact today in the return game, breaking a 76-yard return to set up the Eagles' second touchdown. With Barner, you get the sense that he's a threat to take it to the house every time he touches the ball. Hard to believe he was still available two weeks ago.
Final Thoughts
A 4-1 start.
Oh, and the Dallas Cowboys imploded against the Green Bay Packers, and the New York Giants sank to a bitter 0-5 and lost Odell Beckham in the process.
The Eagles are in sole possession of first place, and their lead is growing.
When you look at this Eagles team, there aren't a lot of apparent weaknesses. The offense has been efficient, and is still far from a finished product. The defense, even in the secondary, has been more than serviceable as well.
There's a lot of credit to go around right now.
Credit Howie Roseman for the moves he's made. Torrey Smith, LeGarrette Blount, Patrick Robinson, Kenjon Barner, all guys Howie pulled off of the league's scrap heap that have become key players.
Credit Doug Pederson for calling a great game, and having these guys ready to play each week.
Credit the players for buying-in and executing.
The team is very much trending upwards, only needing three more wins to match their entire total from last season. Thursday night against the Carolina Panthers is a great test for this team, and how far they've come.