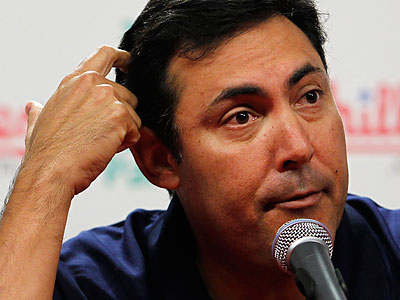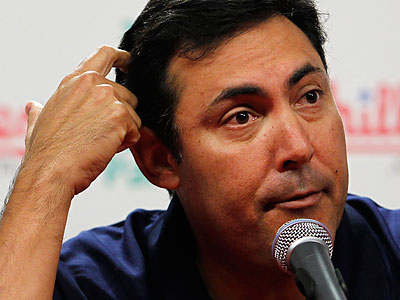 Lost in the Eagles' thrashing of the Arizona Cardinals, the Sixers' preseason, and Flyers' regular season getting underway over the last weekend was a particularly troubling Phillies' nugget that came to light.
According to Boston Globe reporter Nick Cafardo, former Phillies' village idiot General Manager and current Red Sox first base coach Ruben Amaro Jr. could be considered for the Phils' vacant manager post.
To the idea of Amaro returning to manage the Phillies doesn't sit well with me in the least.
Even if Amaro had displayed that he was capable, competent, and qualified to be a manager in the major leagues, I still wouldn't him to return to the organization.
Bringing back a guy who just a few years ago was the General Manager that played a major role in running the franchise into the ground just doesn't feel the least bit right with me.
For the longest time, the Phillies' couldn't let go of old names and old faces in the organization. Even beloved figures like Ryan Howard, Chase Utley, Jimmy Rollins, Cliff Lee, and Roy Halladay all probably were held on to for a year or two too long. The organization wanted to cling to those guys, understandably so to a point, but a couple of years ago finally accepted that it was time to move on when they let go of their old stars.
The idea of bringing Amaro back just feels like an automatic step in the wrong direction. The Phillies need fresh eyes and new blood to get this team back to the top. That's was the whole point of bringing Matt Klentak in. And whomever gets the job should be a truly fresh voice with no prior (or at least recent) ties to the Phillies' franchise.
Now, as to whether or not the Phillies might actually consider Amaro for the job…I doubt it. Keep in mind that Klentak is a guy who greatly favors analytics. When Amaro was in power in the front office, he never paid them any great attention. The Phils came under criticism during his final years for being one of the last clubs to really invest in and use analytics, with some calling them an "out-dated" organization. On the surface, it doesn't seem like Klentak and Amaro would make much sense as a General Manager/Manager marriage.