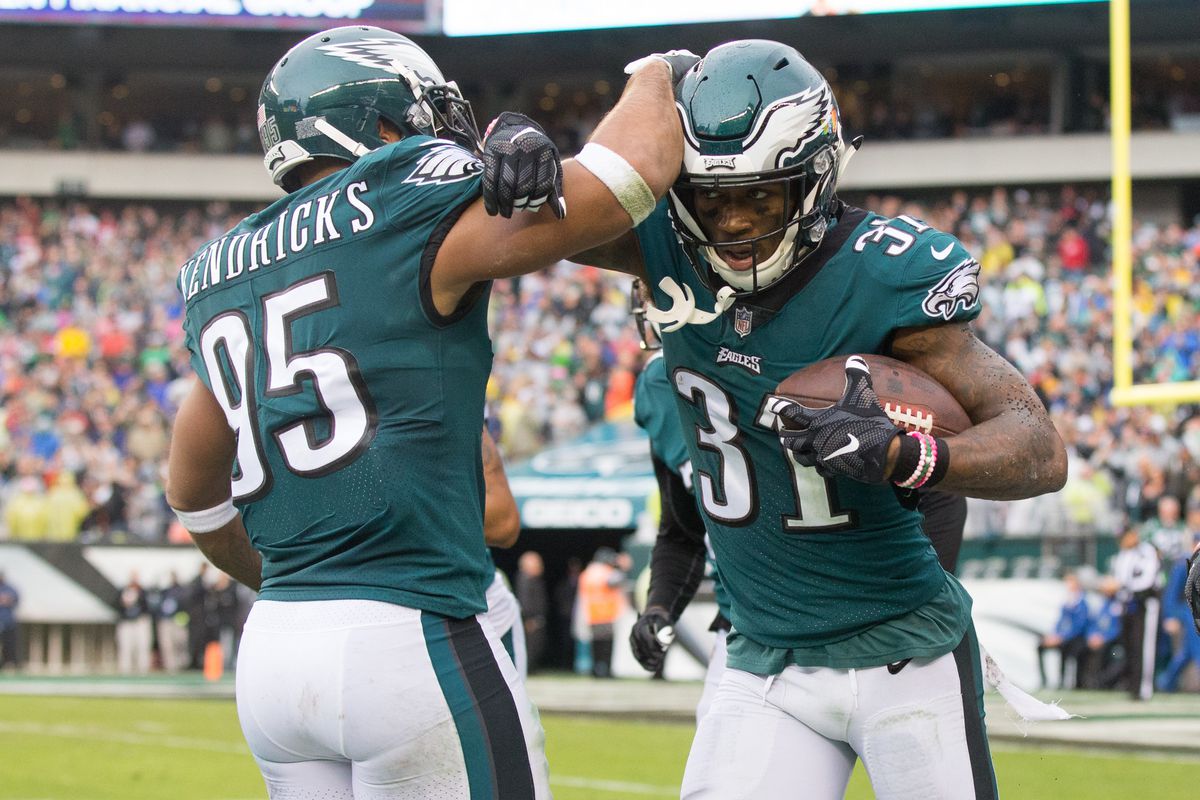 Eagles Abuse Lowly 49ers
It was an orderly win at Lincoln Financial Field on Sunday afternoon.
The Philadelphia Eagles came out and took care of business, dropping the San Francisco 49ers to 0-8 in a 33-10 thrashing.
The Eagles pretty much did exactly what you'd expect on the defensive side of the ball. They shutdown the lone 49er weapon in Carlos Hyde. The top run defense in the league held Hyde to just 25 yards on 12 carries, forcing rookie quarterback C.J. Beathard to find a way to beat the defense.
Spoiler alert: he wasn't up to the task.
Beathard took a pounding, as he was sacked four times and took shots throughout the game. He finished just 17/36 for 167 yards with a touchdown and two interceptions.
Beathard's second interception really put the game out of reach for the Niners when he tossed a pick-six to Jalen Mills right before the half.
If not for an offensive turnover that set up the 49ers with a short field, the defense might have been able to pitch a shutout today. They were that good. Granted the opponent in front of them had all sorts of problems, but give Jim Schwartz credit for the game he called today to make life hell for a rookie quarterback.
Wentz Continues To Shine
Carson Wentz and the offense didn't have their best day, but they managed to put forward all kinds of positives for us to talk about.
Wentz's best moment came late in the third quarter. Following the drive where he made a bad pass on an interception that led to the only San Francisco touchdown to give the Niners life, Wentz quickly responded by hitting Alshon Jeffery for a 53-yard touchdown to immediately deflate San Francisco and restore order.
This is the mark of a great quarterback. Unlike the previous band of failures and rejects that Eagles fans have been subjected to, Wentz isn't the type of quarterback that hangs his head after a mistake. Instead, he bounced right back, and made the defense pay for it on his next opportunity. That's what a winning, elite quarterback does.
Quick Thoughts
Offense
Not at all an encouraging performance from Halapoulivaati Vaitai at left tackle. Big V was pushed around quite a bit, giving up several pressures and a sack. What do the Eagles do here? I almost feel like they have to swing a trade for another veteran before the deadline, not necessarily a big-name guy Duane Brown type, but some kind of experienced option. There's literally no other option other than Vaitai for the tackle position on the roster right now.
It's fair to wonder if the Eagles were too quick to trade away guys like Allan Barbre and Matt Tobin in the preseason. Hindsight is always 20/20, and the value that the Eagles got back for both guys was very solid, but this team is really hurting for depth right now.
Carson Wentz spread the ball around to nine different receivers today.
LeGarrette Blount picked up 48 yards on 16 carries, including a touchdown run late in the game. The team has had some trouble getting him going over the last few weeks.
Wendell Smallwood was basically phased out of the offense today in favor of Corey Clement and Kenjon Barner. Smallwood had just one carry and one reception, while Clement led the team with 54 yards on 10 carries, and Barner took a couple of passes out of the backfield.
Speaking of lost snaps, Mack Hollins has been taking more and more playing time away from Torrey Smith. Hollins caught two passes for 30 yards today, while Smith didn't catch a pass.
Smith wasn't completely useless however; he did draw a big pass interference penalty in the endzone that set up Zach Ertz's touchdown.
It was great to see Alshon Jeffery finally make an impact for this offense. Jeffery's touchdown haul was exactly the type of play we've been waiting for him to make. He used his frame to go up and pull in a difficult reception, and then used his size to finish and get to the endzone. Hopefully there's more plays like this to come.
I haven't had a single issue with Doug Pederson's playcalling for weeks. You have to give Doug a ton of credit for what he's done so far. Remember the 2017 season opened up with Mike Lombardi's article that stated Pederson was by far the most unqualified coach in the league, coupled with rumors that Jim Schwartz was looking to usurp Pederson for the head job. Well, those narratives have been shot straight to hell. Doug hasn't always been above criticism this year, but without question he's done a fantastic job setting this team up for success.
One of my favorite elements about this team is the emphasis that they have on celebrating big plays as a group. When a player scores on offense, his teammates rally together for a celebration. This is something that Doug has encouraged, and its really refreshing to see.
Defense
Mychal Kendricks led the team with seven tackles and picked up a sack in his first game of extended playing time in Jordan Hicks' absence. Thank goodness the Eagles weren't able to find a trade for him before the season. He's become such a critical part of this defense.
Vinny Curry picked up five tackles and a sack. He's really made great strides in his run defense, he's been a big part of why this team is so good against the run. Everyone wants to see more sack numbers from Curry, but he really hasn't been getting enough credit for becoming a multi-dimensional player.
Give a lot of credit to Jalen Mills and how he's developed. Mills has gone from a seventh-round pick to a very solid NFL starter. He does nothing but go out and battle each week, it was nice to see him rewarded with a pick-six today.
Cornerback, which just a few months ago was considered the Eagles' biggest weakness, is going to soon be the team's deepest position. Imagine a year from now, the team will have Ronald Darby, Sidney Jones, with Mills and Rasul Douglas as third and fourth corners.
Special Teams
Derek Barnett's name has been called more and more each week. This week, Barnett went out and blocked a Robbie Gould field goal on special teams.
Jake Elliot missed a couple of extra points, but drilled both of his field goal attempts, including a 51-yarder.
Final Thoughts
There was a lot of talk about this week's match against the 49ers being a trap game. I never bought-in to that idea.
The 49ers were just too bad of a football team playing at such a miserable level, this winless bunch never had any business coming across the country with a rookie quarterback and upsetting the Eagles.
If there's a true trap game on the schedule, its next week's game at home against the Denver Broncos. But that's a story for another day.
The 7-1 Eagles are cruising with the best record in the league, and a chance to go to 8-1 before the bye.